New Carrolton, Maryland Car Donations
Donate Your Vehicle and Save Lives!
New Carrolton, Maryland Car Donations: Saving Lives through Vehicle Donations
Countless breast cancer patients will benefit tremendously from vehicle donations made through our New Carrolton, Maryland car donations program. We at Breast Cancer Car Donations work hard to give these people a second chance in life. We do this by generating funds for our IRS certified 501(c)3 nonprofit partners through our car donation fundraisers all over the country. Our charity partners use the funding to deliver vital services such as giving individuals free access to breast cancer screenings, diagnostic tests, and appropriate treatment plans. Part of the funds is used to support the ongoing breast cancer research.
A Quick Look at Breast Cancer in the U.S.
According to the data released by Breastcancer.org, for this year, 266,120 new cases of invasive breast cancer are expected to be diagnosed in women in the United States, along with 63,960 new cases of non-invasive (in situ) breast cancer. About 2,550 new cases of invasive breast cancer are expected to be diagnosed in men in 2018. This brings the total of expected new breast cancer cases for 2018 at 268,670.
About 40,920 women and 480 men in the U.S. are expected to die in 2018 from breast cancer. For women in the U.S., breast cancer death rates are higher than those for any other cancer type besides lung cancer.
The National Institutes of Health reports that in the year 2003, there was a decrease in the incidence rates of breast cancer due to the reduced hormone replacement therapy treatments that were linked to an increased breast cancer risk. Gene mutations, family history, gender, and late onset of menstrual period are some of the risk factors that could lead to breast cancer.
The American Cancer Society confirms that at present, there are over 3.1 million individuals all over the United States with a history of breast cancer. Recent breakthroughs have greatly contributed to the decrease in the mortality rates of individuals. If funds are readily available, the search for a cure wouldn't be far along.
The Charities We Partner With
Breast Cancer Car Donations operates vehicle donations on behalf of our nonprofit partners to help achieve our common goal of winning the battle against breast cancer. These charities are:
American Breast Cancer Foundation (ABCF): As per the mission of the ABCF "to provide uninsured and underserved individuals – regardless of gender and age – financial assistance for breast cancer screenings and diagnosis," they connect individuals with breast cancer to local facilities that would help them get the support and assistance they need in fighting off this disease.
Women Involved in Nurturing, Giving, Sharing, Inc. (WINGS): With a fixed goal in mind, WINGS provides assistance to uninsured breast cancer patients by presenting them with a comprehensive list of free health services.
You can be a significant part of this humanitarian cause by participating in our New Carrolton, Maryland car donations program. Your donation will help us save more lives. Call 866-540-5069 to jumpstart your donation process today! Your help is needed now more than ever.
How You'll Help Lives with Your Car Donations
Having breast cancer is mentally and financially exhausting. Countless women who have been diagnosed with breast cancer in the United States today aren't receiving proper treatment since breast cancer treatments are expensive especially when the disease is identified during its later stage.
We at Breast Cancer Car Donations recognize this, that's why we work hard to collect donated vehicles – regardless of their condition – to help generate funds so that financial assistance can be given to untreated breast cancer patients. The services that our charity partners deliver with the help of our car donations fundraiser in the area include:
Educating the public of the risk factors of breast cancer as well as the prevention, diagnosis, and treatment of the disease;
Granting financial assistance to patients for the detection and treatment of breast cancer, which covers the fees for surgery, laboratory tests, doctor's consultations, and medications;
Providing affected individuals with access to local facilities that would help them get the support and resources they need to overcome breast cancer.
How to Join New Carrolton, Maryland Car Donations
Donating your vehicle for breast cancer is quick and easy. In three simple steps, you'd be able to rid yourself of that old clunker and join the fight against breast cancer. If you're interested to donate, here's how our New Carrolton, Maryland car donations process works.
Pick up your phone and call us at 866-540-5069 or fill out our online donation form and provide all the necessary details.
After we receive and process your request, we'll arrange with a local towing company to pick up your car from its location at a time and date that is convenient for you. If you're a busy person, you can just ask one of your friends or family member to represent you. Don't worry, you won't have to pay for anything – towing is free!
After we pick up your vehicle, we will be displaying it at an auction where it will be sold to the highest bidder. Within 30 days after the sale of your car, we will send you a 100-percent tax-deductible sales receipt. Since we partner with 501(c)(3) non-profit organizations, your car donation qualifies you for a significant tax write-off, which you can claim in the next tax season.
With just one phone call, you'd be able to make a positive impact on the lives of the people who are going through their breast cancer journey – all within the comforts of your own home.
The City of New Carrolton
New Carrolton, Maryland is strategically located adjacent to Washington D.C. and is a home to 12,542 residents. They benefit from high-quality services aimed at maintaining safety and order, making the city a perfect place to live in.
Women constitute more than half of the population in New Carrolton. One in eight of these women is at risk of developing breast cancer in her entire lifetime. Without proper treatment, the survival rates for those women affected by the disease will decrease through time.
Let's Work Together to Fight Breast Cancer!
Let's make our corner of the world a better place by working together to fight breast cancer.  Contact us at 866-540-5069 and start saving lives with your New Carrolton, Maryland car donations!
or Call Us Now at 866-540-5069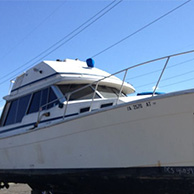 Excellent customer service!