Nebraska Car Donations
Donate Your Vehicle and Save Lives!
Nebraska Car Donations: You Can Do Something to Help Fellow Americans Struggling With Breast Cancer
Every year, experts project that more than 252,710 women in the United States will be diagnosed with breast cancer and over 40,500 will die.
Even though breast cancer cases among men are considered rare, each year, experts say approximately 2,470 men will be diagnosed with breast cancer and 460 will die in the country.
Let us not wait and just let our fellow Americans suffer and die of breast cancer. You can do something to help them: Donate your car to our Nebraska car donations program.
Your car donation to Breast Cancer Car Donations will help needy breast cancer patients and their families as well as boost research on finding better treatment and cure for the deadly disease.
What Happens To Your Nebraska Car Donations
The proceeds from the sale of your donated car will boost funding for our charitable nonprofit partners to sustain their programs that benefit breast cancer patients in every way possible.
Your Nebraska car donations will also support breast cancer research. It will help experts find new ways of preventing, diagnosing and screening, treating and hopefully finding a cure for breast cancer.
Our nonprofit organization partners are the American Breast Cancer Foundation (ABCF) and Women Involved In Nurturing, Giving, Sharing, Inc. (WINGS).
How to Take Part in Our Nebraska Car Donations Program
Breast Cancer Car Donations offers you a stress-free Nebraska car donations process. We make sure that it will not take too much of your time.
First, you need to fill out our online car donations form with information about yourself and the car you are donating. Another option would be for you to call us at 866-540-5069. We assure you that your information is safe with us.
We will then arrange for a towing company in your area to pick up your car on your specified day, time, and place.
Before we tow away the car you're donating to our Nebraska car donations program, we will give you a donation receipt that will free you from all liabilities with the car you're donating. With this, you can now de-register your vehicle and scrap its insurance contract. You will also need this document when claiming your tax deduction.
We will then mail you your tax-deductible sales receipt after we sell the vehicle you donated to our Nebraska car donations program. The receipt will show how much your vehicle was sold. The indicated amount will serve as the basis of your tax deduction claim.
Is Your Vehicle Qualified?
The answer is, absolutely yes! We at Breast Cancer Car Donations accept nearly all types of vehicles for a donation. Here are just some of the vehicles that we accept:
Cars
Pickup trucks
RVs
Campers
Vans
Minivans
Buses
SUVs
Motorcycles
Boats
Fishing boats
Personal watercraft like Jet Skis or yachts
Snowmobiles
ATVs
Golf carts
Farm equipment
If you want to check out more of our qualified vehicles, check out our vehicles accepted page.
Fun Facts About Nebraska
Situated in the middle of America, the state of Nebraska is home to small towns and wide stretches of farmland. Other than that, it is also a home to various unusual inventions and significant historical events. Here are some interesting facts you might not know about Nebraska.
The name Nebraska came from the Otoe Indian words "Ni Brasge" which means "flat water." It refers to the Platte River, which drifts throughout the state.
The ever-popular juice drink Kool-Aid was invented by Edwin Perkins in Hastings, Nebraska in the year 1927. For it to be easily shipped, he transformed his soft drink syrup "Fruit Smack" into the famous powder.
In 1872, Julius Sterling Morton founded Arbor Day in Nebraska City. That was when he proposed a holiday to plant trees in April the same year. Prizes were awarded to the individuals, as well as counties, who planted the most trees that day.
On the first Arbor Day, there were about one million trees planted. It became a legal holiday, then eventually an official state holiday celebrated on the last Friday of the month of April.
Known as the largest hand-planted forest in the United States, Nebraska National Forest covers about 141,159 acres of land.
The Henry Doorly Zoo in Omaha, Nebraska houses the biggest indoor rainforest in the country while the Lied Lunge, which covers 1.5 acres of land, consists of an eight-story building. It features the flora and fauna from rainforests all around the world.
You can find a strange lighthouse standing along the road in Ashland, Nebraska. It's over 75 years old and graces a neighboring 40-acre lake. A lighthouse is located along the seashore, but Nebraska is nowhere near the sea.
The largest mammoth fossil can be found in the Elephant Hall at the University of Nebraska State Museum. It was discovered in Lincoln County in 1922 and has been identified as the remains of a Columbian mammoth, which is also the official state fossil.
Donate Now!
Donate your car now to our Nebraska car donations program for the benefit of our fellow Americans suffering from breast cancer. Let us help them on their struggles. Contact us at 866-540-5069!
Donate a Car to Nebraska Breast Cancer Nonprofits Today!
Looking for more information about donating in a particular area of Nebraska? Click on one of the cities closest to you from the list below.
or Call Us Now at 866-540-5069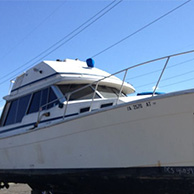 Excellent customer service!