Mount Rainier, Maryland Car Donations
Donate Your Vehicle and Save Lives!
Mount Rainier, Maryland Car Donations: Help Stop Breast Cancer from Claiming More Lives
Breast cancer has been giving agonizing pain to many people not only in America but the rest of the world as well. In fact, the terrible disease has been doing that to people since ancient times.
At present, there seems to be no way to rid the world of breast cancer. However, we can still do something about it. We can help lessen breast cancer cases, prevent people from getting the disease, and provide effective treatment to those who are already afflicted.
With your Mount Rainier, Maryland car donations, all these objectives can be made possible. We can stop this disease from claiming more lives.
If you have an old car, SUV, truck or motorcycle that is no longer in good running condition or has been stuck in your garage for years now, why don't you donate it to Breast Cancer Car Donations instead?
Dumping that clunker in the junkyard will get rid of it immediately but will not give you that much of a payout. Selling or trading it will be a good deal if you can find a buyer that will agree to your terms. However, the question is how long would that take? It can be really difficult and tedious to sell a worn-out car.
The best option is to donate that car to a charitable organization that has been in the business of accepting car donations for over 20 years now. That's Breast Cancer Car Donations. Once you donate to us your car we will tow it immediately and sell it at its highest possible price. What's even better, you will be getting a tax deduction based on the final selling price of your car.
'What Will My Car Donation Do to Breast Cancer Victims?'
Your participation in our car donations program in the area will go long way as it will be used efficiently and effectively to provide breast health services to all who need them, especially the uninsured and underserved breast cancer patients.
The proceeds from the sale of your donated vehicle will be used by our nonprofit organization partners to deliver such services as:
Financial assistance to needy breast cancer patients to cover the cost of their chemotherapy and radiation treatments, including surgical procedures, oncology services, hospital fees, and outpatient medication;
Free physician consultations, labs, and mammogram for five years following breast cancer remission;
Financial assistance to individuals seeking mammograms, ultrasound tests, and lab works;
Counseling for breast cancer patients and their families;
Educating the public on the importance of breast cancer preventive measures and early detection;
Providing funds for the continued research for an improved breast cancer treatment that will hopefully lead to the discovery of the ultimate cure for the disease.
'How Can I Join Mount Rainier, Maryland Car Donations?'
We've come up with the fastest, simplest, and most convenient car donation process for the benefit of our donors. Our Mount Rainier, Maryland car donations process consists of three easy steps:
Give us a call at 866-540-5069.
Provide us your contact information and a few details about the vehicle you're donating such as its make and model, mileage, vehicle identification number, general condition, and title availability. Another option would be for you to fill out our online donation form.
Wait for your car to be towed.
Once we have verified the information you provided, we will make arrangements with an affiliate tow company in your area to pick up your car. The towing fee is on us, and you don't have to pay for anything. The tow truck will pick up your vehicle on your preferred date, time, and place or as early as 24 to 48 hours after you made your first call. We will hand you a tow receipt, which releases you from all liabilities on the car you donated, allowing you to de-register it, dispose of its license plates properly, and cancel its insurance coverage. Keep the receipt since you may need it for tax purposes.
After we auction off your car, we will send you your 100-percent tax-deductible sales receipt by mail, indicating your donated vehicle's final selling price. This will serve as the basis of your tax deduction claim when you file your itemized federal tax return for the next tax-filing season.
'What Types of Vehicles Do You Accept?'
We at Breast Cancer Car Donations accept nearly all types of vehicles that are used on land, sea, and air. This way, we're able to get more donated vehicles, enabling us to help more people.
We don't mind if the vehicle you're donating has scratches or dents or has not run for years. Here are some of the vehicle types we accept in our Mount Rainier, Maryland car donations program:
Cars
SUVs
Trucks
Motorcycles
Boats
Yachts
Campers
Travel trailers
Motorized wheelchairs
Riding lawn mowers
Farm equipment
Non-commercial airplanes
If you want to check out the full list, you can visit our accepted vehicles page.
Give the Gift of Hope
With your car donation, you will provide the spark of hope to victims of breast cancer that they can survive the disease. Contact us at 866-540-5069 and get started with your Mount Rainier, Maryland car donations!
or Call Us Now at 866-540-5069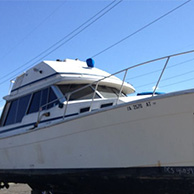 Excellent customer service!