Mount Airy, Maryland Car Donations
Donate Your Vehicle and Save Lives!
Mount Airy, Maryland Car Donations: Help Save Lives While Getting Rid of Your Clunker
Participating in our Mount Airy, Maryland car donations program is a great opportunity to rid yourself of an old car that's been gathering dust in your garage and, at the same time, extend a helping hand to our fellow Americans who are currently battling breast cancer. If you own an old car that you no longer use, we encourage you to donate it to us at Breast Cancer Car Donations so that more lives can be saved.
Breast Cancer Today
Breast cancer is now most common cancer type diagnosed in women. According to Breastcancer.org, every woman in the United States has a 12 percent chance of developing breast cancer. This means that one in eight women will be diagnosed with invasive breast cancer at some point in her life.
The latest statistics estimate that for the year 2018, the country will see 266,120 new cases of invasive breast cancer in women, along with 63,960 new cases of non-invasive (in situ) breast cancer. Moreover, about 2,550 new cases of invasive breast cancer are expected to be diagnosed in men in 2018. This brings the total estimated new breast cancer cases for 2018 at 268,670.
About 40,920 women and 480 men in the U.S. are expected to die in 2018 from breast cancer. For women in the U.S., breast cancer death rates are higher than those for any other cancer type besides lung cancer.
The good news is that death rates have been decreasing since 1989. The early detection and increased awareness are believed to be the reason for this decrease.
As of this day, there are over 3.1 million women with a history of breast cancer. This number includes survivors and women who are still undergoing treatments.
How Your Car Donation Will Help in the Fight Against Breast Cancer
We at Breast Cancer Car Donations, together with our nonprofit organization partners, seek to help as many women as we can in their fight against breast cancer. By joining our Mount Airy, Maryland car donations fundraiser, you would be helping the breast cancer-stricken individuals in your community.
Whether it's an old SUV, RV or a boat that's of no use to you anymore, donating it to us will give you an opportunity to touch the lives of breast cancer victims in your community. The proceeds from the sale of donated cars will go to the charities we work with so that they will be able to offer life-saving services to those who need them. These programs include:
Financial assistance to cover the medical costs especially to uninsured women with breast cancer;
Connecting breast cancer patients with local facilities that would help them get the support they need;
Encouraging women through women empowerment programs;
Funding for continued research for improved breast cancer treatment methods and hopefully, a cure;
Raising public awareness about the importance of early detection, diagnosis, and preventive measures for breast cancer
These are just some of the services that our nonprofit partners will provide, thanks to your car donations. Hopefully, we'll receive more car donations to enable our charity partners to deliver these services to more needy individuals. If you want to donate your clunker today, join our Mount Airy, Maryland car donations program by calling us at 866-540-5069.
How to Join Mount Airy, Maryland Car Donations
We at Breast Cancer Car Donations have made it our goal to give our donors a most pleasant and rewarding donation experience. You will appreciate our three-step Mount Airy, Maryland car donations process for its quickness, simplicity, and the convenience it gives you.
First step: Get in touch with us.
To start your donation process, you need to either fill out our online donation form or call us at 866-540-5069l. We'll have our friendly staff walk you through the donation process. Please provide your personal information as well as your vehicle's make and model, mileage, year, VIN, general condition, and title availability. If you've lost your vehicle title, let us know about it, and we'll help you secure a replacement title quickly.
Second step: Schedule your vehicle's FREE pick up.
After we process your donation request, we'll coordinate with a professional towing company in your area, and we will have your vehicle picked up on your chosen schedule – for free. At the time of pickup, a towing receipt will be given to you, which you can use to legally cancel your car's insurance coverage and registration.
Your car will be displayed at an auction and will be sold to the highest bidder. Your 100-percent tax-deductible sales receipt will be mailed to your address within 30 days after your car's purchase. You will need to present this receipt to claim your top tax deduction when you file your itemized federal income tax return for the next tax-filing season.
Who knew saving lives could be as easy as following these three steps? The next time you have an unused car you're looking to dispose of, consider joining Mount Airy, Maryland Car Donations to support a worthy cause.
Reach Out to Us Now!
We at Breast Cancer Car Donations accept nearly all types of vehicles for donation, including cars, trucks, SUVs, vans, campers, motorcycle, recreational vehicles, fleet vehicles, boats, and planes. For a full listing of the vehicle types that you can donate, visit our Accepted Vehicles page.
Even if your vehicle has some missing parts or even if its engine is busted, you can still donate it for as long as we deem it to have a good enough monetary value.
Let's work together to save the lives of breast cancer victims. Contact us 866-540-5069 and get free towing services for your Mount Airy, Maryland car donations!
or Call Us Now at 866-540-5069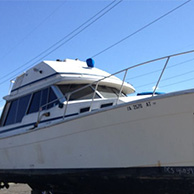 Excellent customer service!