Long Beach, New York Car Donations
Donate Your Vehicle and Save Lives!
Long Beach, New York Car Donations: Help Breast Cancer Victims Win Battle for Survival
Have you been troubling yourself with a lot of repairs for your old car? Is it already getting out of hand? If you think it's time to move on with your car, let Breast Cancer Car Donations help you! We will help you easily get rid of your old car.
You might think that your car is no longer of use, but to us, it is still very useful. Your participation in our Long Beach, New York car donations program will help people with breast cancer on their journey to survival.
If you want to know more, you can check out our guidelines listed below.
Perks You'll Get for Your Car Donations
We make sure that our donors will get the best out of their donations. Breast cancer victims are not the only ones who'll get benefits from us; our donors will also have their own share of rewards.
Our Long Beach, New York car donations will enable you to enjoy numerous perks. Here are some of them:
Get a huge tax deduction.
Save time and effort as you will no longer need to do any selling for your car.
Save money since you'll be free from car repairs and maintenance as well as car registration and insurance payments.
Easy to follow donation process.
Everything is handed out to you.
No need to do any paperwork.
Fast and free pickup and towing.
How Your Car Will Benefit Breast Cancer Patients
Your donated car will be placed in the best auction house in the city. Once it gets sold, the proceeds will be handed out to our reputable nonprofit organization partners. These IRS-certified 501(c)(3) nonprofit organizations are the American Breast Cancer Foundation (ABCF) and the Women Involved In Nurturing, Giving, Sharing, Inc. (WINGS).
They will use the funds to sustain and expand their various breast cancer support programs. They provide vital services that include:
Funding for breast cancer research to find more effective treatment options;
Financial support to uninsured individuals to enable them to get breast cancer screening, diagnostic tests, and treatment;
Information campaigns to make people more aware of the importance of breast cancer prevention and early detection.
ABCF and WINGS have been delivering these services to needy individuals for a long time now, and they have already helped thousands of people afflicted with breast cancer. You can increase their capacity to serve by donating your old and unwanted vehicles to us at Breast Cancer Car Donations. Call us at 866-540-5069 to make your Long Beach, New York car donations!
The Types of Vehicles We Accept for Donation
We accept not just cars but nearly all other types of motor vehicles and even boats and planes in our Long Beach, New York car donations fundraiser. This allows us to get more donations, which mean more funds for needy breast cancer patients.
You can even donate vehicles that are not in good running condition or have dents, scratches, and a few missing or defective parts. However, please don't donate a vehicle that's so badly damaged that it has little or no value anymore. Don't also donate stolen or abandoned vehicles because they obviously don't have a title or proof of ownership, which is a requirement in selling vehicles.
Here are some examples of vehicle types we accept:
Cars
Motorcycles
Pickup trucks
Vans
Minivans
Travel trailers
Campers
Farm equipment
Golf carts
Nearly all kinds of boats, including jet skis
Non-commercial airplanes, helicopters
How to Make Long Beach, New York Car Donations
You can easily reach out to breast cancer sufferers by taking part in our Long Beach, New York car donations program. We have a three-step donation process that has been designed to give our donors as much convenience as possible.
Here is our fast and simple car donation process:
You can either fill out our online donation form or call us at 866-540-5069 if you want to talk to one of our friendly donation specialists. Please provide us your personal contact information, your car's make and model, year, mileage, VIN, general condition, and title availability.
Setup a schedule for your car's pickup.
After verifying the information you shared, we'll arrange your car's pickup schedule based on your chosen date, time, and location. We'll have a tow truck come to your place to pick up your car. The tow truck personnel will give you a tow receipt that releases you from all liabilities on your donated vehicle, allowing you to cancel and stop paying for its registration and insurance coverage.
Claim your tax deduction.
Within 30 days after your vehicle is sold at auction, you will receive from us your car's 100-percent tax-deductible sales receipt. This shows your car's final selling price, which will serve as the basis of your tax deduction claim when you file your itemized IRS income tax return for the next tax-filing season.
Donate Your Car Now!
Time is of the essence in helping our fellow Americans who are fighting for survival against breast cancer. Every second counts in the lives of these people. Contact us at 866-540-5069 and make your Long Beach, New York car donations now!
or Call Us Now at 866-540-5069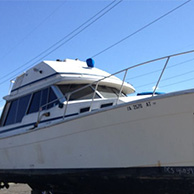 Excellent customer service!