Freeport, New York Car Donations
Donate Your Vehicle and Save Lives!
Save Lives and Get Benefits With Your Freeport, New York Car Donations
Many of our fellow citizens who are afflicted with breast cancer are in serious need of assistance. Would you like to be one of their lifesavers? You can be if you join our Freeport, New York car donations program!
Breast cancer is regarded as the most common type of cancer among women in the U.S. It's also the second leading cause of cancer death in women.
Medical experts have placed the average risk of a woman in the U.S. being diagnosed with breast cancer sometime in her life at about 12 percent. This means that an American woman has a one in eight chance of developing the deadly disease that still has no known cure.
Experts have also deduced that the chance of an American woman dying from breast cancer is about one in 38, or about 2.6 percent.
In 2015, a total of 3,418,124 women were estimated to have contracted breast cancer in the United States.
This 2018, the National Cancer Institute estimates 268,670 new cases of invasive breast cancer, along with 63,960 new cases of non-invasive (in situ) breast cancer. About 41,400 U.S. women are expected to die this year from this terrible disease.
How We're Fighting Breast Cancer and What You Can Do to Help
The statistics are indeed grim, but we are not actually powerless to fight this disease. In partnership with the nation's leading breast cancer-focused nonprofit organizations, Breast Cancer Car Donations has been waging a relentless campaign to stop the tentacles of breast cancer from ensnaring more American lives.
You can greatly help our cause by taking part in our Freeport, New York car donations program. We'll turn the vehicles you donate to us into a source of funds for our nonprofit organization partners: the American Breast Cancer Foundation (ABCF) and Women Involved In Nurturing, Giving, Sharing, Inc. (WINGS). The funding will enable them to sustain and expand their ongoing life-saving programs that deliver vital breast health services to all concerned individuals. The services include:
Financial assistance to uninsured and underserved Americans undergoing treatment for breast cancer;
Effective treatment and rehabilitation of breast cancer patients;
Support for these patients' families;
Funding research on advanced methods of breast cancer prevention, screening, diagnosis, and treatment;
Enhancing campaigns for public awareness of the causes, symptoms, prevention, and detection of breast cancer.
About Freeport, New York
Freeport is a village in the town of Hempstead, Nassau County, New York, located on the South Shore of Long Island. With a population of 43,713 as of the 2010 census, Freeport is a Long Island hotspot, particularly in summertime. During its Nautical Mile festival, you should never miss out the fun in their seafood restaurants, eclectic boutiques, crab shacks, and fresh fish markets.
Unfortunately, village residents who are afflicted with breast cancer are missing out on the fun as they continue their struggle to beat the disease. With your help by way of your participation in our Freeport, New York car donations fundraiser, you can help ease their pain and enable them to survive the disease.
What You'll Get for Joining Freeport, New York Car Donations
Donating is commonly understood as giving without asking something in return. However, we at Breast Cancer Car Donations have made donating a "rewarding" experience by providing benefits to our esteemed donors.
When you donate your old and unwanted car to us, you'll receive plenty of perks. Here are some of them:
You'll receive a maximized tax deduction.
Our towing services are absolutely free.
We'll be the one to do the paperwork for you.
You'll enjoy our easy and hassle-free boat donation process.
You're now free from any liabilities on your car, which means no more insurance, and registration payments.
You don't need to go through the tiring, time-consuming, and demanding process of selling your car. We'll be the one to sell it for you through our nationwide auction network where it would be sold much quicker and with no hassle on your part.
You'll feel happy knowing that you'll be making a difference in the lives of breast cancer patients.
How to Join Our Car Donation Fundraiser
If you are now inclined to participate in our Freeport, New York car donations program, we're glad to tell you that we've designed the process to make it as convenient as possible to our donors. We'll handle everything for you after you initiate the process.
First: Reach out to us.
Fill out our online donation form or call us at 866-540-5069. Tell us a few basic details like your contact information and your vehicle's make, model, year, mileage, its working condition, and availability of title.
Second: We pick up your vehicle.
After verifying the data you shared, we'll call you back to arrange for a vehicle pickup schedule most convenient to you. We'll assign an affiliate towing company in your area to do the job. Their tow truck will promptly show up on schedule to pick up your car. No need to pay for anything and no need to be there when we haul your car away. We'll give you a tow receipt that frees you from any liabilities on your vehicle and gives you the right to cancel your car registration and insurance coverage.
Third: Get your tax deduction.
Within 30 days after we sell your car at auction, we will send you your tax-deductible sales receipt by mail. The receipt will show your car's final selling price, which is the tax deduction you may claim when you file your itemized federal income tax return for the next tax-filing season.
The Types of Vehicles We Accept
If you own a vehicle that's been stuck in your garage for eternity, why not get the eyesore out and just donate it to us? We accept nearly all types of motor vehicles and boats and planes as well in our Freeport, New York car donations fundraiser. It doesn't matter if the vehicles are not in the best of shape. For as long as they have titles and have not been badly damaged, we'll accept them for donation!
Here's a list of the vehicles we accept for donation:
Cars: sedans, vans, SUVs, trucks, motorcycles
Boats: sailboats, motorboats, fishing boats, yachts, pontoon boats, houseboats, personal watercraft (like jet skis)
RVs: recreational vehicles, motorhomes, campers, travel trailers, pop-up trailers, 5-wheelers
Specialty vehicles: ATVs, snowmobiles, motorized wheelchairs, riding lawn mowers, tractors, farm equipment
Fleet vehicles: passenger vans, cargo vans, pickups, trucks, buses
Non-commercial airplanes and helicopters
If you're interested in donating more than one vehicle, that's great!  More donations mean more aid for breast cancer sufferers.
Have a Rewarding Experience
Donating a vehicle to us at Breast Cancer Car Donations is one of the most rewarding experiences you'll ever have. Contact us at 866-540-5069 now! Save lives and get benefits with your Freeport, New York car donations!
or Call Us Now at 866-540-5069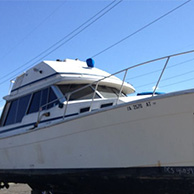 Excellent customer service!