Hempstead, New York Car Donations
Donate Your Vehicle and Save Lives!
Turn Your Vehicle into a Lifesaver Through Hempstead, New York Car Donations
Do you have an old non-running car that's been stuck in your garage for ages? Do you want to get it out but don't know what to do with it? Are you too busy to try and sell it? Do you feel compassion for people who are suffering from breast cancer? Do you want to help them without hurting your pocket? If you answer "Yes" to all these questions, you are in luck since our car donations program in the area can turn all the things you want into reality.
How Your Car Donation Will Help Breast Cancer Sufferers
When you donate that car to us at Breast Cancer Car Donations, we'll convert it into a financial resource that our nonprofit organization partners will use to sustain, expand, and improve the comprehensive breast health services they provide to all individuals who need them. These services include:
Raising public awareness on the signs and symptoms of breast cancer to promote early detection;
Financial assistance for the treatment of uninsured breast cancer patients, covering their surgery, chemotherapy and radiation treatments, hospital fees, and outpatient medication;
Free medical consultations, labs, and mammogram for five years following remission;
Counseling for breast cancer patients and their families;
Educating the public on measures to prevent breast cancer as well as the importance of breast cancer screening to enable early detection and quick treatment;
Providing funds to boost breast cancer research aimed at finding more effective and faster diagnosis and treatment methods and, ultimately, a cure for the disease.
The Benefits You'll Get for Donating a Car
You may not be thinking much of the benefits you'll get for contributing to our Hempstead, New York car donations fundraiser. Your prime motivation in donating a car may simply be to help others. Nevertheless, we hope you'd be glad to know about the perks we've lined up for you as our token of gratitude for your generosity.
Here are some of the benefits you'll get for your Hempstead, New York car donations:
You'll get a maximum tax deduction for every vehicle you donate to us. We have been in this business for over 20 years, and we certainly know how to effectively sell vehicles at their highest possible price point at par with their fair market value.
Fast and free towing services.
The service that our affiliate towing company provides is not only fast but absolutely free as well.
We understand how busy you are, that's why we won't bother you with time-consuming paperwork. We'll be the one to that for you.
Experience the quickest and easiest donation process in town.
You'll be amazed at how fast our car donation process. We expedite everything for your convenience.
Save money on maintenance and repair costs.
With your unwanted car already in our hands, you've freed yourself from the bondage of paying for your car's repairs, maintenance, registration, insurance, and other miscellaneous expenses.
Avoid the hassle of selling your car.
There's no need to waste time, effort, and money in running ads and negotiating with potential buyers since we'll be the one to sell your car the professional way to a much, much bigger market of used car buyers.
Our Amazingly Fast and Simple Car Donation Process
We've already mentioned about our super quick and super easy Hempstead, New York car donations process. Here's how the three-step process looks like:
Fill out our online donation form or call us at 866-540-5069. Tell us the type of vehicle you're donating, its year, make, model, mileage, VIN, general condition, and title availability. Tell us also how we can reach you.
After checking the information you shared, we'll get back to you to arrange your car's pickup schedule. Tell us what's the most convenient day, time, and place for you to turn over your car to us. We'll be there on the dot to tow your car away. Before we do, we'll give you a tow receipt, a document that releases you from all liabilities on the car you donated and allows you to de-register it, dispose of its license plates properly, and cancel its insurance coverage.
Receive your tax deduction.
Within 30 days after we sell your car at auction, you'd receive your car's 100-percent tax-deductible sales receipt by mail. The amount indicated in the receipt will serve as the basis of your tax deduction claim when you file your itemized federal income tax return for the next tax-filing season.
The Types of Vehicles We Accept
We accept almost any type of vehicle, running or not, old or not so old, in our Hempstead, New York car donations fundraiser.
Here's a partial list of the vehicles we accept for donation:
Cars, vans, SUVs, trucks, motorcycles
Sailboats, motorboats, fishing boats, yachts, pontoon boats, houseboats, personal watercraft (like jet skis)
RVs, motorhomes, campers, travel trailers, pop-up trailers, 5-wheelers
ATVs, snowmobiles, motorized wheelchairs, riding lawn mowers, tractors, farm equipment
Fleet vehicles such as passenger vans, cargo vans, pickups, buses
Non-commercial aircraft
Bring Hope and Joy to Breast Cancer Sufferers
You might find it incredulous that your old and shabby car could bring so much hope and joy to a breast cancer patient unable to find the means to pay for her medication. Contact us at 866-540-5069 and turn your car into a lifesaver by joining our Hempstead, New York car donations program.
or Call Us Now at 866-540-5069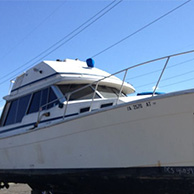 Excellent customer service!