Lexington, Kentucky Car Donations
Donate Your Vehicle and Save Lives!
Lexington, Kentucky Car Donations: Give the Gift of Hope to Breast Cancer Sufferers
Stand with us as we fight breast cancer through our Lexington, Kentucky car donations program. Breast Cancer Car Donations provides a convenient platform allowing kind-hearted residents of this city to extend a helping hand to those who are waging a valiant struggle against breast cancer but lack the financial resources to undergo full treatment. With just one phone call to us from the comforts of your own home, telling us your readiness to donate your car in support of our program, you can help save lives of women afflicted with this devastating disease.
We at Breast Cancer Car Donations operate vehicle donations on behalf of our certified 501(c)3 nonprofit partners to generate funds for their programs that provide free and accessible comprehensive breast health services to people who do not have the financial resources to avail themselves of those services. These services are geared towards breast cancer prevention, early detection, treatment and/or cure. We are proud partners of the American Breast Cancer Foundation (ABCF) and Women Involved In Nurturing, Giving, Sharing, Inc. (WINGS).
The proceeds of your car donations in the area will go straight to these two non-profits. The funding we enable them to sustain and improve their programs and services, such as:
Providing financial assistance to uninsured and underserved breast cancer patients, covering their surgery, oncology services, consultation, hospital fees and outpatient medication;
Connecting these patients to local facilities that offer free and accessible resources, information and other comprehensive breast health services;
Raising public awareness on breast cancer prevention, diagnosis, and treatment;
Pursuing research on prevention, screening, diagnosis, and treatment of breast cancer; and
Sponsoring charity and outreach events for the benefit of breast cancer patients
Our Convenient 3-Step Donation Process
You can extend assistance to needy breast cancer patients in your city by initiating our three-step Lexington, Kentucky car donations process:
Once you're ready to make your car donation, give us a call at 866-540-5069. You may also fill out our online donation form to begin the process. Either way, we will respond promptly. Give us a quick background about yourself and a few basic details about the car you're donating – its year, make, model, mileage, general running condition, availability of title.
We will ask you to tell us the most convenient date, time, and place for us to pick up and tow your vehicle. Please note that this is absolutely free of charge. We will give you a donation receipt during the pick-up. This will relieve you from any liabilities on your vehicle and gives you the right to cancel your car registration and insurance coverage and stop paying for them. The receipt is also a requirement for the processing of your top tax deductions.
This is one of the biggest benefits of donating a car to Breast Cancer Car Donations. Within 30 days after we auction off your vehicle, we will send you your 100 percent tax-deductible sale receipt, indicating your donated vehicle's final selling price. This will serve as the basis of your tax deduction claim when you file your itemized federal tax return.
Benefits That Await You as Car Donor
Benefits go both ways when you take part in our Lexington, Kentucky car donations program. As an expression of our gratitude for your generosity in helping breast cancer patients, we have come up with several perks for you to enjoy:
Get a handsome tax deduction.
Because we want to get the most out of your donated car, we will refurbish it before sending it to the best auction house where it would be sold for its highest possible selling price. This would result in maximized tax deductions on your federal tax return.
We'll pay for your vehicle pick-up and tow.
You won't pay even a dime to get that unwanted car off your garage since the cost of towing is on us.
Avoid the hassle of selling
If you simply donate your car to us, you won't have to run ads, deal with phone calls or emails, show your vehicle to potential buyers, and haggle over the sales price.
When you donate your car to us, we'll handle all the paperwork from beginning to end — from handling the title transfer to the documentation required in receiving your charitable tax deduction.
Save money on repairs, other payments
Stop wasting money in paying for endless car repairs, registration, and insurance payments for a car you hardly use because of frequent breakdowns.
Bring out the best in you by supporting a worthy cause.
Donating your car to help save lives will give you a deep sense of personal satisfaction.
Unclog your garage or backyard.
Donating your old car would make room for a new one in your garage.
The Types of Vehicles We Accept For Donation
We accept almost all types of vehicles in our Lexington, Kentucky car donations program as long as they come with proof of ownership. We need this document so that we could sell it at auction.
Here the common types of vehicles we accept for donation:
General vehicles: sedans, vans, SUVs, trucks, motorcycles, buses, pickups
Boats and planes: sailboats, motorboats, fishing boats, yachts, pontoon boats, houseboats, jet skis, non-commercial airplanes
RVs: recreational vehicles, motorhomes, campers, travel trailers, pop-up trailers, fifth wheelers
Specialty vehicles: ATVs, snowmobiles, motorized wheelchairs, riding lawn mowers, tractors, farm equipment.
On a case-to-case basis, you can still donate a car even if it doesn't run anymore or its headlights are busted.
Donate Now!
Your old unwanted car may look useless to you, but it can look like a priceless gift to those affected by breast cancer. This is because your car will give them what they need the most: hope.
Call us at 866-540-5069 and give hope to financially strapped breast cancer patients and their families by donating a vehicle to our Lexington, Kentucky car donations program!
or Call Us Now at 866-540-5069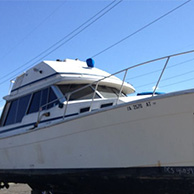 Excellent customer service!