Kentucky Car Donations
Donate Your Vehicle and Save Lives!
Kentucky Car Donations: Be a Hero to Breast Cancer Patients!
Did you know that you can contribute to saving the lives of breast cancer sufferers in Kentucky by simply donating an unwanted car to our Kentucky car donations program? Yes, you read that right. By giving away a vehicle that you no longer need, you will be playing a role in finding better ways to diagnose and treat breast cancer. This is so because part of the proceeds from the sale of donated vehicles is spent by our non-profit organization partners in furthering research on breast cancer.
Despite the untiring efforts of our scientists and cancer specialists to find a cure for the deadly disease, it's sad to note that no such cure has been discovered yet.
Here in Kentucky, the Cancer Statistics Center of American Cancer Society estimates that for 2018, breast cancer will hit 3,720 women with 580 dying from the disease. Nationwide, the Society estimates that more than 268,000 new cases of breast cancer will be recorded this year with over 41,000 deaths.
This is why working with Breast Cancer Car Donations to fight breast cancer really matters. We transform that old or rundown car of yours into something meaningful and even life-changing for breast cancer patients.
Basically, we generate funds from our Kentucky car donations program, with the proceeds going to reputable non-profit organizations we collaborate with. Your car donations will make it possible for these nonprofits to support affected women and their loved ones.
If you've always wanted to take part in the fight against breast cancer, now would be an ideal time. Besides, wouldn't it be great to get rid of something you don't want anymore and use it to support a worthy cause?
Enjoy Our Quick and Efficient Donation Process
One of the best incentives for working with Breast Cancer Car Donations is the fact that we offer a donation process that's really simple and convenient for everyone. Since you're doing your part in helping out thousands of our unfortunate fellow citizens afflicted with this horrible disease, we want to show our gratitude by making things easier for you.
Once you've made up your mind to donate your old automobile to us, give us a call at 866-540-5069 and we will get to you immediately. There's no need for you to worry about looking for an affordable towing company, since we will be the one to arrange for a licensed towing company to pick up your car, and it's all for free! You also need not stress yourself thinking about the paperwork involved. We assure you, all paperwork will be done by us.
This is how simple our Kentucky car donations process is:
You only need to contact us either by phone or by filling out our online donation form. We'll be asking certain details about the vehicle you plan to donate, including its manufacturer and mileage. We will then ask for your preferred date and time for picking up your car.
The tow truck we hired for you will then pick up and tow your car. We will give you your donation receipt that will free you from all liabilities on your car ownership, which means you can now cancel your car registration and insurance coverage and stop paying for them.
We will then sell your car at auction. Within 30 days after we sell your car, we'll send you your tax-deductible sales receipt that shows your vehicle's final selling price. You'll need this to claim your maximum tax deduction once you file your federal tax return
We will transfer the proceeds from the sale of your car to our partner nonprofits that will use it to provide free and accessible comprehensive breast health services. Hence, a car that you no longer need becomes an instrument for saving lives.
With a donation process as quick and smooth as ours, there's no need for you to look for other car donation programs in Kentucky. Breast cancer patients and their families are counting on you!
Vehicle Types We Accept
Another reason why it makes perfect sense to work with us is that we take almost all types of vehicles, regardless of their age, mileage, or working condition. Don't hesitate to donate a car that's no longer functioning well. We will accept it as long as it can be sold. With that said, there's no reason for you to be shy about giving away a non-running automobile.
Here's a partial list of vehicle types we normally accept for our car donations program here in the state:
Cars: SUVs, convertibles, minivans, trucks
Motorcycles: scooters, dirt bikes, touring motorcycles, sports bikes
RVs: motorhomes, travel trailers, pop-up trailers, campers
Specialty vehicles: riding lawnmowers, snowmobiles, farming equipment, motorized wheelchairs
Watercraft and aircraft: jet skis, cruise ships, yachts, motor boats, non-commercial planes
If you have a type of vehicle not listed here, just contact us and we'll be glad to help you out. There's a big chance we'll take it.
Benefits of Joining Our Kentucky Car Donations
We already mentioned some of the benefits that donors to our Kentucky car donations program will get: top tax deduction, fast and simple donation process, no more payment of car registration and insurance, no paperwork, and free pick-up and towing. Those are just some of the perks you stand to get: Here are some more:
You won't need to dispose or sell your car by yourself – less hassle on your part.
Get rid of the unused car that's stuck in your driveway.
Enjoy an immense sense of satisfaction knowing that your car donation will make a huge impact in the lives of women battling breast cancer.
Let Us Fight Breast Cancer Together!
Ready to part ways with your car and give it a new home? Call us at 866-540-5069 now and join our Kentucky car donations program. Be a hero to breast cancer patients!
Donate a Car to Kentucky Breast Cancer Nonprofits Today!
Looking for more information about donating in a particular area of Kentucky? Click on one of the cities closest to you from the list below.
or Call Us Now at 866-540-5069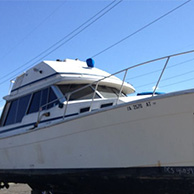 Excellent customer service!