Kensington, Maryland Car Donations
Donate Your Vehicle and Save Lives!
Give Breast Cancer Victims the Gift of Hope Through Kensington, Maryland Car Donations
If you're planning to sell or trade your old car, stop right there and consider donating it to our Kensington, Maryland car donations program instead. When you donate that car to us, you'll get rewards and that extraordinary feeling of satisfaction that you can't find if you sell or trade it.
We at Breast Cancer Car Donations have partnered with two of the nation's leading nonprofit organizations that are fully engaged in the fight against breast cancer. These are the American Breast Cancer Foundation (ABCF) and Women Involved in Nurturing, Giving, Sharing, Inc. (WINGS).
The funds arising from your car donation will go to these nonprofits. They will use the funding to sustain and expand their programs that provide essential and comprehensive breast health services to all individuals who need them, particularly breast cancer patients who lack the financial resources to pay for the cost of their treatment.
ABCF is a nonprofit dedicated to the early detection and diagnosis of breast cancer. This is the key to saving lives since early detection of breast cancer assures a higher rate of survival.
WINGS, on the other hand, is a nonprofit that provides all-inclusive breast health services, including breast cancer treatment, to uninsured and underserved women.
Aside from that, the proceeds from the sale of your car donation will also be used to support breast cancer research to find new and better ways to prevent, detect, manage, and treat the disease with the ultimate objective of finding a cure for it.
What You Get for Donating Your Vehicle
With all the benefits that one single car donation can give to our breast cancer beneficiaries, expect to be treated like a hero in your community when you decide to join our Kensington, Maryland car donations fundraiser.
More than the accolades, you'll also get to receive material rewards and a pleasant experience for your act of charity. Here are some of the perks that await you as our car donor:
You'd go through the quickest and easiest car donation process that won't take more than five minutes of your time.
Receive a maximum tax deduction. We'll exert our best effort to get top dollar for your donation when we sell it at auction. This will enable you to claim the biggest possible tax deduction when you file your itemized federal income tax return next tax-filing season.
You'll be amazed at our fast and absolutely free towing services.
No need for you to handle any kind of stressful paperwork. We take care of this—from title transfer completion to tax-deductible receipt issuance.
Save your hard-earned money when you stop paying for maintenance and repair costs.
Avoid wasting your time, energy, and money in trying to sell your car. We'll be the one to professionally do this for you.
How to Join Kensington, Maryland Car Donations
From the comforts of your home, you can quickly reach out and make a difference in the lives of fellow Americans stricken with breast cancer. Here's our three-step Kensington, Maryland car donations process that guarantees you utmost convenience:
Give us a call at 866-540-5069 and fill us in on your personal contact details and your vehicle's year, make, model, mileage, availability of a title, and overall running condition. You can also opt to fill out our online donation form where you can provide us the same information.
Schedule your free pickup.
A professional towing company affiliated with us will give you a call so that you can arrange the best date, time, and place for your free vehicle pickup service. Before the tow truck takes your vehicle away, we will give you a towing receipt that will free you from all liabilities on the car, which means you can now legally cancel its registration and insurance coverage.
Receive your tax-deductible receipt.
Upon the sale of your vehicle, we will mail to you your 100-percent IRS tax-deductible sales receipt which you'll use to claim your tax deduction.
The Vehicle Types We Accept for Donation
We accept nearly all types of vehicles in our Kensington, Maryland car donations fundraiser as long as they come with titles or proof of ownership. We'll need to get the title of the car you're donating, otherwise, we won't be able to sell it at auction. However, if you lost your vehicle's title, we can easily and quickly help you secure a replacement title.
If you have more than one old and unwanted vehicle lying around your property, don't hesitate to donate them because we love multiple donations.
Here's a list of vehicle types acceptable to us:
General vehicles: cars, vans, trucks, SUVs, trucks, pickups, and motorcycles
Recreational vehicles: RVs, campers, 5th wheelers, recreational vehicles, motorhomes, pop-up trailers
Specialty vehicles: ATVs, riding lawnmowers, snowmobiles, motorized wheelchairs, golf carts, tractors, and farm equipment
Fleet vehicles: buses, passenger vans, cargo vans
Watercraft: yachts, motorboats, fishing boats, pontoon boats, jet skis
Aircraft: private jets, planes, and helicopters
Brighten Up Breast Cancer Victims' Dark World!
Being diagnosed with breast cancer can feel like it's the end of the world for its victim. Fright, sorrow, and grief can overcome such a person. With your car donation, however, you allow bright rays of hope to filter into that person's world. Contact us at 866-540-5069 and give the gift of hope to breast cancer victims with your Kensington, Maryland car donations!
or Call Us Now at 866-540-5069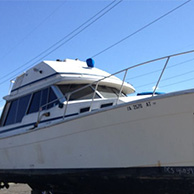 Excellent customer service!