Kansas City, Missouri Car Donations
Donate Your Vehicle and Save Lives!
Kansas City, Missouri Car Donations: Top 6 Benefits for Extending Aid to Breast Cancer Victims
 While you were staring at that eyesore of a car sitting in your backyard, have you ever toyed with the idea of getting rid of it by donating it to our Kansas City, Missouri car donations program? If you have, then bless your heart, because you have the makings of a local hero. While there are plenty of charities to choose from, we're here to encourage you to make a donation for the benefit of those who are affected by breast cancer – the second leading cause of cancer deaths among women in the United States.
Breast cancer, the most commonly diagnosed cancer in the United States, is characterized by the formation of malignant cancer cells that abnormally multiply in a person's breast tissues. Only 5-10 percent of this cancer is due to a mistake in one's inherited genetic material. The remaining 85-90 percent happens as a result of the aging process.
Kansas City is the largest city in the state of Missouri. It has an estimated population of 459,787 with women comprising 51 percent of the total. Health experts say one in every eight of these women will be diagnosed with breast cancer at some point in her life.
Breast Cancer Car Donations has partnered with certified 501(c)3 nonprofit organizations that battle against breast cancer by running programs that are directed toward prevention, early detection, and treatment. Because we want them to focus more on their life-saving missions rather than manage car donation programs, we do the latter for them. We are proud of our partnership with:
American Breast Cancer Foundation (ABCF)
ABCF's mission is to reduce the disparity in access to breast cancer diagnosis and treatment among the poor. They give full emphasis on the importance of providing education, access and financial assistance to aid in the early detection and treatment of breast cancer among underserved and uninsured patients in every state. Aside from this, their link and referral systems allow free access to local resources, services, and information that are ethnically and linguistically appropriate to the needs of the individual.
Women Involved in Nurturing, Giving, Sharing, Inc. (WINGS)
Seeking to bridge the gap between breast cancer diagnosis and treatment, the people behind WINGS work tirelessly to provide comprehensive breast cancer treatment including surgery, oncology services, hospital fees, outpatient medications and other services, as needed. Beyond treatment, WINGS is dedicated to raising breast cancer awareness and outreach.
The proceeds of every vehicle donated to our Kansas City, Missouri car donations program will be used for funding programs that are geared towards strengthening established prevention strategies, sustaining financial assistance platforms, and exploring better treatment modalities. With us, you can be sure that your donation will exclusively benefit the residents of Kansas City, Missouri.
Your Top 6 Benefits for Every Car Donation
You know that your 1998 Mazda has hit the end of the road when it requires more than an hour of repair and maintenance for every hour of driving. Before it burns huge holes in your pockets, donate it to us! The good news is, you can part ways with your clapped-out car without cost and hassle!
When you donate a vehicle to Kansas City, Missouri car donations, you gain more than you think. Let's take a closer look at how you would benefit from your own donation:
The donation process is insanely fast and easy!
All it takes is for you to give us a call at 866-540-5069 or fill-out our online donation form found everywhere on our website. While you're at it, we'd gather a few basic details like your contact information (which we promise never to sell) and your donated vehicle's year, make and model.
Experience FREE pickup and towing!
You won't need to call the local towing company – we'll do it for you. Just tell us your preferred time and place for pickup and we'll be there to haul your vehicle away at no cost!
When you donate a vehicle to Kansas City, Missouri car donations, you can be sure that you can deduct 100 percent of your donated car's actual sale price on your itemized federal tax return!
Do away with maintenance, repair, and other incidental expenses!
The longer you keep your car sitting uselessly in your backyard, the more you'd spend on repairs and general upkeep. When the free maintenance and warranty periods are over, the cost of ownership would definitely hit the roof.
You won't have to go through the hassle of selling!
When you donate your vehicle to Breast Cancer Car Donations, you won't have to go through the stressful and time-consuming process of running ads, dealing with brokers, negotiating with potential buyers and waiting to get the offer that you were hoping for!
We'll handle all the paperwork!
Sit back and relax. Our team will handle everything for you — from title transfer to tax-deductible receipt issuance.
Be a Part of a Breakthrough
On average, a woman is diagnosed with breast cancer every two minutes and one woman dies of it every 13 minutes. With our combined efforts, we can bring these numbers down. Be a part of a breakthrough and help decrease the burden of breast cancer in Kansas City, Missouri.
Donate your car so others can live. Contact us at 866-540-5069 and get free towing services for your Kansas City, Missouri car donations!
or Call Us Now at 866-540-5069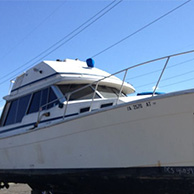 Excellent customer service!