Jamestown, New York Car Donations
Donate Your Vehicle and Save Lives!
Extend Vital Assistance to Breast Cancer Patients Through Jamestown, New York Car Donations
We at Breast Cancer Car Donations have been working for more than 20 years now to fight breast cancer and save the lives of its victims. Our goal is to help in lowering the number of victims of this deadly disease by providing the funds needed in delivering essential breast health services to as many people as possible.
By participating in our Jamestown, New York car donations program, you will be helping us in our mission to save the lives of breast cancer patients in this community and rebuild those of breast cancer survivors, giving them a brighter future. Your old car may be of no use to you anymore, but to us, it's a life-saving instrument.
'What Will Happen to My Donated Car?'
When you take part in our Jamestown, New York car donations, your car will be auctioned off, the proceeds of which will be sent directly to our nonprofit organization partners that have existing programs that cater to people needing breast health services. With the funds that our donors helped supply, our charity partners are able to deliver vital services, including:
Financial assistance for the treatment of uninsured breast cancer patients, covering their surgery, chemotherapy and radiation treatments, hospital fees, and outpatient medication;
Free physician consultations, labs, and mammogram for five years following remission;
Distribution of free educational resource tools such as Newly Diagnosed Patient Kits;
Counseling for breast cancer patients and their families.
Educating the public on measures to prevent breast cancer as well as the importance of breast cancer screening to enable early detection and quick treatment;
Providing funds to boost breast cancer research aimed at finding more effective and faster diagnosis and treatment methods and, ultimately, a cure for the disease.
'What Benefits Will I Get?'
As you take part in our Jamestown, New York car donations fundraiser, you'll not only provide life-saving benefits to your needy fellow citizens but receive your own set of perks as well for your good deed. Here are some of these perks:
Our donation process is very easy to do;
We will take care of everything including all the paperwork;
We will pay for the towing and pickup;
Save money as you say goodbye to repairs, insurance and registration;
Save time as you no longer need to do any type of selling;
Get yourself a hefty tax deduction
'What Is Your Donation Process?'
When you participate in our Jamestown, New York car donations program, we will do our best to give you your best giving experience. We assure you you'll never encounter any problem whatsoever.
We planned our donation process with our donors' comfort and convenience in mind. You can do it in the comforts of your own anytime!
All you have to do is fill out our online donation form or call us at 866-540-5069. In either of the two options, you just have to tell us your personal contact information and your car's year, make, model, and mileage, condition, title availability, and VIN.
After verifying the information you shared, we'll schedule your car's pickup. Once again, we'll take your convenience in full consideration as you'll be the one to tell us your preferred date, time, and location for the pickup.
We'll then assign a licensed towing company affiliated with us to do the job. Before your car is hauled off, you will be given a tow receipt that will free you from all liabilities on your donated car. This gives you the right to cancel your car registration and insurance coverage and stop paying for them. The receipt is also a requirement for the processing of your tax deduction.
Within 30 days after we auction off your car, we'll send you your car's 100-percent tax-deductible sales receipt, indicating your donated car's final selling price. This will serve as the basis of your tax deduction claim when you file your itemized federal tax return for the next tax-filing season.
Don't hesitate to call us if you have any questions or concerns regarding our car donation process. We have our donation specialists waiting for your call 24/7.
'What Vehicles Do You Accept for Donation?'
At Breast Cancer Car Donations, we accept virtually any type of vehicle. You can donate any vehicle without worrying about its condition since we accept even vehicles that are not in running condition or have dents and scratches.
However, we have to decline offered vehicles that are heavily damaged since they hold little or no value. We also decline stolen and abandoned vehicles because they obviously do not have a title, which is a requirement in selling vehicles.
Here is a list of the various vehicle types we accept in our Jamestown, New York car donations program:
General vehicles: cars, SUVs, vans, minivans, pickup trucks, motorcycles
RVs: campers, trailers, toy haulers, 5th wheelers, popup trailers, travel trailers,
Watercraft: fishing boats, motorboats, sailboats, pontoon boats, jet skis, wave runners, yachts
Specialty vehicles: farm equipment, tractors, snowmobiles, riding lawn mowers, motorized wheelchairs
Fleet vehicles: passenger vans, cargo vans, buses
Aircraft: non-commercial airplanes and helicopters
Begin Your Donation Now!
Don't wait any further! Our fellow citizens afflicted with breast cancer are desperately seeking help. They're counting on your help through your contribution to our Jamestown, New York car donations program.
Contact us immediately at 866-540-5069 if you are ready to make a difference in the lives of breast cancer sufferers. Donate now!
or Call Us Now at 866-540-5069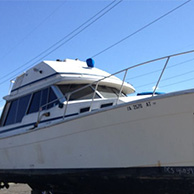 Excellent customer service!