Ithaca, New York Car Donations
Donate Your Vehicle and Save Lives!
Throw Lifelines to Breast Cancer Victims Through Ithaca, New York Car Donations
If you think that your more than 10-year-old car has become a financial liability and an eyesore in your garage, getting rid of it through our Ithaca, New York car donations program would be the best course of action to take. That would present you with a win-win situation: You dispose of an unwanted car while getting a sizeable tax deduction in return and, to top it off, giving your fellow Americans stricken with breast cancer a much-needed shot in the arm that would enable them to survive the disease.
When you donate that car to us, you'll show the best part of yourself and become a hero in the eyes of the many breast cancer patients who would benefit from your donation.
Why Go for Ithaca, New York Car Donations?
For over 20 years now, we at Breast Cancer Car Donations have been relentlessly fighting the scourge of breast cancer, which continues to afflict hundreds of thousands of Americans and kill tens of thousands of them year in and year out. Our role is to generate funds by managing car donations nationwide for our certified 501(c)3 nonprofit organizations partners, the American Breast Cancer Foundation (ABCF) and Women Involved in Nurturing, Giving, Sharing, Inc. (WINGS).
Thus, the proceeds from the sale of the vehicle donations we receive are used by our charity partners to fund life-changing programs that aim to give breast cancer patients the chance to live better and longer lives. When you donate your old and unwanted vehicles to us through our Ithaca, New York car donations fundraiser, you'll be helping our charity partners in delivering these programs and services to all individuals who need them:
Financial assistance to uninsured and underserved breast cancer patients to help pay for their treatment including surgery, oncology services, hospital fees, and outpatient medication;
Easy access to health facilities, clinics, and hospitals for all individuals seeking breast cancer screening, diagnosis, and treatment;
Public information campaign on early detection and diagnosis of breast cancer as well as effective treatment and preventive measures;
Breast cancer research to find new and better ways to prevent, detect, manage, and treat the disease with the ultimate objective of finding a cure for it.
It's not every day that you get the chance to do something noble—like helping save the lives of our fellow Americans suffering from breast cancer. Grab this chance now by calling us at 866-540-5069 to make your car donation.
How You'll Benefit from Your Car Donation
What makes our car donations program in the city truly special is that it benefits both our breast health service beneficiaries and our donors as well. When you give away your aging car to us, expect these rewards to come your way:
We can promise you this since we'll be selling your car in an auction house that pays the most for used cars. We are able to achieve this because of our partnership with prequalified charities. Thus, we can assure you of a maximum tax deduction.
The quickest, easiest, and smoothest donation process
Our donation process won't take more than a few minutes of your time.
Fast and absolutely free towing services
We'll tow your vehicle at zero cost to you.
We'll be the one to produce and compile documents required for your car donation.
No more wasting money on maintenance and repair costs as well as car registration and insurance payments.
You'll save plenty money by getting rid of a vehicle that's only draining your financial resources.
How to Join Ithaca, New York Car Donations
You begin the car donation process by filling out our online donation form or by calling us at 866-540-5069. This will only take a few minutes of your time. You would need to tell us your personal contact details as well as your vehicle's year, make, model, VIN, general condition, and title availability.
Next, we assign a professional towing company affiliated with us to haul off your car at no cost to you and on the date, time, and place of your own choosing. During the pickup, you'll receive a towing receipt that will release you from any liabilities from then on. You can use this receipt to lawfully cancel your vehicle's registration and insurance.
We'll then put your donated car on the auction block. Once it is sold, we'll send you your car's 100-percent tax-deductible sales receipt. You'll receive this by mail within 30 days after the sale of your car. The receipt shows the amount for which your car was sold at the auction. You'll base your tax deduction claim on the amount printed on the receipt.
The Types of Vehicles We Accept for Donation
We at Breast Cancer Car Donations accept nearly all types of vehicles for donation. You can donate cars, vans, trucks, SUVs, trucks, pickups, and motorcycles. If you have RVs, campers, 5th wheelers, recreational vehicles, motorhomes, and pop-up trailers, we'll accept them, too in our Ithaca, New York car donations.
We also welcome ATVs, riding lawnmowers, snowmobiles, motorized wheelchairs, golf carts, tractors, farm equipment as well as fleet vehicles such as buses, passenger vans, and cargo vans.
We gladly accept yachts, motorboats, fishing boats, pontoon boats, jet skis as well as private jets, planes, and helicopters.
Donate to Save Lives
With your car donation, people who have been diagnosed with breast cancer will have something positive to look forward to. Contact us at 866-540-5069 and throw lifelines to these people through our Ithaca, New York car donations program!
or Call Us Now at 866-540-5069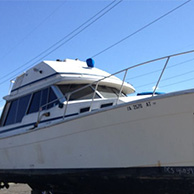 Excellent customer service!