Idaho Car Donations
Donate Your Vehicle and Save Lives!
Idaho Car Donations: A Simple Way to Make a Big Difference in the Lives of Breast Cancer Patients
One of the simplest ways to make a big difference in the lives of breast cancer patients and their families in Idaho is by joining our Idaho car donations program. Regardless of the condition or age of your car, it can play a vital role in the fight against the deadly disease that has claimed tens of thousands of lives in the country. Here's how.
Breast Cancer Car Donations gives everyone the chance to be heroes, including you. By giving away your old car or motorbike to us, you enable our registered 501(c)3 non-profit organization partners to provide assistance to women struggling with the illness. We convert your donated vehicles into funding to support the programs of our two nonprofit partners — the American Breast Cancer Foundation (ABCF) and Women Involved in Nurturing, Giving, Sharing, Inc. (WINGS) – that are all geared towards providing life-sustaining services to uninsured and underserved breast cancer patients. Our charity partners also use the funding to conduct education and outreach programs as part of their mission to provide quality care to women with breast cancer.
As such, donating an automobile is much more than just disposing of an unwanted property. Truly, your Idaho car donations can help save the lives of many women grappling with breast cancer. By donating an old and unwanted vehicle, you give these patients hope and a positive attitude in life.
A Donation Process at Your Convenience
If you still haven't found a car donation program in Idaho that offers quality service, today is your lucky day! Breast Cancer Car Donations makes sure that the donors are treated well, which is why we made the donation process as quick, simple, and efficient as possible. By that, we mean we will handle everything, including the paperwork and the free towing of the donated vehicle.
All it takes is for you to let us know about your decision to contribute to our Idaho car donations program. You may call us at 866-540-5069 or fill out our online donation form, whichever you prefer. We will need a few details about the vehicle you're donating like its year, make, and model. After this, we'll agree on a date and place to haul it away.
At the time of pick-up, there's no need for you to be present. Don't bother canceling an important appointment for us. We will hand over to you a towing receipt that will release you from all liabilities on the car you're donating. This means you can now cancel its registration and insurance policy.
We will then sell your car at an auction house where we will try to get the best price for it. Within 30 days after we sell your car, we will send you by mail your car's tax-deductible sales receipt indicating your car's final selling price. The amount indicated there will serve as the basis of your top tax deduction claim when you file your itemized federal tax return,
The funds that will be generated from your Idaho car donations after we auction it will be used to support the various programs of our partner nonprofit organizations that are all designed to provide a lifeline to struggling breast cancer patients.
That's pretty much how it is to work with Breast Cancer Car Donations. If you have more questions about us, you may want to look at our FAQs page. If you're ready to give your old car a new home, give us a call at 866-540-5069!
What Types of Vehicles Qualify as Idaho Car Donations?
Have you always wanted to get rid of a vehicle that's been idly sitting in your garage? Are you bugged by the burden of having to pay for its maintenance and insurance? How about disposing of it for a meaningful cause?
Here at Breast Cancer Car Donations, we accept almost all sorts of vehicles, even those that don't seem to work well anymore. Donating an automobile that's no longer running wouldn't be a problem at all with us. Trust us, we can arrange for a tow truck to take care of the hauling.
Whether you plan to donate an old SUV or a barely functioning van, we'll be more than willing to have it for our Idaho car donations program. We also take RV donations including pop-up trailers, campers, and motorhomes. We also accept motorcycles and watercraft such as boats, jet skis, or yachts.
We won't refuse any types of specialty vehicles. If you wish to donate a snowmobile or a motorized wheelchair that no longer serves a purpose, feel free to do so.
What we cannot process for donation, however, are vehicles that have been abandoned and have no titles. We require that all donated vehicles must have a title. If you've lost the title of the car you're donating, don't worry. We can help you find a replacement title. Just let us know.
If you're still not sure on the eligibility of the vehicle you intend to donate to our car donations program in this state, just give us a call. We'd love to hear from you.
Why Choose Breast Cancer Car Donations?
While there may be other car donation programs in Idaho, you won't find an organization as great as Breast Cancer Car Donations. Not only do we provide a donation process that's very convenient and hassle-free, we also give you the opportunity to receive a top tax deduction among other incentives. Who says that breast cancer patients are the only ones who can benefit from vehicles donations?
Aside from our easy and quick donation process and handsome tax benefits, you can expect more rewards when you take part in our Idaho car donations program:
Save more money. Now that you're free from paying insurance on your car and maintaining it, you can finally save up for something that you've always wanted, perhaps a vacation?
Save yourself from the headaches of dealing with paperwork. We know that handling documents can be really stressful, which is why we will take that burden away from you.
Free yourself from the responsibilities of advertising, negotiating, and looking for potential buyers.
Give your garage or driveway a makeover.
No need to worry about your personal details falling into the hands of unscrupulous persons.
Get that joyful feeling, knowing that you are making a huge impact on the lives of breast cancer patients with your Idaho car donations.
Go for Idaho Car Donations Today!
Are you interested in transforming your old vehicle into a useful tool against breast cancer? Donate it to us now and help save lives in Idaho. Contact us at 866-540-5069 now.
Looking for more information about donating in a particular area of Idaho? Click on one of the cities closest to you from the list below.
or Call Us Now at 866-540-5069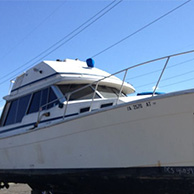 Excellent customer service!