Boise, Idaho Car Donations
Donate Your Vehicle and Save Lives!
Join Boise, Idaho Car Donations to Save a Life!
Do you have an unwanted car that's just gathering dust in your garage? Do you also have a heart for hurting individuals who are battling breast cancer? If you answer "yes" to both questions, you might want to consider turning over that vehicle to us at Breast Cancer Car Donations through our Boise, Idaho car donations program. You'll not only free yourself from a burdensome vehicle in the most convenient and cost-free way, but you'll also increase at least one breast cancer patient's chances of beating this life-threatening disease.
How Breast Cancer Affects Us
Breast cancer is a disease that's characterized by the formation of malignant cells in the tissues of an individual's breast. According to the latest U.S. breast cancer statistics, an estimated 268,600 new cases of invasive breast cancer will be diagnosed in American women this year alone. In fact, on average, a woman is diagnosed with breast cancer every two minutes.
Furthermore, breast cancer remains to be one of the leading causes of cancer deaths among women in the country. As of the moment, the average risk of an American female developing breast cancer over the course of her lifetime is at 12 percent.
How We Fight Breast Cancer
Breast Cancer Car Donations believes that everyone – regardless of race, gender, and socioeconomic status – deserves to have access to medical health facilities that can give them free breast cancer screening and treatment. Our job is to raise money through vehicle donation programs, such as what we have here in Boise, Idaho, so that our IRS-certified 501(c)3 nonprofit partners can deliver comprehensive breast health services to the communities we serve.
With your help, our charity partners can help underserved and uninsured breast cancer patients in the United States in covering the costs of their surgical procedures, chemotherapy, radiation, lab tests, and other medical expenses.
How You Can Join Boise, Idaho Car Donations
You can count on our team to do all the heavy lifting as you go through our seamless donation process. Since we greatly value our donors, we'll take care of everything for you after you contact us to make your donation. We'll have your vehicle hauled away for FREE and set all your paperwork in order.
To give you an idea about what to expect when you take part in our Boise, Idaho car donations program, check this out:
1. Get in touch with us.
Call us at 866-540-5069 to donate your vehicle over the phone. Give us your name, contact information, and a few details about your car such as its year, make, model, mileage, and working condition. We'll call you back as soon as possible once we verify your information.
2. Schedule your FREE car removal.
We'll need you to give us the date and time that are convenient for you for your vehicle's free pickup. We'll assign a licensed towing company to haul off your vehicle. On the same day, you'll receive a towing receipt from us. This releases you from all liability on the vehicle you donated from that point onward.
3. Wait for your IRS tax-deductible receipt.
We'll coordinate with our vehicle liquidation vendors for the sale of your vehicle at an auction. Within a few days, after it gets sold, you'll receive your 100-percent tax-deductible sales receipt by mail. This receipt will entitle you to claim a tax deduction when you file your itemized federal income tax return in the next tax season.
If you want to know more about tax deductions, our vehicle donation process, and other related matters, check out our FAQs page. For any questions or concerns, you may still have, call us at 866-540-5069 or send us a message online.
How You Can Benefit from Your Donation
Your charitable contribution will have a lasting effect on your life as much as it would on the lives of breast cancer patients who will benefit from it. Here's how you can personally benefit from joining our Boise, Idaho car donations program:
No need to go through the hassle of selling a used vehicle yourself.
If yours is a banged-up car that has high mileage, you'll need to brace yourself for a hard sell to a private party. Aside from this, the cost of advertising your vehicle for sale in the media can be costly. You also have to deal with the inconvenience and potential dangers of having strangers coming over to your house to check on your vehicle. To top it all off, the process of selling a used car is time-consuming because you'll need to answer responses to ads and wait for potential buyers to show up.
You'll experience a donation process that's fast, convenient, and worry-free.
Your donation process can be done remotely. Towing is free, and you won't need to be there at the time of pickup. Plus, your liability is extremely low because our insurance coverage will apply to your vehicle as soon as you hand it over to us.
You'll be qualified to receive a healthy tax write-off.
Since we work with IRS-registered 501(c)3 nonprofits, your charitable contribution will reduce your tax burden. You'll need to itemize your tax return by indicating your vehicle's fair market value or its sales price for a reduction in your tax bill. This is extremely beneficial especially if you are in a high tax bracket.
The Types of Vehicles You Can Donate
You can donate almost any type of vehicle to us. In most cases, we even accept those that are not in good running condition.
Check out the types of vehicles we accept in our Boise, Idaho car donations program:
Cars: luxury cars, sports cars, wagons, hybrids, hatchbacks, sedans, coupes, convertibles
Trucks: extended cab pickup, panel trucks, box trucks, pickup trucks
SUVs: compact, midsize, full-size or crossover versions
Vans: camper vans, cargo vans, passenger vans, family minivans
Motorcycles: scooters, touring bikes, off-road bikes, cruisers, sports bikes,
Recreational vehicles: motorhomes, snowmobiles, jet skis
Aircraft: gliders, helicopters, private noncommercial planes
Boats: fishing boats, tugboats, speedboats, pontoon boats, yachts, cruise ships, catamaran boats, sailboats
Specialty vehicles: ATVs, golf carts, riding lawnmowers, motorized wheelchairs
Work-related vehicles: buses, construction vehicles, large trucks, farm equipment, landscaping vehicles
Do Something Awesome Today!
You can increase a breast cancer patient's chances of beating the disease if you join our Boise, Idaho car donations program. Save a life today by calling us at 866-540-5069 or filling out our online donation form.
or Call Us Now at 866-540-5069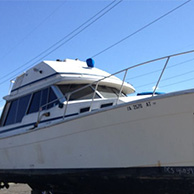 Excellent customer service!