Greenbelt, Maryland Car Donations
Donate Your Vehicle and Save Lives!
Turn Your Vehicle into a Weapon against Breast Cancer Through Greenbelt, Maryland Car Donations
Do you know that taking part in our Greenbelt, Maryland car donations program is a most potent way for you to turn your old and unwanted car into a weapon to fight breast cancer and a tool to save the lives of its victims?
The beauty of it all is that while throwing a lifeline to breast cancer victims with your car donation to us at Breast Cancer Car Donations, you'll also help yourself since you'll be getting a top tax deduction for your charitable act on top of other rewards.
Grim Facts about Breast Cancer
Since the dawn of history, breast cancer has been victimizing unsuspecting women all over the world. The still mysterious disease continues to afflict over a million lives and kill hundreds of thousands worldwide every year. In the United States alone, it is estimated that over 252,710 women are diagnosed with breast cancer with more than 40,500 dying of the terrible disease annually.
Breast cancer is now the most commonly diagnosed cancer in women and the second leading cause of cancer death among women. On average, every two minutes a woman is diagnosed with breast cancer and one woman dies of the disease every 13 minutes, according to the National Breast Cancer Foundation, Inc.
What's lamentable is that many women who have been diagnosed with breast cancer in the United States aren't receiving proper treatment since the cost of breast cancer treatments remain sky-high especially when the disease is only identified during its later stage.
How We Fight Breast Cancer and Help Its Victims
We at Breast Cancer Car Donations are working round the clock to generate funds through our car donation fundraisers all over the country, including our Greenbelt, Maryland car donations. This way, we are able to financially assist breast cancer patients who could not afford to pay for the cost of their treatment.
We have partnered with IRS-certified 501(c)3 nonprofit organizations to facilitate the delivery of vital breast health services to our fellow citizens who need them. These nonprofits—the American Breast Cancer Foundation (ABCF) and Women Involved In Nurturing, Giving, Sharing, Inc. (WINGS)—use the funds we generate to sustain and expand their programs to fight breast cancer and assist victims of the disease together with their families. The services they deliver include:
Financial assistance to uninsured and underserved women undergoing treatment for breast cancer;
Effective treatment and rehabilitation of breast cancer patients;
Support for breast cancer patients' families;
Funding research on advanced methods of breast cancer prevention, screening, diagnosis, and treatment;
Launching campaigns for public awareness of the causes, symptoms, prevention, and detection of breast cancer.
The Benefits You'll Get for Your Car Donation
You may be giving away a car that you already consider as trash, but to us, it's still a treasure that can greatly help us in our mission to save lives. As our token of gratitude for contributing to our car donations program in the area, we have come up with a set of rewards for you:
You get a maximized tax deduction since we'll do everything to get the highest selling price for your car at auction.
You get fast and totally free towing services.
We offer you the quickest, easiest, and smoothest car donation process.
Free yourself from car donation paperwork; we'll do that for you.
No more wasting money in paying for car repairs, maintenance, registration, and insurance;
Get that priceless feeling of satisfaction for having done something wonderful: helping save the lives of our unfortunate fellow Americans who have been stricken with breast cancer.
How to Join Greenbelt, Maryland Car Donations
It only takes three simple steps for you to make a car donation to us at Breast Cancer Car Donations.
Fill out our online donation form or call us at 866-540-5069. Give us a few basic details about your car. You can then schedule the free pickup of your car.
We haul your car away for free.
Expect the truck from a licensed towing company affiliated with us to show up on time to haul off your car at no cost to you. A representative from the towing company will give you a towing receipt that will allow you to de-register your vehicle, dispose of its license plates properly, and cancel its insurance coverage.
Receive your tax deduction receipt.
After your car gets sold at auction, we will mail you your car's 100-percent tax-deductible sale receipt, indicating your vehicle's final selling price. This will serve as the basis of your tax deduction claim when you file your itemized federal income tax return for the next tax-filing season.
The Types of Vehicles We Accept
We at Breast Cancer Car Donations accept nearly all types of vehicles in our Greenbelt, Maryland car donations program. The only vehicles we do not accept are the abandoned ones without titles and those that are a total wreck whose value is even less than the cost of towing.
Here are the common types of vehicles we gladly accept:
General vehicles such as cars, vans, SUVs, trucks, motorcycles;
Recreational vehicles such as RVs, motorhomes, campers, travel trailers, pop-up trailers, 5-wheelers;
Specialty vehicles such as ATVs, snowmobiles, motorized wheelchairs, riding lawn mowers, tractors, farm equipment;
Fleet vehicles such as cars, passenger vans, cargo vans, SUVs, pickups, trucks, buses;
Watercraft such as sailboats, motorboats, fishing boats, yachts, pontoon boats, houseboats, personal watercraft (like jet skis);
Non-commercial aircraft such as planes and helicopters
Be a Hero!
When you donate your old and unwanted car to us, such an act will never be forgotten by the breast cancer patients whose lives you will help save. You will forever be their hero. Contact us at 866-540-5069 and get started with your Greenbelt, Maryland car donations!
or Call Us Now at 866-540-5069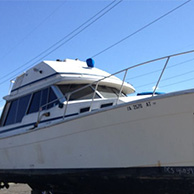 Excellent customer service!