Glen Echo, Maryland Car Donations
Donate Your Vehicle and Save Lives!
Make a Difference in the Lives of Breast Cancer Sufferers With Your Glen Echo, Maryland Car Donations
Do you know that donating your old and unwanted car through our Glen Echo, Maryland car donations program will make a difference in the lives of your fellow Americans grappling with breast cancer?
If you have a non-functional car sitting uselessly in your garage and you know that sending it to the auto repair shop once again will just be a waste of money, why not put it to good use by giving it away to us at Breast Cancer Car Donations? We'll turn that shabby-looking car into a financial resource that will support the medical needs of indigent breast cancer patients and fund the ongoing research for breast cancer. Isn't that wonderful?
How Your Car Donation Will Aid Breast Cancer Patients
For over 20 years now, we at Breast Cancer Car Donations have been relentlessly pursuing our mission to provide vital assistance to our fellow citizens who have been stricken with breast cancer. Our role is to generate funds through car donations such as our Glen Echo, Maryland car donations fundraiser.
The funds are used by two of our nation's highly rated nonprofit organizations, the American Breast Cancer Foundation (ABCF) and Women Involved in Nurturing, Giving, Sharing, Inc. (WINGS). These nonprofits have ongoing programs that deliver essential breast health services to all who need them, particularly indigent women.
The services they provide include:
Financial assistance for the breast cancer treatment of uninsured women to enable them to pay for the cost of surgery, oncology services, hospital fees, and outpatient medication;
Connecting women to local facilities that offer free and accessible resources, information and other comprehensive breast health services;
Raising public awareness on breast cancer prevention, diagnosis, and treatment;
Pursuing research on prevention, screening, diagnosis, and treatment of breast cancer; and
Sponsoring charity and outreach events for the benefit of breast cancer patients.
The Perks of Participating in Glen Echo, Maryland Car Donations
Donating your car to us doesn't only benefit breast cancer patients because you, too, will have your own share of rewards! Here are some of the perks you'll get to enjoy when you decide to join our Glen Echo, Maryland car donations program.
You'll receive a substantial tax deduction approximating the fair market value of your car.
Our donation process is easy and straightforward. Just one phone call and you're done!
Our towing services and all other services are free. You won't have to spend a single dime.
You save money when you stop paying for your car's costly repairs, maintenance, registration, and insurance coverage.
You won't have to endure the aggravation and the waste of precious time, energy, and money in trying to sell your vehicle.
You'll get to savor the joy of knowing that your car donation will save the lives of breast cancer patients.
How to Join Our Car Donation Program
Donating your car to us for the benefit of breast cancer patients is quick and easy and can be done in the comforts of your home. In three simple steps, you'd be able to join the fight against breast cancer while getting rid of that unwanted vehicle in your garage. Here's how our Glen Echo, Maryland car donations process looks like:
Pick up your phone and call us at 866-540-5069 or fill out our online donation form and provide all the necessary details on the car you're donating such as its make and model, year, VIN, general condition, and title availability.
We'll process your donation request right away and assign a licensed towing company in your area to pick up your car at a date, time, and place most convenient for you. This towing service is free of charge. The towing company will issue you a towing receipt, a document that releases you from all liabilities on your car, allowing you to de-register it with the local DMV, dispose of its license plates, and cancel its insurance coverage. Keep the receipt since you may need it for tax purposes.
After we pick up your vehicle, we'll send it to an auction house where it will be sold to the highest bidder. Within 30 days after the sale of your car, we will send you your car's 100-percent tax-deductible sales receipt. Since we partner with 501(c)(3) non-profit organizations, your car donation qualifies you for a tax write-off, which you can claim in the next tax season.
The Types of Vehicles Acceptable for Donation
We at Breast Cancer Car Donations accept almost any type of vehicle as long as it comes with a title or proof of ownership. We'd need to get a hold of the title otherwise we won't be able to sell it at auction. However, if you've lost your title, we'd be glad to assist you in obtaining a replacement title quickly so you can proceed with your car donation.
Here's a list of the vehicles types we accept in our car donations program in the area:
General vehicles: cars, vans, trucks, SUVs, trucks, pickups, and motorcycles
Recreational vehicles: RVs, campers, 5th wheelers, recreational vehicles, motorhomes, pop-up trailers Specialty vehicles: ATVs, riding lawnmowers, snowmobiles, motorized wheelchairs, golf carts, tractors, and farm equipment
Fleet vehicles: buses, passenger vans, cargo vans
Watercraft: yachts, motorboats, fishing boats, pontoon boats, jet skis
Aircraft: private jets, planes, and helicopters
Donate and Give Hope to Breast Cancer Victims
Make a life-changing decision today. Let your unwanted car become a source of hope to fellow Americans struggling with breast cancer. Contact us at 866-540-5069 and get started with your Glen Echo, Maryland car donations!
or Call Us Now at 866-540-5069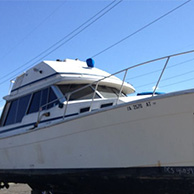 Excellent customer service!