Germantown, Maryland Car Donations
Donate Your Vehicle and Save Lives!
Change the Course of a Breast Cancer Victim's Life Through Germantown, Maryland Car Donations
By participating in our Germantown, Maryland car donations program, you can potentially change the course of a breast cancer victim's life. You may even save not just one woman stricken with the deadly disease and clinging for dear life but many others as well all facing the same situation.
When you donate your car to us at Breast Cancer Car Donations, we will sell it at auction and use the proceeds to enable our nonprofit partners to continue providing comprehensive breast health services to all who need them, particularly indigent women.
Our charity partners—the American Breast Cancer Foundation (ABCF) and Women Involved In Nurturing, Giving, Sharing, Inc. (WINGS)—will use the funding to deliver these services:
Financial assistance to uninsured and underserved breast cancer patients, covering their treatment including surgery, oncology services, consultation, hospital fees and outpatient medication;
Connecting patients to local facilities that offer free and accessible resources, information and other comprehensive breast health services;
Raising public awareness on breast cancer prevention, diagnosis, and treatment;
Pursuing research on prevention, screening, diagnosis, and treatment of breast cancer;
Sponsoring charity and outreach events for the benefit of breast cancer patients;
Counseling for breast cancer patients and their families.
The Benefits That Await Our Car Donors
What's remarkable about our car donations program in this area is that it benefits both aid recipients and donors. Here are some of the rewards you'll be getting for your car donation:
Enjoy our quick and convenient donation process.
Take advantage of our fast and free towing service.
You won't handle the time-consuming paperwork involved in car donation—we'll be the ones to do it.
Get a hefty tax break based on the actual sale price of your car or its fair market value, whichever is higher.
Save loads of money since you'll no longer pay for your car insurance, maintenance, repairs, and registration.
Avoid the hassles associated with selling a car since we'll be the one to professionally sell your car for you.
How to Join Germantown, Maryland Car Donations
Donating a car to Breast Cancer Car Donations is amazingly fast, simple, and hassle-free! Just follow these three simple steps and you'll be on your way to providing much-needed assistance to financially struggling fellow Americans afflicted with breast cancer.
Step 1: Reach out to us.
Give us a call at 866-540-5069 or fill out our online donation form. We'll need your contact information as well as your vehicle's year, make, model, current mileage, general condition, and title availability.
Step 2: Allow us to tow your car.
We'll immediately process your donation request and arrange for the towing of your vehicle based on your preferred pickup time, date, and location. A professional towing company will handle the pickup. You won't have to pay for anything because we'll be the one to pay the towing fee. Before your vehicle is taken away, you'll receive a towing receipt that releases you from any liabilities from then on. You can use this receipt to cancel your vehicle's registration and insurance.
Step 3: Wait for your tax deduction receipt.
We auction off your car. Within 30 days after your car is sold, you'll receive your car's 100-percent IRS tax-deductible sales receipt via mail. You'll use this document to claim your tax deduction based on the amount indicated on the receipt when you file your federal income tax return for the next tax-filing season.
The Types of Vehicles We Accept for Donation
We accept almost any kind of vehicle, running or not, in our Germantown, Maryland car donations fundraiser. Here's a list of the vehicles that we commonly receive as donations:
General vehicles such as cars, vans, trucks, SUVs, trucks, pickups, and motorcycles
Recreational vehicles such as RVs, campers, 5th wheelers, recreational vehicles, motorhomes, pop-up trailers
Specialty vehicles such as ATVs, riding lawnmowers, snowmobiles, motorized wheelchairs, golf carts, tractors, and farm equipment
Fleet vehicles such as buses, passenger vans, cargo vans
Watercraft such as yachts, motorboats, fishing boats, pontoon boats, jet skis
Non-commercial aircraft such as private jets, planes, and helicopters
If you have more than one vehicle to donate, we would greatly appreciate that. That would mean more women benefitting from breast health services you would help fund.
All we require from our donors is a proof of ownership or the title of their vehicle since we're going to sell it. However, you don't have to worry if you misplaced your title and can't find it anymore.  Give us a call and we'd be glad to help you get a replacement title quickly.
Let Us Amaze You!
We guarantee that donating your car to us at Breast Cancer Car Donations will be something you will cherish. You'd be amazed at how we will turn your old shabby car into a goldmine to provide for the needs of poor women seeking breast health services. Contact us at 866-540-5069 and get started with your Germantown, Maryland car donations!
or Call Us Now at 866-540-5069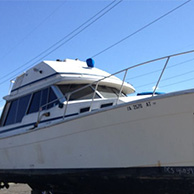 Excellent customer service!