Gaithersburg, Maryland Car Donations
Donate Your Vehicle and Save Lives!
Gaithersburg, Maryland Car Donations: Be the Miracle That Breast Cancer Victims Are Waiting For
Do you have an ancient car that has been gathering dust in your garage since God knows when? Don't you think it's about time to let go and move on?
If yes, consider your options. The best way to go is to donate it to a well-trusted charity organization like Breast Cancer Car Donations. Your car may look like a piece of junk to you, but to us, it's a key to providing vital assistance to thousands of breast cancer victims.
Breast cancer has been terrorizing people all over the world. It's been causing so much pain and misery and killing tens of thousands of victims yearly here in the United States. It will continue spreading its tentacles of death until something is done.
Your participation in our Gaithersburg, Maryland car donations can help curb the breast cancer menace.
How Your Car Donation Will Benefit Breast Cancer Victims
Breast Cancer Car Donations has partnered with reliable and certified 501(c)(3) nonprofit organizations that have been helping people with breast cancer for a good number of years now. They are the American Breast Cancer Foundation (ABCF) and Women Involved In Nurturing, Giving, Sharing, Inc. (WINGS).
When you donate your car to our car donations program in the area, we'll put it on the auction block where we will try our best to sell it at its highest possible price approximating its fair market value.
Once your car is sold, the proceeds will go straight to our nonprofit partners. They will use the funding to sustain and expand their breast health programs that, among others, will enable needy individuals to obtain free breast cancer screening, diagnosis, and treatment.
Our charity partners will also use the funding to support breast cancer research to find more effective ways of diagnosis and treatment with the use of advanced technology.
They will also use the funding to help raise public awareness about the importance of early detection and prevention of the disease.
The Benefits You'll Get from Your Car Donation
When you participate in our Gaithersburg, Maryland car donations fundraiser, you will be able to receive tons of benefits as well! Here are a few of them:
Fast and easy donation process
Towing is free
No paperwork needed
No longer pay for insurance and registration
Goodbye to expensive repairs
More space in your garage
Get a sizeable tax deduction
How to Proceed with Your Car Donation
We designed our Gaithersburg, Maryland car donations process with the convenience of our donors in mind. It's a three-step process that's fast, simple, and rewarding for our donors.
First step:
You start your car donation by giving us a call at 866-540-5069 or filling out our online donation form. You need to provide us your contact information and your car's details (year, make, model, mileage) as well as its condition and title availability.
Second step:
Once we're finished verifying the information you shared, we'll set up a schedule for picking up your car based on your preferred time, date, and place. We'll assign a professional towing company to pick up your car as quickly as 24 to 48 hours after your first call to us, if that's your preference. Take note that this service is absolutely free! If you have to be somewhere else during the pickup, it's okay. Just assign someone to represent you to whom we'll entrust your tow receipt. You need that receipt to cancel your car's registration and insurance coverage.
Third step:
We'll send your car to one of the best auction houses in town. Within 30 days after your car is bought, you'll receive from us via mail your 100-percent tax-deductible sales receipt. This document shows your car's final selling price. The latter will serve as the basis of your tax deduction claim when you file your itemized federal tax return for the next tax-filing season. If your car was sold for more than $500, you can claim that exact amount as your tax deduction. If $500 or below, you have the option to base your tax deduction claim on your car's fair market value not exceeding $500.
The Vehicles You Can Donate
We are open to accepting nearly all types of motor vehicles as well as boats and planes in our Gaithersburg, Maryland car donations program. We accept even old vehicles that have scratches and dents or have not run for years for as long as they are yours with titles to show and are not so badly damaged that their value is even less than the cost of towing.
Here is a partial list of the vehicles we accept:
General vehicles: cars, trucks, vans, minivans, SUVs, motorcycles
Recreational vehicles: campers, motorhomes, travel trailers, toy haulers, 5th wheelers
Specialty vehicles: motorized wheelchair, golf carts, riding lawn mowers, snowmobiles, farm equipment
Watercraft: fishing boats, sailboats, motorboats, pontoon boats, jet skis, yachts
Aircraft: noncommercial airplanes and helicopters
Join Us In Saving Lives!
With our combined efforts, we can beat breast cancer! Let's save lives! Contact us at 866-540-5069 and join our Gaithersburg, Maryland car donations program!
or Call Us Now at 866-540-5069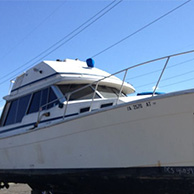 Excellent customer service!