Evanston, Illinois Car Donations
Donate Your Vehicle and Save Lives!
Bring Hope to Breast Cancer Victims Through Evanston, Illinois Car Donation
If you've always felt like you can make a difference in the lives of breast cancer victims, you are now presented with a golden opportunity to do so. You can easily do this when you turn over your old and unwanted vehicle to us at Breast Cancer Car Donations through our  program.
Donate a car for cancer, and we will turn your unneeded vehicle into a powerful tool that can bring hope to breast cancer victims in your community. This will happen once we sell your clunker via auction and use the proceeds to support the critical programs and services of our IRS-certified 501(c)3 nonprofit partners. The services that these charities provide include:
Financial aid to underprivileged and uninsured breast cancer patients;

Providing patients free and easy access to treatment and other medical services;

Supporting breast cancer research;

Undertaking campaigns to raise awareness on the risk factors of breast cancer, as well as the importance of screening, diagnosis, and treatment;

Holding fundraising events for the benefit of indigent breast cancer patients.
Here's How Our Donation Process Works
At Breast Cancer Car Donations, we believe that our donors deserve nothing but the highest quality of service, which is why we offer a vehicle donations process that's quick, convenient, and hassle-free!
When you decide to donate your car to our Evanston, Illinois program, we'll show you our appreciation for your generosity by making things really easy for you. You won't find yourself dealing with any burdensome task at all. Contacting us is the only thing you'll need to do for the entirety of the donation process.
To give you a clearer idea of what we're talking about, here's a quick three-step guide to our donation process:
1. Contact us.
Once you've decided to donate a vehicle to us, just reach out to us by either calling us at 866-540-5069 or filling out our online donation form here. We'll ask for certain details about your vehicle, such as its year, make, model, vehicle identification number, working condition, and title availability.
2. We pick up your vehicle.
After confirming all the information you provided us, we'll ask you to tell us when, what time, and where you want us to collect your vehicle. On the day of towing, be sure that everything is ready for collection – your vehicle, keys, and its title. Our tow truck driver will issue you a towing receipt before he leaves with your vehicle. You'll need this receipt to cancel your vehicle's insurance and DMV registration.
3. You receive your tax-deductible receipt.
With your vehicle in our hands, we'll promptly sell it in one of the best auction houses in our network. Once your vehicle is sold, we'll mail to you your 100-percent tax-deductible sales receipt, giving you the privilege to claim a tax deduction when you file your itemized federal income tax return in the next tax season.
For more information, feel free to visit our FAQs page or talk to one of our donation experts at 866-540-5069. You may also send us a message online.
How Your Donation Will Benefit You
Helping provide life-saving assistance to indigent breast cancer patients will give you a rewarding feeling. Aside from that, you stand to receive substantial material rewards for your charitable contribution to us. Here are some of the rewards you'll get to enjoy once you decide to join our Evanston, Illinois, vehicle donation program:
Avoid hassles of trying to sell a used car yourself.
Finding a buyer for your old car – whether it is in good condition or not – could be stressful and might take a long time. However, when you donate, you won't have to go through the hassles associated with selling a second-hand vehicle yourself.
The longer your unwanted vehicle stays with you, the more money you'll spend on car repair, maintenance, insurance, and registration.  However, when you simply donate it to us, we will take this burden off your shoulders.
You'll get the maximum tax deduction.
Once your car is auctioned off, we will mail to you your tax-deductible sales receipt. We will exert our best effort to sell your vehicle at its highest possible price so you can claim a maximum tax deduction.
Enjoy our quick and easy donation process.
Donating to us will take just a few moments of your time – a simple short phone call is all it would take. Our team will handle all the heavy lifting, which includes the logistics and all the required paperwork.
The Types of Vehicles You Can Donate to Us
While many car donation programs only accept cars that run well, we can proudly say that we at Breast Cancer Car Donations have a much more liberal policy on accepting donations. We're open to pretty much all types of vehicles, whether they're working properly or not.
For your reference, the vehicle types we welcome in our Evanston, Illinois car donation program include the following:
Standard cars:

 sedans, hatchbacks, convertibles, SUVs, sports cars

RVs:

 motorhomes, campers, travel trailers, pop-up trailers, five wheelers

Motorcycles:

 dirt bikes, mopeds, scooters, touring bikes, power cruisers

Watercraft:

 sailboats, motorboats, fishing boats, tugboats, Jet Skis, cruise ships

Fleet vehicles:

 rental vans, passenger vans, minivans, cargo trucks, delivery trucks, company buses

Specialty vehicles:

 ATVs, motorized wheelchairs, haulers, tractors, riding lawnmowers, golf carts

Air vessels:

gliders, helicopters, noncommercial planes
The northern suburb of Evanston may be best known for Northwestern University, Rotary International and a great location on Lake Michigan. However, it's also home to the Evanston Kellogg Cancer Center, NorthShore University Health System-Metro Chicago, University of Chicago hospitals and Saint Francis Hospital. You can contribute to the area's fight against cancer by giving us the vehicles you no longer need! We serve the entire Chicago area.
There's No Perfect Time Than Now!
Today can be a great day for you and your fellow Illinoisans who are afflicted with breast cancer. You can bring hope to them by taking part in our Evanston, Illinois car donations program. Call us at 866-540-5069 or fill out our online donation form to get started with your donation now!
or Call Us Now at 866-540-5069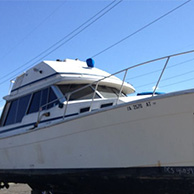 Excellent customer service!