Ellicott City, Maryland Car Donations
Donate Your Vehicle and Save Lives!
Impact the Lives of Breast Cancer Victims By Joining Ellicott City, Maryland Car Donations
Do you know that taking part in our Ellicott City, Maryland car donations program will cause you to make a tremendous impact on the lives of those who are suffering from breast cancer? Breast Cancer Car Donations offers you a chance to make a difference in your community by helping all individuals—regardless of age, gender, educational attainment or socio-economic background—get free access to breast health resources and facilities nearest to their location.
Don't hold on to a clunker because of sentimental reasons if it's causing you to burn cash on maintenance and repairs more than you would ever want to. Decide to keep the beautiful memories and give your beater away through Ellicott City, Maryland car donations. You'll thank yourself for it.
We Love Ellicott City, Maryland!
Nestled in the Patapsco Valley, the interestingly beautiful "Historic Ellicott City" in Maryland that was founded in 1772 boasts of being home to the long-standing B & O Rail Museum – Ellicott City Station and other historic sites. Ellicott City would remind you of a quaint old European village except that it happens to be a melting pot of rich and diverse cultures and eclectic artistry. With a place that is so picturesque, and people who are so welcoming, what's not to love about Ellicott City, Maryland?
According to the United States Census Bureau, as of 2010, Ellicott City had an estimated population of 65,834 with more than 50 percent of them females – breast cancer's primary targets.
All About Breast Cancer
The formation of a malignant tumor in a person's breast tissues is classified as breast cancer. According to Breastcancer.org, one in every eight American women (that's 12.4 percent) is expected to develop invasive breast cancer within her lifetime. In case you don't know, "invasive" is that type of breast cancer that spreads from a victim's breast to other parts of the body.
According to the American Cancer Society, breast cancer is the second leading cause of cancer death among women in the United States. In fact, the chance that a woman would lose her life to breast cancer is at 2.6 percent, which is practically one in every 38 people. Furthermore, the National Breast Cancer Foundation, Inc., confirmed that based on statistics, one person dies from breast cancer every 13 minutes.
The greatest risk factors for breast cancer are gender (being a woman) and the advanced age (over 50 years old). At present, there are over 3.1 million breast cancer survivors who are alive in the United States. This number includes those who are going through treatment and those who have completed it.
Participate in Ellicott City, Maryland Car Donations Today!
Our donation process is so easy, it's a no-brainer. You can do it from the comforts of your home in less than a few minutes, and all you need is a phone or an internet connection to get you started!
Step 1: Reach out to us!
You can choose to fill out our online donation form or you can speak to one of our donors' reception officers by calling 866-540-5069. Give us your personal contact details as well as a few bits of information about your vehicle: its year, make, model, mileage, running conditions, and the availability of its title.
Step 2: Schedule your FREE pickup!
After we verify the information you've given, you can tell us your vehicle's location as well as your most preferred time and date for pickup. A licensed professional towing company will handle the pickup, and you won't have to pay for anything because the towing is on us!
Step 3: Receive your tax receipt!
We'll send you your IRS tax-deductible receipt by mail within 30 days after we sell your vehicle at auction.
You Can Donate Almost Any Type of Vehicle!
Breast Cancer Car Donations accepts a wide range of vehicle types. If your clunker happens to be a truck, van, bus, tractor, motorized wheelchair, riding lawnmower, snowmobile, jet skis, motorcycle, motorhome, SUV or ATV, feel free to donate it today! You can even make multiple donations if you want to.
The only critical factor is the availability of your vehicle's title. We need it so that we could sell your vehicle at an auction. If you're one of those folks who have misplaced their titles, you can raise your concern by calling us at 866-540-5069 to speak to one of our title experts.
'A Rising Tide Lifts All Boats'
When you take part in our Ellicott City, Maryland car donations, you'll have your own share of benefits as well! To give you an idea of the great stuff you'll be enjoying, check this out:
You don't have to pay for towing!
The towing expenses are on us. We'll arrange for your local area's professional towing company to get the job done at no cost to you!
We'll handle the paperwork!
Our team will efficiently process and accomplish all required paperwork such as the transfer of ownership, the issuance of your tax receipt, and the statement about the donated vehicle being offered, which signifies that you didn't receive any payment for your donation.
Cancel your vehicle's insurance and registration!
The towing receipt that you'll receive on the day of the pickup can be used to legally cancel your car's insurance and registration. The moment we get our hands on your donated vehicle, you'll be released from all liability from that point forward as our insurance coverage automatically applies to your car.
When your vehicle gets sold for more than $500, you can claim your deduction based on its final selling price even if its fair market value is greater. On the other hand, if your car is sold for less than $500, you can claim its selling price or its fair market value up to $500, whichever is bigger.
Donate Your Clunker Today!
Choose to be a blessing to the thousands of breast cancer patients across the country. You've got nothing to lose except a car that you want to get rid of anyway. Contact us at 866-540-5069 and join our Ellicott City, Maryland car donations program today!
or Call Us Now at 866-540-5069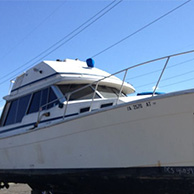 Excellent customer service!