Durham, North Carolina Car Donations
Donate Your Vehicle and Save Lives!
Durham, North Carolina Car Donations: Extend Your Saving Hands to Poor Women Suffering from Breast Cancer
With impoverished women in Durham, North Carolina barely having access to healthcare for both disease prevention and treatment, the prognosis when breast cancer strikes is often dire.
This is the reason that compelled us at Breast Cancer Car Donations to set up our Durham, North Carolina car donations program. With the funds generated from your car donations, we seek to provide uninsured and underserved women of this city full access to breast cancer screening, diagnosis, and treatment through the services provided by our reputable non-profit organization partners, the American Breast Cancer Foundation (ABCF) and the Women Involved in Nurturing, Giving, Sharing, Incorporated (WINGS, Inc.).
Instead of letting your old car rot in your garage, or selling it for a pittance, or dumping in the scrap yard, donate it to us, and we will turn your unwanted piece of machinery into something truly wonderful – a life-saving instrument for poor women suffering from breast cancer.
Our Convenient Car Donations Process
Donating a vehicle to our Durham, North Carolina car donations program is quick and easy. We designed our three-step process for the convenience of our donors. Here is how it's done:
Fill out our donation form that appears on the pages of Breast Cancer Car Donations' website. Give us your contact information and a few details about your car such as its year, make, model, mileage, general running condition, and availability of title. You can also call us at 866-540-5069 and relay the same information to our friendly donation specialist.
Book your fast and free vehicle pickup.
Once we receive your request for pick-up, the local towing company in your city that we are affiliated with will give you a call. Then you can arrange a schedule for the free pick-up of your vehicle. You can choose the date and time that's most convenient for you. You don't have to be present during the towing. We will give you a donation receipt that releases you from all liabilities on your car, giving you the right to cancel your car insurance and registration and stop paying for them.
Receive your IRS tax-deductible receipt.
Within 30 days after closing the sale on your donated car, your 100-percent IRS tax-deductible sales receipt will be mailed to you. If your car was sold for $500 or higher, you can claim that exact amount as your tax deduction. If below $500, you have the option to base your tax deduction on your car's fair market value not exceeding $500 if the latter is higher than the selling price.
Be assured that all vehicles donated to our Durham, North Carolina car donations through our service will be handled professionally and efficiently. Once your car donation has been processed, it will be sold at one of the best auction houses within our network. All proceeds from that sale will then be forwarded to our affiliate non-profit organizations.
Compelling Reasons for Car Donations
You can come up with several reasons why you should sell your vehicle. We are here to tell you that the reasons for donating your car will far outweigh them. Consider the following:
Our donation process is fast and simple, taking only a few minutes of your time.
Just fill out our online donation form or give us a call, and we'll take care of everything else. By phone, our initial car donation process usually last for just five minutes!
Free vehicle pick-up and towing.
We will shoulder the payment for this service. Expect prompt towing service at the date, time, and place of your own choosing!
Get a hefty tax deduction.
We maximize the tax deduction on your federal tax return by sending your donated car to the best auction house that we know of where it would be sold for its highest possible price. This is for our mutual advantage.
Avoid the hassle of selling.
Selling a car — especially an old, rusty car with dents and scratches — can be irritating, time-consuming, and expensive as well. If you simply donate your car to us, you won't have to run ads, deal with phone calls or emails, show vehicle to potential buyers, and haggle over the sales price.
No need to do the paperwork.
Breast Cancer Car Donations handles all the paperwork for you from beginning to end — from handling the title transfer to the documentation required in receiving your charitable tax deduction.
Save money on repairs, other payments.
When you donate your vehicle to us, you no longer need to burden yourself with shouldering the cost of repairs and maintenance and registration and insurance payments.
Donating your car for a worthy cause will give you a deep sense of personal satisfaction.
Clear out your garage or backyard.
Donating your old car would make room in your garage for that brand-new SUV you'd been itching to purchase. Even if you don't plan to buy a new vehicle, you'd be delighted to have a clutter-free garage.
The Types of Vehicles We Accept
We take new or old vehicles, in good or not-so-good condition, running or not running in our Durham, North Carolina car donations program. We accept any type of vehicle that is used for general transportation purposes, including cars, trucks, vans, motorcycles, and SUVs. We also accept boats, non-commercial planes, jet skis, snowmobiles, RVs, campers, lawnmowers, trailers, golf carts, fleet vehicles, and even farm equipment.
Extend your saving hands to the poor breast cancer patients. Contact us at 866-540-5069 and donate to our Durham, North Carolina car donations program!
or Call Us Now at 866-540-5069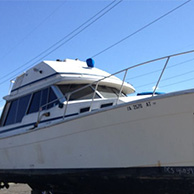 Excellent customer service!