Columbia, South Carolina Car Donations
Donate Your Vehicle and Save Lives!
Columbia, South Carolina Car Donations: Your Unused Car Can Save Lives
In case you haven't heard, Columbia, South Carolina is accepting car donations – and for a truly worthy cause: saving the lives of breast cancer patients. It's the perfect time for getting rid of that idle car that's been in your driveway for years. This sunny city makes it possible for you to do yourself a favor while fulfilling your role as a responsible citizen.
By donating your car to our Columbia, South Carolina car donations program, you will help fund programs that provide badly needed assistance to breast cancer patients and boost research on how to wage a more effective campaign against the killer disease.
You're probably thinking, "Why would I donate my car if I can just have it repaired?" or "How can my junk of a car help fund such programs?"
First of all, trying to repair a completely worn-down car is very expensive. You can use that money to buy a brand-new car instead. It doesn't matter how junky your car is, it's never too late to use it to help someone.
Second, your donated car can certainly help fund our programs on breast cancer because we at Breast Cancer Car Donations will transfer all the proceeds from the sale of all donated vehicles to our two reputable non-profit organization partners that are the ones directly implementing the programs.
Why You Should Donate Your Vehicle
Donating your car is all about helping your fellow Americans and fellow residents of Columbia, South Carolina who are suffering from breast cancer. You will become part of a great undertaking to fight the breast cancer menace. These are just two of the many reasons that should compel you to let go of your car.
By taking part in our car donations in the area, you will also reap benefits for yourself! Here are some of the perks you'll get upon donating your vehicle:
Free yourself from the responsibility of paying for insurance and registration!
Say goodbye to repairs and upkeep needed!
You won't handle all the paperwork – we will!
Fast and easy donation process – no sweat!
Free pickup and towing of your preloved vehicle
Potential tax benefits
Save countless lives of breast cancer patients
The residents of Columbia, South Carolina know all too well that come summer, the weather can get really hot and humid. Temperatures can go as high as the 90s and 100s.
What better way to cool off the summer heat than to eat strawberry snow cones in the yard with your family? Or better yet, transform your garage into a movie room with blasting air conditioning to beat that heat. But just how will you do this if you have an unused car taking up all the space?
Donate your car to our Columbia, South Carolina car donations program and use the extra space you've always wanted.
Types of Vehicles We Accept
Is your vehicle non-functional? Does it suddenly stop in the middle of a busy highway because it overheated, again? Then it's high time to buy a new one and ditch the old one by donating it to our Columbia, South Carolina car donations program!
If you're not sure about the types of vehicles we accept, here's a list of vehicles we accept:
SUVs
Trucks
Motorcycles
Cars
Vans
Pontoon boats
Houseboats
Personal motorboats
Fishing boats
Yachts
Watercraft (such as jet skis)
Motorhomes
Campers
Travel trailers
Recreational vehicles
Pop-up trailers
5-wheelers
Riding lawn mowers
Tractors
ATVs
Snowmobiles
Motorized wheelchairs
Farm equipment
Cargo vans
Buses
Pickups
Golf carts
We're pretty certain that your vehicle falls into at least one category. Also, we would definitely love it if you're willing to donate more than one vehicle. Don't worry, towing's on us.
How to Donate Your Vehicle
We cannot stress this enough: Donating your car is very simple — as easy as 1-2-3 (literally)! Here's what you have to do to join our Columbia, South Carolina car donations program:
Do not hesitate to call us at 866-540-5069 or fill out our short online donation form where you tell us the important details about your vehicle. If you've visited our website, we're pretty sure you've seen the form – it's everywhere!
Schedule your fast and free pick up!
Transacting with us is fast and easy because we know that time is money, and we wouldn't want to waste yours. Once we receive your request, we'll process it immediately and call you so you can schedule a convenient time for us to pick up your vehicle. We will issue you a tow receipt during the pick-up. This will relieve you from any liabilities on your vehicle and gives you the right to cancel your car registration and insurance coverage and stop paying for them. The receipt is also a requirement for the processing of your top tax deductions.
Receive the tax-deductible receipt that we'll send you by mail!
Once your vehicle is sold and the proceeds go to good hands, you will receive the IRS tax-deductible receipt in the mail. You'll need this to claim your top tax deduction.
Who knew donating a vehicle would be that simple? Breast Cancer Car Donations handles all the details and the paperwork for you. You really don't have to do much.
What are you waiting for? Contact us at 866-540-5069 and get free towing services for your Columbia, South Carolina car donations!
or Call Us Now at 866-540-5069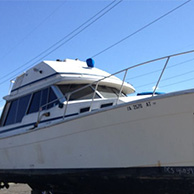 Excellent customer service!