Collinsville, Illinois Car Donations
Donate Your Vehicle and Save Lives!
Collinsville, Illinois Car Donations: Help Breast Cancer Patients Survive the Disease
No help is too small once you decide to contribute to our Collinsville, Illinois car donations program for the benefit of breast cancer patients. Thousands of women in the United States are seeking for ways and means to gain access to breast cancer screening, diagnosis, and treatment, the cost of which is something that only a few can afford.
Breast Cancer Car Donations works by generating funding sources through our car donations program to support our partner non-profit organizations in their mission to serve more breast cancer patients, increase breast cancer awareness, and find new and more effective ways to fight the disease through research.
Despite advances in medical treatment, breast cancer remains a terrible scourge among women. Statistics show that one out of every eight women in the United States will develop breast cancer through her lifetime. Unfortunately, not every woman afflicted with this disease has the ability to support her treatment. Many breast cancer sufferers are uninsured. Some of them could be residing here in the area.
These people are the primary beneficiaries of our Collinsville, Illinois car donations program. By donating an old and unwanted vehicle to us, you can help these fellow city residents obtain the right treatment, enabling them to survive the disease.
The Advantages of Car Donations
There are many advantages to donating a car to a well-known charity organization such as Breast Cancer Car Donations rather than selling it or dumping it in the junkyard. We can cite at least eight positives here:
Our donation process is a breeze, taking only a few minutes of your time.
Just fill out our online donation form or give us a call, and we'll take care of everything else.
You won't pay for anything.
You won't spend even a dime since we'll be the one to pay for the pick-up and towing of your car.
Get a hefty tax deduction.
We can assure you this since we'll send your car to the best auction houses that pay the highest. Thus, the potential for you to get a top tax deduction on your federal tax return is very high.
Avoid the hassle and difficulty of selling an old car.
If you simply donate your car to us, you won't have to run ads, deal with phone calls or emails, show your vehicle to potential buyers and haggle over the sales price.
Don't bother with the paperwork.
We take care of all the paperwork — from handling the title transfer to the documentation required in receiving your charitable tax deduction.
There's no more need for you to spend precious cash for car repairs, maintenance, registration and insurance premium payments.
Unclog your backyard or garage.
With your old car gone, you'll have a clutter-free garage and space for that new car you're itching to buy.
Feel a deep sense of personal satisfaction.
You will feel like smiling to the world for supporting a worthy cause that saves lives.
Cars You Can Donate to Us
Breast Cancer Car Donations accepts any type of vehicle that is used for general transportation purposes – on the road, sea, and air. We also accept new or old vehicles, in good or poor condition, running or not running. If you donate a vehicle that needs a little repair, we'll accept it and do the repairs ourselves before sending it to the auction house.
The vehicles we accept for our Collinsville, Illinois car donations include cars, vans, trucks, SUVs, ATVs, RVs, motorcycles, jet skis, riding lawnmowers, tractors, farm equipment, all kinds of boats, and even non-commercial airplanes and helicopters.
Our Quick and Easy Car Donations Process
We have devised a quick and simple three-step Collinsville, Illinois car donations process:
Once you're ready to make a donation, pick up your phone and give us a call at 866-540-5069. You may also fill out our online donation form to begin the process. We may require donors to present the title of the vehicle they're donating. State policies may vary. Feel free to call us at 866-540-5069 so we can clarify this point.
We will contact you again after we've gathered all the necessary information about your vehicle. We will ask you to tell the most convenient date, time, and place for the vehicle pick-up. This is absolutely free of charge. We will issue you a tow receipt during the pick-up. This will relieve you from any liabilities on your vehicle and gives you the right to cancel your car registration and insurance coverage and stop paying for them. The receipt is also a requirement for the processing of your top tax deductions.
This is one of the biggest perks of donating a car for breast cancer patients. Within 30 days after the sale of your car at auction, we will send you by mail your tax-deductible sales receipt showing your car's final selling price. That amount will determine how much you can claim as your tax deduction when you file your federal tax return.
Empower Women with Breast Cancer
Empower women with breast cancer and help them fight this disease with greater resolve with your Collinsville, Illinois car donations. Contact us at 866-540-5069 and enjoy a very much organized donation process from start to finish. Donate today!
or Call Us Now at 866-540-5069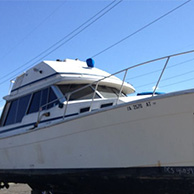 Excellent customer service!