Brandywine, Maryland Car Donations
Donate Your Vehicle and Save Lives!
Fight Breast Cancer with Brandywine, Maryland Car Donations
If you wish you could do something to stop breast cancer from claiming the lives of thousands of individuals across the nation, then take part in our Brandywine, Maryland car donations! Your clunker may have hit the end of the road but that doesn't mean that it's useless.
We at Breast Cancer Car Donations have set up our car donations program in Brandywine, Maryland to provide funding for services delivered by our IRS-registered 501(c)3 nonprofit organization partners that are aimed at increasing the breast cancer survival rate in the United States. If you decide to take part in it, you'll turn your clunker into a powerful tool that can be used to help people who are going through their breast cancer journey.
How Breast Cancer Affects Us
Breast cancer is the second leading cause of cancer deaths among women in the United States. According to the American Cancer Society, in 2018 alone, the projected number of new invasive breast cancer cases to be diagnosed is 266,120 among women and 2,550 among men. Meanwhile, the 2017 Cancer Data released by the Maryland Department of Health confirms that the mortality rate for female breast cancer between 2010 and 2014 was at 22.9 percent.
Use Your Clunker to Beat Breast Cancer
These numbers are alarming, that's why we can't afford to just allow them to rise without doing something about it. That old car that you've been meaning to get rid of can actually be someone else's only hope of getting a second life through our car donations program in the city.
Breast Cancer Car Donations is committed to helping our charity partners save the lives of thousands of breast cancer-stricken Americans. With our combined efforts, we can continue to accomplish more.
As a strong partner of highly regarded nonprofits like American Breast Cancer Foundation (ABCF) and Women Involved in Nurturing, Giving, Sharing, Inc. (WINGS), we have been supporting and helping establish effective programs and services such as:
Financial assistance to uninsured and underserved Americans who are battling breast cancer;
Information campaigns on risk factors for breast cancer as well as its prevention, screening, diagnosis, and treatment;
Effective treatment and rehabilitation of breast cancer patients;
Counseling support for breast cancer patients' families; and
Funding for groundbreaking breast cancer research.
Today, you can help bring breast cancer numbers down in your community by donating your unwanted vehicle to us! Call 866-540-5069 today!
How to Join Brandywine, Maryland Car Donations
You're in luck because a pleasant giving experience is guaranteed to our donors! Our Brandywine, Maryland car donations process is simple, fast and absolutely hassle-free!
You have two options to do so: Call us at 866-540-5069 and tell us a few basic details about your vehicle (make and model, year, current mileage, general condition) and your personal contact information as well. You can also go online and fill out our donation form. Expect us to call you within 24 hours to verify your given information.
Step 2: Wait for pick-up!
We'll need your preferred time, date, and place for pickup of the vehicle you're donating so that we can arrange for the professional towing company to get the job done. Aside from the benefit of not having to leave your home or office to show up on the day of the pickup, the towing service is also absolutely FREE! Before we take away your vehicle, we'll give you or your assigned representative a towing receipt that releases you from any liabilities from then on. You can use this receipt to cancel your vehicle's registration and insurance.
Step 3: Enjoy tax deduction!
Upon the sale of your vehicle, we'll send you a receipt for your IRS tax return. This document will be needed when you itemize your deductions to trim down your taxable income.
The Ripple Effect of a Single Donation
The best thing about Brandywine, Maryland car donations is that you get to pitch in and lend us a hand as we tirelessly fight breast cancer – without spending a single dollar! Aside from that, you'll also enjoy these awesome rewards:
Enjoy pick-up and towing services that are 100% FREE!
Receive maximum tax deduction based on your car's total selling value or fair market price!
Avoid unnecessary expenses for car maintenance, registration, insurance, and repairs!
Make use of the much-needed additional space in your driveway!
Skip the need to scout for interested buyers of an old car!
Experience a quick and easy vehicle donation process!
No stressful paperwork because we got this covered!
The value of your car depends on the fair market value which takes into consideration its make, model, year, and its overall condition. If your car is sold for $500 or less, you can claim either its fair market value up to $500 or its selling price, whichever is higher. If your car is sold for more than $500, you can only claim the exact amount for which it was sold.
We Take Almost Any Type of Vehicle
We accept a myriad of vehicles for donation. We even accept multiple donations and make sure the process you go through is just as easy and stress-free as making a single donation.
Here is a list of the usual vehicles that we'd be more than happy to accept: cars, vans, SUVs, motorcycles, trucks, golf carts, fleet vehicles, snowmobiles, riding lawn mowers, motorized wheelchairs, all kinds of boats and personal watercraft like jet skis, and non-commercial airplanes.
Ready to Make a Difference?
If you are, then call us at 866-540-5069 to join our Brandywine, Maryland car donations. Start fighting breast cancer today!
or Call Us Now at 866-540-5069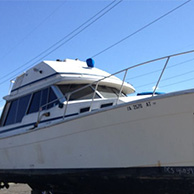 Excellent customer service!