Boone, North Carolina Car Donations
Donate Your Vehicle and Save Lives!
Boone, North Carolina Car Donations: Help Give Breast Cancer Victims a Fighting Chance to Survive the Disease
Breast cancer has taken the lives of millions of people not only in the United States but around the world. It is the most common form of cancer in women in the United States next to skin cancer.
A simple and effective way by which the public can join the fight against this terrible disease is by taking part in the car donations program of Breast Cancer Car Donations all over the country, including here in Boone, North Carolina. By donating a car to our Boone, North Carolina car donations program, you'll be giving breast cancer patients in your town greater chances of recovering from the disease. You'll become a hero in your town's breast cancer community.
The proceeds from the sale of your old and rusty car will play an important role in our fight against breast cancer. The funds will be used by our reputable non-profit organization partners to launch numerous events and charity works to help people grappling with breast cancer in various ways.
The funds that we will transfer to our charity partners will also be used for breast cancer research to find more effective ways of treating the disease and, hopefully, to find the ultimate cure for it.
Our fellow Americans who are suffering from breast cancer now deserve to survive the disease. Let us help them with our Boone, North Carolina car donations. If you're all set to join our program, here is what you need to know.
'Does A Car Donation Give Me Benefits?'
Donating a vehicle to our Boone, North Carolina car donations program will definitely give you benefits! Lots of it! Isn't that great? Your donation will significantly help people with breast cancer and at the same time you gain something for yourself. It's clearly a win-win situation.
First, you will be going through a very easy process of donating where all will be taken care of by us at Breast Cancer Car Donations.
You will also be getting free pickup and towing services, and the chance to get a huge tax deduction.
You can stop paying for your insurance and registration as you can cancel them once we take your donated vehicle. Costly repairs are also gone.
There will be more space in your garage after you get rid of your car. You can now have the extra space for your potentially new car.
You will no longer need to go through long hours of advertising your car just to get it sold.
The best thing you'll receive will be the inner feeling of joy upon knowing that your Boone, North Carolina car donations will help save lives.
'Is Donating Easy?'
As we mentioned earlier, our Boone, North Carolina car donations process is easy and straightforward. All you need to do is give us a call — and that's it! It will definitely not take much of your time.
Let's take a closer look at the steps.
Either call us at 866-540-5069 or fill out our online donation form. We will need you to give us a few details about your car and yourself. Then we schedule a time and place for picking up your car that is most convenient for you.
A licensed towing company from your area will pick up and tow your car. To formalize the transfer of your car to us, we will give you a donation receipt that will relieve you from all liabilities on your car. This means you are now free to cancel your car registration and insurance coverage. We will then sell your car at auction.
Once your car is sold, we will send to you by mail the tax-deductible receipt from the sale of your car. You can use this document to claim your top tax deduction based on the sale amount when you file your itemized federal tax return.
The Types of Vehicles We Accept for Donations
Breast Cancer Car Donations accepts a wide range of vehicles in our Boone, North Carolina car donations program. As long as the vehicle you're donating has a title to show proof of your ownership, we can take it and sell it at auction. If you've lost your title, no problem, we will help you obtain a replacement title.
If you have more unused cars that you're willing to donate, we'd also be happy to accept multiple Boone, North Carolina car donations.
If you're not sure if the vehicle you're thinking of donating would be acceptable to us, here's a list of vehicle types that we commonly accept:
Cars: sedans, vans, SUVs, trucks, motorcycles
Boats: sailboats, motorboats, fishing boats, yachts, pontoon boats, houseboats, personal watercraft (like jet skis)
RVs: recreational vehicles, motorhomes, campers, travel trailers, pop-up trailers, five-wheelers
Specialty vehicles: ATVs, snowmobiles, motorized wheelchairs, riding lawn mowers, tractors, farm
Fleet vehicles: cars, passenger vans, cargo vans, SUVs, pickups, trucks, buses.
Things You Can Enjoy While In Boone, North Carolina
The town of Boone is the county seat of Watauga County. It is located on western North Carolina's Blue Ridge Mountains. It was named after a famous American traveler and pioneer named Daniel Boone.
The town's nearby areas offer amazing outdoor adventures and many tourist attractions that you will surely enjoy. Let's explore some of them.
Appalachian Ski Mountain — It is one of the three ski mountains between Boone and Blowing Rock.
Daniel Boone Native Gardens — It has a rare collection of plants, trees, wildflowers, and trees.
Foggy Mountain Gem Mine – Here you can buy buckets of gems mixed with soil and rocks.
Other attractions include Hickory Ridge Living History Museum, The Greenway Trail, Bass Lake, Cascades Trail, Grandfather Mountain, and Turtle Island Preserve.
Are You Ready To Join the Fight Against Breast Cancer?
Come and join us in our mission to beat breast cancer in Boone, North Carolina! Contact us at 866-540-5069 and take part in our Boone, North Carolina car donations program.
or Call Us Now at 866-540-5069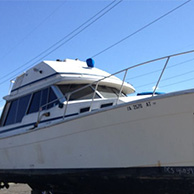 Excellent customer service!