Bethesda, Maryland Car Donations
Donate Your Vehicle and Save Lives!
Bethesda, Maryland Car Donations: Help Save Lives of Struggling Breast Cancer Victims
A breast cancer diagnosis can be one of the most frightening things that can ever happen to a woman. Sadly, hundreds of thousands of American women receive this diagnosis every year. For 2018, the American Cancer Society estimates that about 266,120 new cases of invasive breast cancer will be diagnosed in women. Apart from this, about 63,960 new cases of non-invasive breast cancer known as carcinoma in situ, or CIS, will also be diagnosed. The Society predicts that about 40,920 American women will die from breast cancer this year.
In Maryland, there are programs designed to provide assistance to breast cancer patients. The assistance includes state-of-the-art screening, diagnostic services, treatment services, wellness and education programs, and multidisciplinary care.
Despite this, some women diagnosed with breast cancer are unable to afford the cost of treatment. Breast Cancer Car Donations works hand-in-hand with our non-profit organization partners in supporting these uninsured and underserved breast cancer patients, giving them hope of surviving the deadly disease.
However, we can succeed in our mission without the support of donors. Hence, we would like to invite you to join our car donations program in the area.
Benefits for Bethesda, Maryland Car Donors
When you donate a car to Bethesda, Maryland car donations, you not only provide life-sustaining support to your fellow Americans and residents of Bethesda afflicted with breast cancer. You also get to enjoy several benefits yourself. Below are some of the rewards that await you:
Donating a car to us is a hassle-free process compared to selling it.
When you give us your old car, you actually help yourself by staying away from the stress that comes with selling old vehicles. You also do not have to take part in dealing with a vendor over the cost of the vehicle being sold, and no compelling reason to wait for the phone to ring or for prospective buyers to visit your home to look at the car.
Experience the great feeling of having the capacity to contribute to noble causes.
The most remarkable aspect of charity donation is that you are given a chance to donate and obtain benefits at the same time. You can be sure that the proceeds from your Bethesda, Maryland car donations will be allocated to the various programs designed to fight breast cancer.
You will get a hefty tax deduction.
We will sell your unwanted vehicle to the best auction houses where it would be sold for the top dollar. The result would be maximized tax deductions on your federal tax return based on your car's full selling price or the fair market value, whichever is greater.
Donating a car is more secure, less expensive, and less demanding compared to selling it.
When you donate a car to us, a towing company makes an arrangement with you to set up the time and date to pick up your car. Moreover, towing comes for free. By giving your old vehicle, you additionally spare yourself from exorbitant repairs and injuries that come while attempting to refurbish your old car yourself.
How Our Bethesda, Maryland Car Donations Process Works
Our Bethesda, Maryland car donations program serves as a vital means of funding the various programs intended to combat breast cancer, increase breast disease awareness, and provide assistance to breast cancer victims. If you are considering giving away your old car, Breast Cancer Car Donations has made everything easy.
Provide us with the essential information about yourself and the vehicle you're donating. This process will only take roughly 10 minutes of your time. It is completely hassle-free.
We will arrange a time and date to pick up your car at your convenience. A towing company will pick up your donated vehicle for free. We will give you a donation receipt that will release you from all liabilities on your car, which means you can now cancel your car registration and insurance coverage.
We mail you your tax-deductible sales receipt.
You can use this receipt to claim your top tax deduction when you file your itemized federal tax return.
You can be sure that all the funds from your donation will be passed on to our charity partners to help sustain their various programs to fight breast cancer.
A Powerful Weapon to Fight Breast Cancer
Giving a car is a powerful weapon in the fight against breast cancer. Help save lives through your Bethesda, Maryland car donations. Call us at 866-540-5069 and reap the benefits of your generosity right away. Donate today!
or Call Us Now at 866-540-5069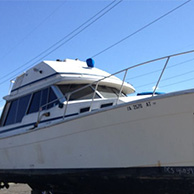 Excellent customer service!