Atlanta Car Donations
Donate Your Vehicle and Save Lives!
Extend a Helping Hand to Breast Cancer Victims In Atlanta
Do you have an unwanted car, SUV, pickup, motorcycle or any other vehicle? Are you having trouble in trying to sell your vehicle or just want to donate a car in Atlanta?
Consider donating it to our car donations program. If you do so, you won't have to go to so much trouble in trying to list or sell your vehicle as we at Breast Cancer Car Donations will take care of everything.
When you donate a vehicle to us, we will sell it at auction with the proceeds going directly to our non-profit organization partners to help sustain their various programs to fight breast cancer. These programs are geared to provide assistance to our uninsured and underserved fellow Americans who are battling the deadly disease.
Are you willing to help the good people of your own city who are struggling with breast cancer with your car donation? If you are, here's what you need to know to donate a car to charity.
How to Donate a Vehicle in Atlanta
Donating a car to our program is fast, simple, and convenient. We want you to experience a smooth process on your vehicle donation journey.
Here is a guide on how to begin the donation process:
First, give us a call at 866-540-5069 or fill out our 

online donation form

. We just need a few details on the car you're donating and yourself. After that, we schedule a time and place for the pickup that's convenient to you.

Then, we tow your car away. You don't even need to be present at the place of pickup and it's all free! You will receive from us a donation receipt that will free you from all liabilities on your car. This means you can now stop paying for your car's registration and insurance.

Finally, after we sell your vehicle at auction, we will mail you a tax receipt. This will enable you to get a 

top tax deduction

 when you file your itemized tax return.
Benefits for Car Donors
Knowing that you did something big because of your donations will give you an amazing feeling. You will be helping raise money for our non-profit organization partners so that they can continue their mission to help breast cancer victims and find new ways to effectively deal with the disease.
These organizations are untiringly pursuing breast cancer research. Through research, they seek to open new doors on the prevention, screening and diagnosing, treating and possibly finding a cure for breast cancer.
Another great thing about our program is that you can also benefit from your own donation.
Here are some benefits you can take advantage:
You don't have to go through long hours and tiring process just to sell or list your vehicle.
No more paying for vehicle repairs.
Get rid of your unwanted car.
No paperwork as we will take care of everything.
Simple donation process
Free pickup and towing of your car
Get a huge tax deduction. If you itemize your deductions, you can minus the sale price of your vehicle
Vehicles That Are Qualified for Donation
You want to donate your car. However, you are not sure whether it is qualified in Atlanta.
The great thing about donating to us is that we accept nearly all types of vehicles in whatever condition as long as it can be sold and fetch a good enough price. Whether it's all beat up, in good running condition, or in bad shape, we'll be happy to accept all your car donations.
Here is a list of vehicles we commonly accept:
General vehicles – cars, vans, minivans, SUVs, trucks, pickups, and motorcycles.
Boat and watercraft – sailing boats, yachts, jet skis, motorboats, fishing boats, pontoon boat, and etc.
RVs and campers – RVs, campers, motorhomes, 5th wheelers, recreational vehicles, pop-up trailers and etc.
Specialty vehicles — ATVs, snowmobiles, riding lawnmowers, motorized wheelchairs, non-commercial airplanes, and farm equipment
Fleet vehicles – buses, passenger vans and cargo vans
If your vehicle is not on this list and you are are not certain about its qualification, just give us a call. We'd be happy to clarify things!
Donate Now!
Extend a helping hand to needy breast cancer patients and their families here in Atlanta, Georgia! Contact us at 866-540-5069 and make your donation!
or Call Us Now at 866-540-5069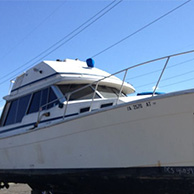 Excellent customer service!