South Carolina Motorcycle Donations
Donate Your Vehicle and Save Lives!
Be a Hero to Breast Cancer Patients Through South Carolina Motorcycle Donations
Do you relish the thought of making an affordable charitable contribution that would make you look like a hero in the eyes of your beneficiaries? If you do, we'll make your dream come true once you join our South Carolina motorcycle donations program.
It will not be hard at all to give away an old motorcycle that no longer satisfies your needs. Instead of selling or giving it away to someone, why not just donate it to us at Breast Cancer Car Donations? In doing so, you will be supporting a most worthy cause: saving the lives of your fellow Americans stricken with breast cancer. At the same time, you won't come empty-handed since you'll get to enjoy our package of rewards exclusively reserved for our donors, including a handsome tax deduction.
How Your Motorcycle Can Help Save Lives
We at Breast Cancer Car Donations, together with our IRS-certified 501(c)3 nonprofit organization partners, ultimately seek to increase breast cancer survival rates in South Carolina and the rest of the country.
In its latest report, the American Cancer Society estimates that there will be 4,540 new breast cancer cases in South Carolina this 2018 with 710 estimated deaths, all involving female victims.
For the entire United States, the same source estimates a total of 268,870 breast cancer cases (266,120 female victims and 2,550 male victims) and 41,400 deaths (40,920 female victims and 480 male victims) this year.
You can help cut down these numbers by participating in our South Carolina motorcycle donations fundraiser. We sell all donated motorcycles and other vehicles at auction, with the proceeds going to our nonprofit partners so they can sustain and even expand the comprehensive breast health services they provide to all individuals who need them, particularly breast cancer patients who cannot afford the cost of their treatment and medication. The services they deliver include:
Financial assistance to uninsured and underserved breast cancer-stricken Americans;
Effective treatment and rehabilitation of breast cancer victims;
Promoting breast cancer prevention measures and need for breast cancer screening;
Counseling services for breast cancer patients' families and providing support systems;
Research funding for breast cancer treatment.
What You Get for Donating Your Motorcycle
You also get benefits for taking part in our South Carolina motorcycle donations program. As our token of our gratitude for your generous contribution, we at Breast Cancer Car Donations have prepared these rewards for you:
Get your motorcycle towed for free.
Save money by putting an end to constant repairs and maintenance.
Save yourself from the hassle of trying to sell an old motorbike.
Free yourself from transaction paperwork – we'll handle this for you.
Enjoy our fast, easy, and convenient donation process.
There is another reward that will not come from us but from deep inside you: It's the joy that comes with helping people in desperate need of assistance.
How to Donate Your Motorcycle to Breast Cancer Car Donations
Participating in our South Carolina motorcycle donations program is quick and easy. In three simple steps, you'd be able to rid yourself of that unwanted motorbike and join the fight against breast cancer. Here is how it works:
First step:
Pick up your phone and call us at 866-540-5069 or fill out our online donation form and provide all the necessary details about your motorbike.
Second step:
We'll immediately process your donation request and arrange with a professional towing company to pick up your motorcycle at a time, date, and place convenient for you. Before your motorbike is hauled off, you'll receive a towing receipt that will release from all liabilities on your motorcycle.
Third step:
We sell your motorbike at auction. Within 30 days after it is sold, you'll receive from us via postal mail your 100-percent tax-deductible sales receipt. You can use this receipt to claim your tax deduction when you file your itemized federal income tax return.
The Types of Motorcycles and Other Vehicles We Accept for Donation
We accept various types of motorcycles in our South Carolina motorcycle donations program. You can donate your hog, street bike, chopper, Goldwing cruiser, and crotch rocket. We'll gladly accept your old Yamaha motorcycle, Suzuki motorcycle, scooter, Honda moped, Harley Davidson, Kawasaki motorcycle, and other motorcycle makes and models.
We love multiple donations because more breast cancer patients would benefit from them. You may also donate other vehicles such as:
Cars, vans, trucks, SUVs, trucks, pickups
RVs, campers, 5th wheelers, recreational vehicles, motorhomes, pop-up trailers
ATVs, riding lawnmowers, snowmobiles, motorized wheelchairs, golf carts, tractors, farm equipment
Fleet vehicles such as buses, passenger vans, cargo vans
Yachts, motorboats, fishing boats, pontoon boats, jet skis
Private jets, planes, and helicopters
Donate Now!
You can be certain that all the proceeds from your motorcycle donation will be used to finance the programs intended for the benefit of breast cancer patients in South Carolina.
Contact us at 866-540-5069 and give your old motorbike a new and more meaningful purpose through our South Carolina motorcycle donations program!
or Call Us Now at 866-540-5069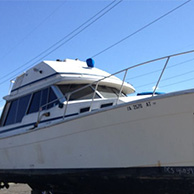 Excellent customer service!