Snowmobile Donations
Donate Your Vehicle and Save Lives!
Care for People with Breast Cancer through Snowmobile Donations
Anyone who wants to part ways with a preloved snowmobile would have to agree that snowmobile donations make much more sense than selling it. It's very challenging to find a prospective buyer because not many people find the need for it, let alone afford to buy one. Snowmobiles are fun and thrilling winter rides, but when it's time for you to upgrade, sell or get rid of it, the entire process to do so isn't fun and thrilling at all.
When you decide to take part in snowmobile donations, two wonderful things would happen. First, you'd save yourself the trouble associated with selling by choosing the most hassle-free process of getting rid of your unwanted snowmobile. Second, you'd help save lives through Breast Cancer Car Donations!
Where the Proceeds of Your Snowmobile Donations Go
Breast Cancer Car Donations has been around for over 20 years, helping two of the country's most reputable non-profit organizations fund for the prevention, screening, diagnosis, and treatment of breast cancer. We guarantee that all the proceeds from your donation will be forwarded to these organizations and will then be used for financing programs that aid in:
the research for the most effective treatment of breast cancer;
providing financial support to breast cancer patients, survivors and their families;
helping uninsured and underserved breast cancer patients gain access to medical facilities for screening, diagnosis, treatment and proper care; and
promoting campaigns to the general public so they would be aware of the causes, signs, symptoms, early detection and prevention of breast cancer.
Rewards for Your Generosity
The benefits of snowmobile donations go a long way, creating a huge positive impact on those living with breast cancer and you, the donor. Let's dive in and take a closer look at the good stuff you're going to get for your generous donation:
You'll get rid of your extra, unwanted or decrepit snowmobile at no cost. Through Breast Cancer Car Donations, a pick-up time and date will be arranged with a local towing company and the service will be totally free of charge.
Quit paying for additional costs!
Unless you plan on buying an upgraded snowmobile, you can quit paying for the lease of that trail parking space once and for all! Not only that, when you participate in snowmobile donations, you eliminate the need for spending unnecessary insurance and maintenance costs for a vehicle you're not using anymore.
No more hassles concerning selling!
You can choose to avoid the hassles of selling your vehicle, looking for prospective buyers and handling all the paperwork that comes with the sale. Just donate your snowmobile today by calling us at 866-540-5069!
You'll enjoy an equitable tax deduction for your donation. This will amount to more or less $500 or the selling price of your snowmobile after its auction. You can then claim this amount as your tax deduction when you file your itemized federal tax return.
One Step Closer to Saving Lives
It will only take you one phone call, or one website click to make a difference in the lives of those who suffer from breast cancer.
Tell us you want to donate.
You can call us at 866-540-5069 and give us some information about your vehicle's year, make, model, current mileage, and general condition as well as your personal contact details. You can also fill out our online donation form and wait for one of our staff to call you back for verification purposes.
Give us your best time and place for pickup.
Once your preferred schedule has been made, we'll arrange for a licensed towing company in your area to pick up your snowmobile. Your presence during the process is not compulsory, and the towing service is absolutely FREE.
After auctioning your vehicle, we will send you the tax-deductible receipt of the sale. You will need this when claiming your tax deduction.
Multiple Donations are Welcome
If you have more than one snowmobile to donate or perhaps another type of vehicle to give out, Breast Cancer Car Donations can definitely help you with that! We'll assist you every step of the way and we can even help you out in case you lost your vehicle's title.
We also have an extensive list of vehicles that we accept for donation:
Cars, SUVs, trucks, vans, motorcycles
Fleet vehicles including buses, pickups, passenger vans, cargo vans, cargo trucks and other commercial vehicles
Boats, sailboats, yachts, fishing boats, houseboats, pontoon boats and other personal watercraft such as jet skis
Specialty vehicles like snowmobiles, ATVs, riding lawn mowers, motorized wheelchairs, tractors and farm equipment
Recreational vehicles including RVs, motorhomes, campers, travel trailer, 5-wheelers and pop-up trailers
Breast Cancer at a Glance
According to the BreastCancer.org, for the year 2018, these are breast cancer's estimated numbers in the United States:
40,920 women will lose their lives to breast cancer.
266,120 new cases of invasive breast cancer would be diagnosed in women in the United States as well as 63,960 new cases of non-invasive (in situ) breast cancer.
As of January 2018, records show that breast cancer has so far afflicted more than 3.1 million women, including those currently being treated and those who have finished treatment.
Give A Second Chance to Life
At present, there are over 3.3 million breast cancer survivors within the country. Help us beat breast cancer by giving more people a real fighting chance of surviving the disease. Contact us at 866-540-5069 and get free towing services for your snowmobile donations!
or Call Us Now at 866-540-5069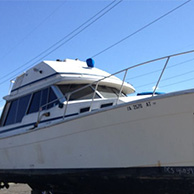 Excellent customer service!