North Carolina RV Donations
Donate Your Vehicle and Save Lives!
Beat Breast Cancer With North Carolina RV Donations!
If you have an old and unwanted RV that's becoming an eyesore in your driveway, you don't have to go far to look for a solution to get rid of it because that's what our North Carolina RV donations program is here for.  You don't have to be stuck with your clunker forever!
3 Reasons Why Selling Your Rusty RV is Far from Easy
Selling your RV can be a big headache. We don't want you to go through the hassles that are associated with selling. Here are the reasons why:
The chances of bumping into a prospective buyer are slim.
A recreational vehicle is not a necessity.
Good luck finding someone who has the financial capacity to buy it now. Plus, you might need the help of a broker. You'll be lucky to get half the amount of what you've been hoping to sell it for.
You need to exert a significant amount of effort, time, money and energy to sell it – not to mention all the paperwork involved.
If you're pushing for the idea of selling it yourself, you'll have to brace yourself for the demanding tasks ahead of you:  burning cash on repairs to make it marketable, running ads, showing your RV to strangers, haggling with prospective buyers, waiting for a good offer, handling the documents, etc. — you get the idea.
Now that you know this, how does making North Carolina RV donations sound to you? At the end of the day, you'll realize that this might actually be your ideal solution!
What's in It for Me?
There must be a million questions running through your head right now about the ins and outs of vehicle donations and how to go about it. Sit back and relax because we at Breast Cancer Car Donations will show you the way. Let's start off with the awesome stuff that you, as the donor, will get to enjoy:
Getting rid of a car let alone an RV entails a certain amount of money to get that car towed. Luckily, we have partnered with some of the best local towing companies in the country. Once you participate in our North Carolina RV donations program, a professional local towing company will haul your vehicle away at no cost to you.
Donate even an RV in bad shape.
Even an RV in good running condition is not easy to sell. How much more if it's not in good shape? Thus, the best option is simply to donate it to us where you'll get a huge tax write-off.
Eliminate the hassle and the additional expenses. 
Are you paying for insurance and maintenance of an RV you no longer need? If you calculate properly, you might even be paying for more than it's currently worth! Do you want to continue spending hundreds and thousands of dollars for this?
With North Carolina RV donations, you'll get to take these expenses off your budget plus you'll get to avoid the need to sell it yourself.
Upon closing the sale of your donated RV, within 30 days you will receive a 100-percent tax-deductible sales receipt via mail. This receipt is needed in claiming your tax deduction when you file your itemized IRS income tax return for the next tax-filing season. The tax deduction you can claim can be the entire selling price of your RV or its fair market value, whichever is greater.
Help fight breast cancer.
Isn't it just amazing how an old, decrepit vehicle can help save lives? Aside from getting rid of it at your convenience, you'll also get to help fight breast cancer – the second leading cause of cancer death in the United States.
You can save yourself the trouble of keeping your RV if you join our North Carolina RV donations program today! What are you waiting for? Call us at 866-540-5069 and make your best financial decision yet!
Breast Cancer: The Silent Killer
We've heard of this deadly disease a lot of times, but some of us are somehow clueless about what it is exactly.
Breast cancer is an out-of-control growth of cells in the breast. These cells often form into a mass that becomes malignant or cancerous. The problem with this is, it is hard to detect if the cells have already invaded the surrounding tissues and other parts of the body.
By then, the disease becomes worse and sadly, more difficult to treat. Many people consider cancer as a silent killer. One day you're okay and then the next day you're already dying.
Breast Cancer Numbers in North Carolina
According to Carolinas Health Care, there were 234,190 new breast cancer cases in both men and women nationwide in 2015. They also revealed that 7,820 female breast cancer cases were recorded in the same year in North Carolina alone. As per North Carolina Health and Human Services, over 1,000 people in the state die from breast cancer each year.
A Clunker to Cure Cancer
It doesn't take a hefty amount of cash or a Hollywood-level kind of fame to be able to do something altruistic. With our North Carolina RV donations program in place, all you need is an old RV or any other vehicle and you are sure to make a huge difference in the lives of those who are battling breast cancer.
Breast Cancer Car Donations is a trusted fundraising organization that has been helping the fight against breast cancer for over two decades. We have partnered with some of the country's most reputable nonprofits like American Breast Cancer Foundation (ABCF) and Women Involved in Nurturing, Giving, Sharing, Inc. (WINGS) so that we can continue to build and support life-saving programs such as:
Prevention, screening, and diagnosis of breast cancer;
Research funding for breast cancer treatment;
Financial assistance to the uninsured and underserved breast cancer-stricken Americans;
Efficient treatment and rehabilitation of patients who are suffering from breast cancer;
Support for breast cancer patients' families and support systems;
Campaigns to raise public awareness of the causes, symptoms, prevention, and detection of breast cancer.
How to Donate?
The entire process for making North Carolina RV donations is unbelievably simple.
Step 1: Contact us!
We are very easy to communicate with. You can either give us a call at 866-540-5069 or you can fill out our online donation form. We'll need your vehicle's information such as its make and model, year and overall condition, and we'll also need your contact details.
Step 2: Schedule the pickup.
Soon after the receipt of your request, a professional local towing company will give you a call to set up an appointment for towing. We can pick up your RV at any point in North Carolina. What's best about this service is, IT'S FREE!
Step 3: Be ready for your tax-deductible receipt.
Once your donated vehicle is sold, a receipt for your tax deduction will be sent to you via mail. This deduction can be applied for the tax year from when you have made your donation up until the beginning of the next year.
Turn That Old Clunker into A Lifesaver Today!
Do yourself and the entire state of North Carolina a huge favor by donating your RV! Call us at 866-540-5069 and get free towing services for your North Carolina RV donations!
or Call Us Now at 866-540-5069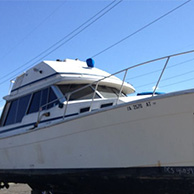 Excellent customer service!