North Carolina Motorcycle Donations
Donate Your Vehicle and Save Lives!
Help Stop the Breast Cancer Menace through 
North Carolina Motorcycle Donations
Breast cancer has been terrorizing people, mostly women, from all parts of the United States and the rest of the world since time immemorial. It has been said that the disease was already in existence during ancient times. More than 3,500 years ago, the ancient Egyptians were the first to take note of the devastating disease.
In the U.S., experts estimate that about one in eight women will be diagnosed with breast cancer during her lifetime. Breast cancer remains as the second leading cause of cancer deaths in women and now the most commonly diagnosed cancer type in women.
In fact, in its latest report, the American Cancer Society states that this year, the U.S. will see an estimated 266,120 new cases of invasive breast cancer in women. Furthermore, the source estimates 63,960 new cases of non-invasive breast cancer in women in 2018. It estimates that 40,920 women will die of breast cancer this year.
Women are not the only ones fighting for their lives against breast cancer. Although rare, the disease also strikes men. Experts estimate 2,550 new cases of male breast cancer and 480 deaths in men in 2018.
Certainly, when one is diagnosed with breast cancer, it is truly the most life-changing and heartbreaking moment in their lives. Breast cancer victims need all the support they can get.
We at Breast Cancer Car Donations are here to help victims of breast cancer, particularly those who do not have the means to pay for the high cost of treatment. Through our North Carolina motorcycle donations program and other similar vehicle donation programs, we are able to generate funds to help people afflicted with breast cancer.
How North Carolina Motorcycle Donations Work
If you have an old motorcycle that you no longer use, consider donating it to us. Don't just throw it away. You can still get your wish to get rid of your unwanted motorcycle when you donate it to us, but at the same time, you would allow us to use it to support a worthy cause. To top it off, you'll get great rewards for your charitable act.
You may donate even a motorcycle that's all beat up. We will still take it if we see that it can still be sold for a good enough amount of money. We accept any type of motorcycle, from cruisers to scooters, sports bikes, mopeds, and more.
We'll put your motorcycle on the auction block where it will be sold at its highest possible price based on its fair market value. The proceeds of your motorcycle donation will be delivered straight to our nonprofit organization partners. These IRS-certified 501(c)(3) nonprofits will use the funding to sustain and expand their ongoing programs that deliver comprehensive breast health services to various communities in North Carolina. We work in tandem with America's top breast cancer nonprofit organizations, the American Breast Cancer Foundation (ABCF) and Women Involved In Nurturing, Giving, Sharing, Inc. (WINGS).
The services that they provide include:
Providing financial assistance to needy breast cancer patients to help them pay for their treatment including surgery, oncology services, hospital fees, and outpatient medication;
Providing individuals easy access to health facilities, clinics, and hospitals that provide breast cancer screening, diagnosis, and treatment;
Raising public awareness on the signs and symptoms of breast cancer to promote early detection of the disease to improve chances of treatment;
Supporting breast cancer research to find new and better ways to prevent, detect, manage, and treat the disease with the ultimate objective of finding a cure for it.
The Benefits You'll Get for Your Motorcycle Donation
You will not go empty-handed when you take part in our North Carolina motorcycle donations fundraiser. For supporting our cause, you'll get these rewards:
Free and fast towing service
The easiest and fastest donation process
No paperwork for you
Forget about maintaining and repairing an old, rusty motorcycle
Feel the joy that comes with helping needy people
The Steps in Making North Carolina Motorcycle Donations
We assure you of a fast, efficient, and convenient North Carolina motorcycle donations process.
All you need to do is contact us by either calling us at 866-540-5069 or filling out our online donation form. Tell us your contact information and your motorcycle's year, make, model, and mileage. Does it run or not? Is the title available or not?
We'll assign a professional towing company to pick up and tow away your motorcycle at no cost to you and on the date, time, and place most convenient for you. You'll receive a towing receipt that will release from all liabilities on your motorcycle.
We'll take your motorbike to the best auction house in the city. Within 30 days after its sale, you'll receive a 100-percent tax-deductible sales receipt. You will need this to claim your tax deduction when you file your itemized federal income tax return.
Donate Your Motorbikes and Help Save Lives!
Let us know if you are ready to donate your motorcycle. If you have other vehicles at home that you no longer use, we'll be glad to receive them as your donations as well. We accept nearly all types of vehicles including cars, vans, SUVs, trucks, RVs, ATVs, snowmobiles, motorized wheelchairs, riding lawn mowers, tractors, farm equipment, pickups, buses, boats, and planes.
Contact us at 866-540-5069 and help save lives with your North Carolina motorcycle donations!
or Call Us Now at 866-540-5069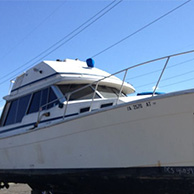 Excellent customer service!