Nevada RV Donations
Donate Your Vehicle and Save Lives!
Feel the Joy of Helping Save Breast Cancer Victims' Lives with Your Nevada RV Donations
If your RV has become a white elephant that you no longer need, you have at least three options to consider: Trade it, sell it or donate it. Now, which is the best of the three?
If you trade or sell it, chances are you'll have great difficulty in finding a good buyer or a company willing to exchange a new vehicle for your clunker. You need to have plenty of time, energy, money, and patience to be able to achieve your desired result or something close to that.
On the other hand, if you simply donate your RV to a well-established organization such as Breast Cancer Car Donations, you'll have none of those things to worry about. All you need is a few minutes of your time to reach out to us. We'll be there to help you every step of the way.
Yes, you may not get outright cash if you donate your RV. But the maximum tax deduction you'll get that approximates your vehicle's fair market value more than makes up for this. And this is just one of the many rewards you'll get if you take part in our Nevada RV donations program.
Where Will Your RV Donation Go and How Will It Be Used?
Before we let you know all the benefits that await you once you join our Nevada RV donations fundraiser, you may want to know where your donation will go and how it will be used for the benefit of breast cancer victims.
As soon as we receive your RV donation, we'll put it on the auction block. We expect it to be sold quickly considering our wide network of used-vehicle buyers.
Upon the sale of your donated RV, we at Breast Cancer Car Donations will forward all the proceeds to our nonprofit organization partners, the American Breast Cancer Foundation (ABCF) and Women Involved In Nurturing, Giving, Sharing, Inc. (WINGS). These nonprofits will use the funds to sustain, expand, and improve the vital breast health services they provide to needy individuals. These services include:
Financial assistance to uninsured and underserved Americans undergoing treatment for breast cancer;
Effective treatment and rehabilitation of breast cancer patients;
Support for breast cancer patients' families;
Funding research on advanced methods of breast cancer prevention, screening, diagnosis, and treatment;
Enhancing campaigns for public awareness on the causes, symptoms, prevention and detection of breast cancer.
If you believe destitute breast cancer patients deserve a second chance in life by getting free treatment and other services that they and their families couldn't otherwise afford, then help us give them this hope by donating your RV to Breast Cancer Car Donations. Call us at 866-540-5069 to make your donation.
Your Rewards for Your RV Donation
We already mentioned that you are entitled to receive a maximum tax deduction for your contribution to our Nevada RV donations fundraiser. Aside from that, you will also receive other perks, including:
Free towing service: We'll be the one to pay the cost of the towing service.
No troublesome paperwork for you: We'll take care of preparing all the relevant documents.
Regain garage space: You quickly get the eyesore out of your property with just one call.
Save money, time, and effort: Put an end to spending precious money on the repair, maintenance, registration, and insurance coverage of your RV.
Feel genuinely happy: It will make you feel great to know that you'll be making a big difference in the lives of breast cancer patients.
How to Make Nevada RV Donations
With just a single phone call or a quick filling out of our online donation form, you'll be on your way to doing something truly extraordinary: helping save the lives of people desperately seeking assistance.
Here is our three-step RV donations process:
Either through the phone or the internet, tell us your vehicle's make and model, year, VIN, general condition, and title availability details. This will take only a few minutes of your time.
Second, allow us to tow your RV for free.
A professional towing company will tow your RV at your convenience, taking into consideration your preferred date, time, and place for the pickup. This is absolutely free service. Before the tow truck hauls off your RV, you will receive a tow receipt that will free you from all liabilities on the vehicle you've just donated. This means you can now cancel your RV's registration and insurance coverage.
Third, receive your tax-deductible receipt.
We'll sell your RV at auction. After your vehicle is sold, we'll send you your RV's 100-percent tax-deductible sales receipt in the mail. You'll need it to claim your top tax deduction.
The Types of RVs and other Vehicles You Can Donate
We at Breast Cancer Car Donations accept all kinds of recreational vehicles and nearly all types of other vehicles for donation.
We welcome motorhomes, campers, travel trailers, pop-up trailers, 5-wheelers, and other RV types in our Nevada RV donations program.
You are free to donate more than one vehicle. We would very much welcome that because more donated vehicles mean more aid to breast cancer patients and more lives saved.
Thus, if you have other old and unwanted vehicles taking up space on your property, consider donating them to us as well. You can donate cars: vans, SUVs, trucks, motorcycles, ATVs, snowmobiles, motorized wheelchairs, riding lawn mowers, tractors, farm equipment, pickups, and buses among others.
Donate Now!
Make a lasting impact on the lives of breast cancer patients and their families. Contact us at 866-540-5069 and feel the joy of helping people recover from their breast cancer affliction with your Nevada RV donations. Donate now!
or Call Us Now at 866-540-5069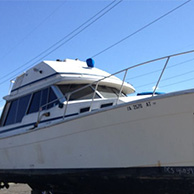 Excellent customer service!