Georgia RV Donations
Donate Your Vehicle and Save Lives!
Help Save Lives of Breast Cancer Victims With Your Georgia RV Donations
While your old and shabby RV may mean nothing to you now, it's actually a treasure that can be used to pay for costly but life-saving treatment for women with breast cancer who could not afford such remedy. Hence, your participation in our Georgia RV donations program will greatly impact the lives of breast cancer sufferers in your own state.
Researchers and scientists have long been looking for ways to solve the breast cancer riddle but still have not been successful in finding the ultimate cure to a disease that remains as one of the Top Two most common and deadliest forms of cancer for American women. With your RV donation to Breast Cancer Car Donations, however, nothing is impossible. The funds generated from the sale of your donated RV could finance research that could eventually find the missing piece to the breast cancer puzzle.
Breast Cancer Car Donations is a nonprofit organization dedicated to fully supporting breast cancer patients and their families. In partnership with other well-known nonprofits such as Women Involved in Nurturing, Giving, Sharing, Inc. (WINGS) and American Breast Cancer Foundation (ABCF), we seek to deliver breast health services to all individuals who need them. Through your Georgia RV donations, you'll provide us the financial muscle to pursue our mission.
If you're looking for the best way to dispose of your unwanted camper, donating it to us is the perfect solution. You'd not only get rid of it but also transform lives with it!
How Our RV Donations Process Works
Have you already made up your mind to part ways with your old RV but still don't know the best charity organization to donate it to? Breast Cancer Car Donations would love to volunteer! We offer our donors quality service like no other!
To learn more about this process, here's a short guide:
First, inform us of your decision to join our Georgia RV donations program. Fill out our online donation form or call us at 866-540-5069. Give us your RV's basic information such as its year, make, model, and mileage, and let us know the ideal date, time, and place for its pickup.
A professional towing company affiliated with us will come to your specified location and pick up your RV at no cost to you. It won't be a problem with us if you can't be around at the time. Just remember to place your RV's keys and title somewhere we can find them easily. We will issue you or your designated representative a tow receipt during the pickup. This will relieve you from any liabilities on the RV you donated, allowing you to de-register it, dispose of its license plates properly, and cancel its insurance coverage. Keep the receipt since you may need it for tax purposes.
We will then auction off your donated RV, with the proceeds going straight to our nonprofit partners.
To show you our gratitude, we'll mail to you your 100-percent tax-deductible sales receipt within 30 days from the sale of your RV. The receipt shows your car's final selling price, which is the tax deduction you may claim when you file your itemized federal income tax return next tax-filing season.
That's how fast it is to donate to us! Get that tax deduction now by calling us at 866-540-5069!
Types of RVs and Other Vehicles You Can Donate
At Breast Cancer Car Donations, we accept virtually all types of recreational vehicles and other vehicles for that matter. We accept even vehicles that are no longer running properly.
We're not choosy when it comes to the types of RVs we accept in our Georgia RV donations program. We welcome donations of campers, motorhomes, travel trailers, hybrid trailers, five wheelers, and pop-up trailers.
We'd be delighted with multiple donations, in case you have other vehicles you want to dispose of. We accept cars, vans, SUVs, trucks, motorcycles, ATVs, snowmobiles, motorized wheelchairs, riding lawn mowers, tractors, farm equipment, pickups, buses, boats, and even non-commercial airplanes.
If you find yourself quite uncertain about your vehicle's eligibility, just give us a call at 866-540-5069. One of our friendly donations specialists will all answer all your questions. You can also check out our FAQs page here.
Enjoy Many Benefits from Breast Cancer Car Donations
Your participation in our Georgia RV donations program will benefit not just breast cancer patients but also yourself!
Expect to receive these benefits once you decide to donate your RV to us at Breast Cancer Car Donations:
We'll send your donated RV to the best auction house where it will sell for top value. We'll also refurbish your donated vehicle before putting it on the auction block so it can fetch a good price, which translates to a maximized tax deduction.
Stress-free donation process
We'll handle all the necessary paperwork. All you have to do is to reach out to us.
Worried about how much to pay for the towing? Cast your worries away since the cost of towing is on us.
Free yourself from the burden of paying for your vehicle's registration and insurance. Now that you have your camper de-registered, you no longer have to waste your money for it. You also don't need to worry anymore for spending for your RV's repair and maintenance.
Avoid hassle and risk of selling your RV
Avoid getting headaches from the process of selling or advertising your RV. Selling can be difficult, especially when you have to look for buyers. On the other hand, donating is a straightforward process, and you don't have to worry about disclosing your personal information with it.
With your old RV gone from your garage, you can finally make room for a new vehicle.
Get that joyous feeling of having served as an instrument to save people's lives.
Help Transform Lives!
Are you looking forward to seeing breast cancer patients recovering from their illness, thanks to your vehicle donation? Expect that to happen when you take part in our Georgia RV donations program. Contact us at 866-540-5069 and help transform lives with your RV donation!
or Call Us Now at 866-540-5069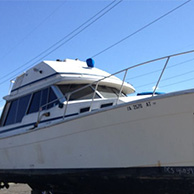 Excellent customer service!