Flood Damaged Cars
Donate Your Vehicle and Save Lives!
Flood-Damaged Car Donations — Let's Fight Breast Cancer!
Flood-damaged car donations put a brand-new purpose to what seems to be a useless vehicle. It's a highly convenient way to get rid of an unwanted vehicle. At the same time, this is also an opportunity for you to support breast cancer patients all across America.
We find ourselves devastated in the wake of recent hurricanes. Floods have lain to waste millions of properties. These also included our valued vehicles.
Flood-damaged cars are still unusable. Don't let them rot away in your dusty garages and backyards.
Some people often resort to throwing away flood-damaged cars. Others salvage parts from the vehicle for selling. While these are effective ways to rid yourself of an unwanted vehicle, there is a more convenient way for you to rid yourself of a dysfunctional vehicle.
You may opt to donate your flood-damaged car for the benefit of breast cancer patients through Breast Cancer Car Donations.
Help Breast Cancer Patients through Flood-Damaged Car Donations
Flood-damaged car donations promote charity through convenience. The donation process is simple yet highly beneficial for both patients and donors. Breast Cancer Car Donations is an enabler of charity.
Through your flood-damaged car donations, you save yourself from the hassle of owning a flood-damaged car while at the same time helping truly needy breast cancer patients who can't survive the disease without financial assistance from kind-hearted fellow citizens.
Selling or throwing away a flood-damaged car can be quite stressful. This is why we promote charity through car donations. You may be surprised to discover the multitude of benefits that you can reap from practicing charity.
Trying to sell a flood-damaged car may put you under undue stress. This is why donating your flood-damaged cars to breast cancer patients is much more convenient. Apart from helping out breast cancer patients, you also reap amazing benefits for yourself.
How to Donate Flood-Damaged Cars
Breast Cancer Car Donations is a platform that allows you to help destitute victims of breast cancer who have nowhere else to turn to for assistance. Donate your car and give them hope of surviving the disease!
The donation process consists of only three simple steps:
Reach out to us! You can call us at 877-594-5822. You can also opt to fill out our online vehicle donation form. Either way is a fast and convenient way for you to kick-start your donation.
We usually require the title of the vehicle as a standard procedure. State policies may cause variations in the requirements. If you lost or can't find your title, no worries! Simply give our friendly Title Department clerks a call at 877-594-5822 so we can help provide you a replacement title. We do all the paperwork!
Second, schedule the pickup
We will reach out to you shortly once we have gathered all the necessary documents we need. We will ask you your preferred time, date, and place for your vehicle pickup. The cost of the vehicle pick-up is on us. It's absolutely free for you. Upon pick-up, we will hand you a tow or donation receipt. This will relieve you from any liability on your car, which means you can now stop paying for its insurance and registration.
Third, receive a top tax deduction
Charity has its benefits. You will hear from us weeks after we have successfully auctioned off your vehicle. We will send you your tax-deductible sales receipt so that you can file your top tax deduction based on your vehicle's sale price as printed on the receipt.
Basically, that's it! See how quick and easy that was? You will be making an impact on the lives of many breast cancer patients with just three simple steps.
Why Donate Flood-Damaged Cars for the Benefit of Breast Cancer Patients
The benefits of flood-damaged car donations are quite astonishing. There are multitude reasons why you should donate your flood-damaged vehicles to breast cancer patients. For starters, the process is easy and convenient.
Flood-damaged car donations put your convenience in mind. We offer you a flawless donation process that only entails you to come in contact with us. After that, we'll call you and pick up the vehicle at your convenience.
Helping out breast cancer patients
Breast cancer continues to claim many lives in America and elsewhere. Put a new purpose in your flood-damaged cars by donating them for a worthy cause like saving the lives of breast cancer victims. You may be surprised to know how your donated car can impact the lives of many.
Flawless donation process
We've removed all the difficulties in car donations. The donation process is as easy as one-two-three. The three-step donation process is integrated to assure you quality service all throughout the donation experience.
Goodbye to car sale hassles
Breast Cancer Car Donations also rids you of the hassles of trying to sell your car. You no longer have to pay for ad placements and no more bartering with strangers. All you have to do is call and schedule the pick-up.
Flood-damaged car donations eliminate the fees for towing and pick-up. Once we verify the details you shared with us about the vehicle you're donating, we will ask you about your preferred pick-up date, time, and place.
The best part about flood-damaged car donations is the rebates! Flood-damaged car donations allow you to enjoy tax deductions of more or less $500. We will facilitate your tax deduction providing you all the necessary documents to support your claim.
Contact us at 866-540-5069 to donate your flood-damaged cars for the benefit of breast cancer patients today!
or Call Us Now at 866-540-5069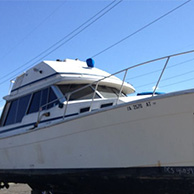 Excellent customer service!