Not Sure What to Do with Your Flood-Damaged Car?
Let's face it, floods are inevitable. And, as with all other natural disasters, they have the power to destroy properties, including vehicles.
If you have a car that's been heavily damaged by flood, you might as well consider disposing of it. Sure, it's still possible to get it running again by seeking professional help, but this will surely cost you tons of dollars, especially if it was completely submerged in water. Unless you have comprehensive auto insurance coverage, don't expect your insurer to cover the repair costs of your flooded car.
Moreover, getting your vehicle fixed won't guarantee that it's going to run as efficiently as it used to. Keep in mind that flood-stricken cars will never be the same after getting damaged by water. Your car may work fine after a trip to the auto shop, but it will be more prone to breakdowns.
So, instead of going through all the trouble and expense of trying to restore your car, why not just give it a new and worthy purpose? You can do that by simply handing it over to us at Breast Cancer Car Donations!
We Will Turn Your Flood Car Donation into a Weapon Against Breast Cancer!
Donating your flood-damaged car isn't just a convenient way to get rid of it, but it also allows you to extend a helping hand to the destitute women in your local area who are battling breast cancer.
Your water-damaged car will most likely be of no use to you anymore, but to these women, it can provide a vital source of hope. It can help turn them from breast cancer sufferers to survivors! You'll be in awe when you discover how huge of an impact such a donation can make on their lives.
Breast Cancer Car Donations has a lifelong mission of caring for breast cancer patients across America, particularly those who are uninsured and financially struggling. We collect vehicle donations and sell them through auctions so we can continue funding our nonprofit partners. Like us, these IRS-certified 501(c)(3) organizations work tirelessly to ensure a better future for these hurting women.
The funding that our charity partners will get from your flood car donation will enable them to provide more beneficiaries with easy access to leading cancer centers in the country, as well as financial assistance to cover the costs of their treatments, hospital fees, doctor consultations, medications, and other essential health care services. They also provide free breast cancer screening and diagnosis as well as cancer prevention, education, and counseling services.
Donating to Us Only Takes 3 Easy Steps
Our vehicle donation process is incredibly fast and painless. Here's a brief guide to this process:
Step 1: Get in touch with us.
Make the first move by either calling us at 866-540-5069 or filling out our online donation form. We'll need you to provide us with a few details about your car, such as its age, make and model, mileage, and VIN, as well as your contact information.
Step 2: Schedule the pickup.
Once we've verified all the information you gave us, we'll contact you to schedule your vehicle's pickup. It's up to you to choose the time, date, and place that's most convenient for you. We'll assign an affiliate towing company to do the job. Don't worry — the towing fee is on us!
Upon pickup, our representative will issue you a towing receipt. This will relieve you from any liability on the vehicle you're donating from then on. You can also use the receipt to cancel your car's insurance coverage and registration with the local DMV.
Step 3: Enjoy your tax deduction!
We'll coordinate with one of our vehicle liquidation vendors so that we can auction off your donated vehicle. Within 30 days following its sale, we'll mail your 100% tax-deductible sales receipt to your given address. This will serve as your ticket for claiming your top tax deduction when you file your itemized federal income tax return in the next tax season.
That's it! See how simple it is to make a flood car donation to us? Oh, and you'll be even more delighted to know that several other perks await you.
Benefits of Donating Your Flood-Damaged Car to Breast Cancer Car Donations
Besides getting entitled to claim the highest possible tax deduction, here are other rewards that await you:
1. Save money!
Donating your car to support a good cause will free you from the responsibility of paying for your vehicle's costly repairs, maintenance, and insurance payment.
2. No paperwork is required from your end!
From title transfer to tax-deductible receipt issuance, you can count on us to handle all the documentation for you!
3. Free towing and pickup!
As long as you live within the United States, we'll haul your vehicle away without charging you a single dollar.
4. Save yourself from the hassles of selling a flood-damaged car!
Don't bother paying for repairs and ad placements. No need to waste your time entertaining and negotiating with potential buyers anymore, either.
5. More space in your garage!
Say goodbye to an eyesore and say hello to that new car you've been dreaming of buying!
6. Experience the joy and fulfillment of making a difference in the lives of breast cancer sufferers.
Nothing will ever come close to the deep feeling of satisfaction you'll feel, knowing that your charitable gift will help save the lives of the needy breast cancer patients in your area.
Other Vehicles You Can Donate
Aside from your flood-damaged car, you can also donate to us other unwanted vehicles you might have. The more vehicles you donate, the more lives you can help save and the more tax deductions you can claim.
We welcome these types of vehicles:
Cars: luxury cars, sports cars, wagons, hybrids, hatchbacks, sedans, coupes, convertibles
Trucks: extended cab pickup, panel trucks, box trucks, pickup trucks
SUVs: compact, midsize, full-size, or crossover versions
Vans: camper vans, cargo vans, passenger vans, family minivans
Motorcycles: scooters, touring bikes, off-road bikes, cruisers, sports bikes,
Recreational vehicles: snowmobiles, jet skis
Aircraft: gliders, helicopters, private noncommercial planes
Boats: fishing boats, tugboats, speedboats, pontoon boats, yachts, cruise ships, catamaran boats, sailboats
Specialty vehicles: ATVs, golf carts, riding lawnmowers, motorized wheelchairs
Work-related vehicles: buses, construction vehicles, large trucks, farm equipment, landscaping vehicles
Ready to Use Your Flood-Damaged Car as a Weapon Against Breast Cancer?
Your flood car donation will touch many lives in ways you could never imagine. Call Breast Cancer Car Donations at 866-540-5069 or fill out our secure online donation form to get started now!
or Call Us Now at 866-540-5069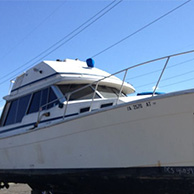 Excellent customer service!