Colorado Motorcycle Donations
Donate Your Vehicle and Save Lives!
Join the Fight against Breast Cancer With Your Colorado Motorcycle Donations
If you plan to join the battle against breast cancer, participating in our Colorado motorcycle donations program sounds like one of the simplest ways to do so. Your old motorcycle may seem useless to you now, but when you give it to us, it becomes a significant tool in fighting the deadly disease.
Countless women in our country have fallen victim to breast cancer. With the high cost of treatment, the financial resources of many Americans are not enough to pay the cost of treatment of their breast cancer-stricken family member. This is where Breast Cancer Car Donations comes in.
We generate funds from our numerous vehicle donation drives across the nation, including our Colorado motorcycle donations program, in support of the programs of our reputable nonprofit government partners that deliver various forms of breast health assistance to underprivileged Americans.
How Your Donations Will Help Breast Cancer Patients
The proceeds from the sale of your donated motorcycle will go straight to our two charity partners — the American Breast Cancer Foundation (ABCF) and Women Involved In Nurturing, Giving, Sharing, Inc. (WINGS). These trusted nonprofits use the funding we give to them to sustain and improve these existing services, such as:
Providing financial assistance to uninsured and underserved breast cancer patients, covering their surgery, oncology services, consultation, hospital fees, and outpatient medication;
Connecting these patients to local facilities that offer free and accessible resources, information and other comprehensive breast health services;
Raising public awareness on breast cancer prevention, diagnosis, and treatment;
Pursuing research on prevention, screening, diagnosis, and treatment of breast cancer; and
Sponsoring charity and outreach events for the benefit of breast cancer patients
Our Simple and Efficient Motorcycle Donation Process
It makes perfect sense to choose Breast Cancer Car Donations if you're looking for a Colorado motorcycle donations program that offers top quality service. We make sure that our donors won't go through a difficult donation process, particularly the one involving paperwork, which we'll do on your behalf. Also, our donors need not waste their time searching for an affordable towing company. We'll also take care of the towing – and it's all for free!
Once you're sure with your decision to contribute to our Colorado motorcycle donations program, let us know. Fill out our online donation form or give us a quick call at 866-540-5069. Be ready to provide us with basic details about the motorbike you plan to donate.
We'll then schedule your motorcycle's free pickup at your convenience. You'll be the one to tell us your preferred date, time, and place of pickup.
Expect a tow truck to haul off your bike on the agreed schedule. Don't worry if you have to be someplace else during the pickup. Just make sure to leave your keys and vehicle title. Before we take away your motorbike, we will give you a donation receipt that will free you from all liabilities on your motorcycle, which means you can now cancel its registration and insurance coverage.
Within 30 days following the sale of your motorcycle, you'll receive from us your motorcycle's 100-percent tax-deductible receipt. You'll need the receipt to claim your tax deduction when you file your itemized federal income tax return next tax season.
How's that sound? You'll be able to dispose of an unwanted vehicle while also helping breast cancer-afflicted individuals, and you get a tax deduction to boot! Donate to our Colorado motorcycle donations program now by calling us at 866-540-5069.
Perks to Enjoy from Your Colorado Motorcycle Donations
Did you know that you'll also get to have your own share of benefits from your Colorado motorcycle donations? When you work with Breast Cancer Car Donations, you'll not only support breast cancer patients and their families; you'll also be doing a big favor for yourself!
Aside from getting a substantial tax deduction, you'll receive other perks for donating your motorcycle. They include:
Enjoy our smooth and straightforward donation process where we'll be the ones to do your paperwork and where the cost of towing is on us.
Get rid of an old bike without spending a single cent.
Save yourself from the hassles of negotiating with prospective motorcycle buyers in trying to sell your vehicle.
Free yourself from the burden of paying for your motorcycle's repairs, maintenance, registration, and insurance coverage.
You no longer have to worry about sharing your private information.
Feel great about yourself, knowing that you'll be making a big difference in the lives of breast cancer patients.
Types of Motorcycles We Accept for Donations
With Breast Cancer Car Donations, you don't have to be ashamed about donating a motorcycle that doesn't appear to work well anymore. We're pretty much open to accepting almost all kinds of motorcycles in our Colorado motorcycle donations program.
To learn more about the types of motorcycles we gladly accept, check out the list below:
Mopeds
Scooters
Dirt bikes
Touring motorcycles
Sports bikes
Cruisers
We also love multiple vehicle donations in case you have other vehicles you want to dispose of. You can donate to us such vehicles as cars, vans, SUVs, trucks, boats, RVs, ATVs, snowmobiles, motorized wheelchairs, riding lawn mowers, tractors, farm equipment, pickups, buses, and even non-commercial airplanes.
Help Save Lives Today!
Are you excited to see your rundown scooter being used for the great cause of helping save lives of breast cancer victims? Contact us at 866-540-5069 and get free towing service and maximized tax deductions for your Colorado motorcycle donations.
or Call Us Now at 866-540-5069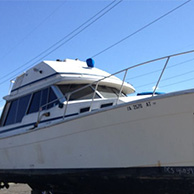 Excellent customer service!