Charitable Car
Donate Your Vehicle and Save Lives!
Saves Lives of Breast Cancer Victims with Your Charitable Car Donations
What makes a charitable car? It is a gift specifically in a form of a vehicle that is made by a person or an organization to a non-profit organization, charity or private foundation.
Here at Breast Cancer Car Donations, we accept charitable cars. We are proud to say that we are partners with America's most trustworthy breast cancer nonprofits. They never stop their efforts in trying to help victims of breast cancer.
They are the American Breast Cancer Foundation (ABCF) and Women Involved In Nurturing, Giving, Sharing, Inc. (WINGS).
What is the Process of Giving a Charitable Car?
Here at Breast Cancer Car Donations, we offer you the most convenient and quickest way to donate a car. We do our best to make it as fast and easy as possible for you. No precious time is wasted. Let us show you how our car donations process works:
You have two options to go with. You can choose between giving us a call at 866-540-5069 or filling out our online donation form. Either way, we will need a few details about yourself and the car you're donating such as its year, make, model, and mileage.
We will then set up a convenient time and date for the pick-up. After 24-48 hours, a tow truck will arrive at our agreed time, date, and place to come and tow your car away. We will issue you a donation receipt that you can use to cancel your car registration and insurance.
We will then auction off your car. We will try to get the highest possible price for it based on its value. Once your car is sold, the proceeds will go directly to our non-profit partners. They will use the funding to finance their various programs that provide assistance to indigent breast cancer patients, spread breast cancer awareness, and boost research on cancer treatment.
After a few days, we will send to you by mail your 100 percent tax-deductible tax receipt that you can use to claim your maximum tax deduction when you file your itemized federal tax return.
That's it! If you are still confused on some matters on how things work, don't worry, you can freely give us a call anytime! We love to talk to you!
If you don't have the time to talk, you can always visit our frequently asked questions page to look for answers to the questions in your mind.
How Do You Help Victims of Breast Cancer With Your Charitable Car
The main objective of your charitable car is basically to help your fellow Americans who are battling breast cancer. You will be giving financial assistance to uninsured breast cancer patients and their families, helping them to beat the disease.
What Vehicles Qualify for Charitable Car Donations
The great thing about Breast Cancer Car Donations is that we accept almost all types of vehicles for donation.
The condition of your car doesn't matter to us; we will still process your donation even if the vehicle you're donating has not been used for years or if it has dents, scratches, and other defects.
There are five categories of vehicles we accept:
General vehicles – cars, vans or minivans, SUVs, pickup trucks, and motorcycles
Boat and watercraft – houseboats, sailboats, motorboats, yachts, jet skis and more
RV and campers – recreational vehicles, pop-up trailers, travel trailers, motorhomes, five-wheelers, and more
Specialty vehicles – Farm equipment, riding lawn mowers, motorized wheelchairs, golf carts, and snowmobiles
Fleet vehicles – cars, cargo vans, passenger vans, buses, school bus, and more
Check out our accepted vehicles page for more information regarding the types of vehicles we accept.
Why Choose Breast Cancer Car Donations?
It's simple: We provide our car donors with numerous benefits. You will not only be making a difference in the lives of thousands of breast cancer victims but also giving yourself a big favor. Here are some of the benefits you stand to receive as a donor:
Our donation process only takes a few minutes.
No need to worry about doing paperwork. We handle all the paperwork from beginning to end — from handling the title transfer to the documentation required in receiving your charitable tax deduction.
You will not be spending for anything. Even the towing of your car is free.
Avoid the hassle of selling your car.
Stop paying for maintenance, insurance, and registration. Donating your car will release you from any liabilities.
These details about a charitable car donation should be enough to convince you to join us in our mission to fight breast cancer. Are you now ready to make that significant move that will help save people's lives? If you are, contact us now at 866-540-5069! Donate now!
or Call Us Now at 866-540-5069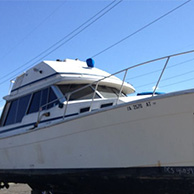 Excellent customer service!