Yonkers, New York Car Donations
Donate Your Vehicle and Save Lives!
Give Life-Sustaining Hope to Breast Cancer Victims Through Yonkers, New York Car Donations
When you take part in our Yonkers, New York car donations program, you'll be giving life-sustaining hope to those who are suffering from breast cancer. By donating your old and unwanted car to Breast Cancer Car Donations, you will be supporting our nonprofit organization partners and their programs that are intended to fight the disease, raise people's awareness of it, and save the lives of breast cancer victims.
Breast cancer is known as the most prevalent form of cancer worldwide, with more than 1.3 million people being diagnosed each year. In the United States, the disease affects more than 252,710 women and claims the lives of more than 40,500 every year, according to the National Breast Cancer Foundation, Inc. Breast cancer rarely attacks men, but still, an estimated 2,470 men are diagnosed with breast cancer and approximately 460 die of the disease each year.
To put the grim statistics in clearer terms, on average, in the U.S. every two minutes a woman is diagnosed with breast cancer and one woman will die of breast cancer every 13 minutes.
What You Need to Know About Breast Cancer
Breast cancer is a type of cancer in which cells found in the breast tissue tend to distribute and develop irrepressibly. The cause of the disease remains unknown.
Having sufficient understanding and knowledge of what the disease is can help fight the disease. Here are some key facts about breast cancer that many of us may not be well aware of.
Breast cancer is avoidable on certain situations and conditions.
Breast cancer can be frightening but can be avoided if and when early detection is done. Only through early screening as well as diagnosis can a stricken woman obtain early treatment, increasing her chances of survival.
Breast cancer affects not just its victims but their families as well.
Breast cancer does not only cause suffering to its victims; it likewise adversely affects the children, spouse, parents, as well as family members of each victim in more ways than one. The fear of losing someone causes an emotional and financial drain on families.
Breast cancer does not exempt you.
Breast cancer may bring havoc to anyone, even to those without family history or background of this ailment. The development of breast cancer may likewise be caused by various other factors such as sedentary lifestyle, increasing age, early menstruation, and modifications in genes.
Why Join Yonkers, New York Car Donations?
When you give away an old car or truck to us at Breast Cancer Car Donations, you automatically become part of our charitable works. You instantly become a source of hope and inspiration to your fellow Americans who are grappling with the disease, particularly those who lack the money to pay for the cost of their treatment. Your car donation will be used to provide them financial assistance.
Aside from that, you will also get to enjoy some perks for joining our car donations in the area. Here are some of them:
We'll take your donated vehicle to the best auction house in town where it would be sold for the top dollar. The result would be maximized tax deductions on your federal income tax return.
Our donation process is geared to provide utmost convenience to our donors. Our dedicated staff will be there to support you from beginning to end.
Free and fast vehicle pickup.
We quickly tow away your donated car or truck for free.
By giving away your old car, you will increase your savings since you will no longer have anything to worry or spend for repairs and maintenance, storage, as well as insurance costs.
Avoid the hassle of selling.
We'll be the one to sell your car for you so that you won't have to run ads, deal with phone calls or emails, show vehicle to potential buyers, and haggle over the sales price.
How to Join Yonkers, New York Car Donations?
Give us a call at 866-540-5069 or fill out our online donation form. Be ready to give all pertinent details concerning the vehicle you are donating, including its make and model, year, VIN, general condition, and title availability.
A professional towing company will contact you to set up a time and date for pickup. Before your vehicle is towed away, they will issue you a towing receipt that will free you from all liabilities on your car, which means you can now legally cancel its registration and insurance coverage.
We mail you your 100-percent tax-deductible sales receipt after your donated car is sold at auction. The receipt shows your donated vehicle's selling price, which will serve as the basis of your tax deduction claim when you file your itemized federal income tax return for the next tax-filing season.
Feel the Joy of Helping Others
Donate your old car or any other vehicle you no longer use or want and create a lasting impact on the lives of those afflicted with breast cancer and their family members. Contact us at 866-540-5069 and feel the joy of helping others with your Yonkers, New York car donations!
or Call Us Now at 866-540-5069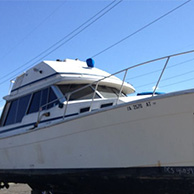 Excellent customer service!