Wisconsin Car Donations
Donate Your Vehicle and Save Lives!
Wisconsin Car Donations: Save Breast Cancer Patients' Lives
Wisconsin car donations are focused on providing assistance to needy people in the State suffering from breast cancer. This initiative is being undertaken by the Breast Cancer Car Donations, a nonprofit organization that works on behalf of other reputed nonprofits in raising funds for the prevention, screening, diagnosis, and treatment of breast cancer.
Our role is to promote communal support for cancer victims. We ensure that the funds we generate through car donations will go directly to the beneficiaries. We also ensure that the support we give is equally distributed among the cancer communities in the State.
As we put our beneficiaries at heart, we put the convenience of our donors in mind. We ensure that both donor and beneficiary are well-served.
You Can Make A Big Difference in Cancer Victims' Lives
Breast cancer is a disease that brings anguish to the patients and their family. Their pain is beyond physical. Often, both the family and the patient face mental and financial exhaustion.
With this in mind, you may want to consider helping out breast cancer patients in your community by donating your car instead of putting it in the queue for selling.
Your donated vehicle can make a big difference in the lives of breast cancer sufferers in Wisconsin. By taking part in Wisconsin car donations, you are joining the nationwide campaign to fight this dreadful disease that has claimed countless lives, some of them perhaps those of people close to you.
Breast Cancer Car Donations accepts many kinds of vehicles, including cars, trucks, motorcycles, riding lawn mowers, boats, and more. We accept almost all kinds of motor vehicles – even boats and planes! Call us if you want to know if your vehicle can qualify for Wisconsin car donations.
Benefits that Await You in Donating Your Car
This may surprise you, but charity has its benefits. It's actually stunning to note that plenty of benefits await donors in Wisconsin car donations. Here are some of them:
Wisconsin car donations are a convenient way for you to get rid of an unwanted, unnecessary, and unused vehicle. With our help, you can do this for free and with little effort on your part. Your old pal in the garage that's filling up with cobwebs can still have a great purpose through car donations.
Wisconsin car donations are free of charge. You enjoy free pick up and towing.
Apart from this, you also save yourself a lot of money. Say goodbye to ad placement fees, maintenance, repairs, and insurance. After we pick up your car, you will have freed yourself from all those expenses and the hassles related to them.
You also save yourself from the hassles of trying to sell your car. You no longer have to waste your time and patience in looking for the best buyer and trying to convince people to buy your car.
Give Your Old Car a New Purpose
You will also give your car a new purpose. Your donated vehicle, even though it's not in good condition anymore, is still useful for breast cancer patients in Wisconsin.
Donating a car to support and even save the lives of breast cancer patients gives you that inner sense of joy that you have done something good for your fellowmen.
The easy and convenient donation process also benefits you. Donating to breast cancer patients is as simple as 1, 2, 3. All you have to do is call, and we'll do the rest for you.
The best part of Wisconsin car donations is enjoying tax deductions. You can receive $500 worth of tax deduction, and perhaps even higher depending on your's car market value, after you donate your vehicle. This way, you get material benefits as well.
How to Donate Cars for Breast Cancer Patients In Wisconsin
Donating a vehicle for the benefit of Wisconsin breast cancer patients will only take the least effort on your part. We made sure that the process is convenient for both donors and beneficiaries. We have integrated a three-step process for your convenience.
Just call us or fill out the donation form below to begin the Wisconsin car donations process. Tell us a few details about the vehicle you intend to donate. Feel free to call us at 866-540-5069 for further questions.
You will hear from us after we've gathered all the necessary information about your vehicle. We will ask you to pick the most convenient date and time for the vehicle pick-up. Please note that this is absolutely free of charge to you.
We will issue a tow receipt for the pick-up. This will relieve you from any liabilities of owning the vehicle. The receipt is also a requirement for the processing of your top tax deductions.
About a couple of weeks after we have sold your vehicle, we will send you a tax-deductible receipt indicating the sale price of your vehicle. The tax deduction will depend on your vehicle's fair market value. You can find out more about that here. Call us at 866-540-5069.
Donate a Car to Wisconsin Breast Cancer Nonprofits Today!
Looking for more information about donating in a particular area of Wisconsin? Click on one of the cities closest to you from the list below.
or Call Us Now at 866-540-5069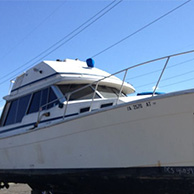 Excellent customer service!