Car Donations In Milwaukee
Donate Your Vehicle and Save Lives!
Milwaukee, Wisconsin Car Donations: Help Save Lives By Getting Rid of Your Clapped-Out Car!
Making Milwaukee, Wisconsin car donations could be the farthest thing in your mind when you were looking at your beat-up, ancient truck that you inherited from your great-granduncle Bob. Other than a few needed repairs here and there, its overall running condition is still relatively good, so you were thinking, "Why not sell this old thing?"
Well, we're here to tell you that you could put your preloved vehicle to much better use if you donate the car to a charity in Milwaukee instead.
We at Breast Cancer Car Donations are focused on managing and operating car and boat donation programs on behalf of the certified 501c3 nonprofit organizations that we have partnered with. We do this so that they can devote more of their time and effort in helping breast cancer victims fight the disease that has struck them. We are honored to support these charitable institutions:
American Breast Cancer Foundation (ABCF)
ABCF is focused on programs geared towards the early detection and diagnosis of breast cancer. They give financial assistance for breast cancer screenings and diagnostic tests to those who are not insured, connecting them to local facilities where they can receive the services, support, and resources that they need.
Women Involved in Nurturing, Giving, Sharing, Inc. (WINGS)
The people behind WINGS seek to narrow the gap between diagnosis and treatment of breast cancer. They do this by providing accessible comprehensive breast health services to uninsured and underserved individuals.
How Common is Breast Cancer in the U.S.?
Breast cancer is a disease that causes the cells in a person's breast to multiply abnormally. As the cells divide and grow, changes in how the breast looks or feels become evident.
In the U.S. alone, a woman is diagnosed with breast cancer every two minutes, and one woman dies of it every 13 minutes.
Milwaukee is the most densely populated city in the state of Wisconsin with an estimated population of 955,939 residents, 51.7 percent of which are females. If you've lived there all your life, you'd stop and think about the chances that you (if you're a woman), your mom, your sisters or your next-door neighbor, Mrs. Wakefield would be affected by breast cancer.
Although most of those who are affected are women who are 50 years old or older, 10 percent of all new breast cancer cases in the United States are found in women younger than 45 years of age. The only way to bring these numbers down is to promote early detection, better screening, increase awareness and new treatment options. This won't happen without funding.
What Can You Do to Help?
Now, that is a very good question to ask. When you donate your junk car or other unwanted car (or any vehicle that you have sitting in your garage) to our Milwaukee, Wisconsin car donations program, you'll help decrease the incidence rates of breast cancer deaths in your city. The proceeds from your donation will be used to generate funding for groundbreaking breast cancer research and provision of breast health services that would exclusively benefit the city residents.
If you look at it from another perspective, when you decide to be a donor, you'll not only relieve yourself from the burden of keeping an unwanted vehicle, you'll also help breast cancer sufferers face their future with hope. Not only that, you'll also save those who'll potentially get diagnosed with the disease — people who matter to you.
If this is a cause that you believe in, consider donating your worn-down car that can barely even make its way out of your driveway to our Milwaukee, Wisconsin car donations program.
'How Do I Get Started?'
Once you make a decision to donate that old clunker of yours, you turn into a modern-day Clark Kent who gets inside a telephone booth to transform into Superman. All you have to do is to make a call. Breast Cancer Car Donations makes sure that you'd get to experience the fastest and easiest way to donate your pop-up camper, boat or other vehicle.
Here's how our Milwaukee, Wisconsin car donations program works:
You can call us at 866-540-5069 and tell us more about your vehicle. When was it purchased? What's its make and model? You also have the option to fill out our online donation form.
Schedule your vehicle's pickup.
There's absolutely no need for you to contact a local towing company. We'll get your vehicle off your property for FREE! You don't even need to show up when we haul it away. However, please let us know where we could locate your vehicle's title and keys inside your car. Before we leave, we will give you a donation receipt that will free you from all liabilities on your donated car, which means you can now cancel its registration and insurance coverage.
Receive your IRS tax receipt.
Within days after we auction your vehicle out, we'll send you your 100 percent tax-deductible sale receipt, indicating your donated vehicle's final selling price. This will serve as the basis of your tax deduction claim when you file your itemized federal tax return.
Do Something that Means Something
By now you'd agree that making Milwaukee, Wisconsin car donations is as easy as 1-2-3! Without having to spend a single dollar, you'd get to give back to the City of Milwaukee AND you'd finally get rid of your clapped-out car!
Breast Cancer Car Donations does not limit your giving to cars. We accept almost any type of vehicle as long as the donor has a title or proof of ownership. By the way, we also think that multiple vehicle donations to Milwaukee are awesome.
Call us at 866-540-5069 and get free towing services for your Milwaukee, Wisconsin car donations!
or Call Us Now at 866-540-5069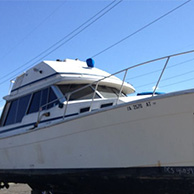 Excellent customer service!