Madison, Wisconsin Car Donations
Donate Your Vehicle and Save Lives!
Join Madison, Wisconsin Car Donations to Give Breast Cancer Patients a Real Fighting Chance to Beat the Disease
If you have an old car that's been taking up valuable space in your garage for ages, you'd be happy to know that you can easily get rid of it with no hassle whatsoever and at no cost to you. Indeed, partnering with us at Breast Cancer Car Donations by taking part in our Madison, Wisconsin car donations program is the best solution to all of your clunker problems. Moreover, your charitable contribution will give uninsured and underserved breast cancer patients in your local area a real fighting chance to beat the disease.
We'll auction off your donated vehicle and use the proceeds to support the critical programs and services of our IRS-certified 501(c)3 nonprofit partners. The funding that our charity partners get from us helps them in providing needy breast cancer patients with easy access to medical facilities where they can undergo full treatment, including surgery, chemotherapy, and radiation treatment. These nonprofits also provide breast cancer survivors with follow-up care such as laboratory work, annual mammograms, and physician visits five years after remission. Other beneficiaries get to receive free breast cancer screening as well as prevention and education services.
What's in Madison, Wisconsin?
Madison is the state capital of Wisconsin and is the country's largest ginseng producer. The city's most common nicknames are "Mad City," Four Lakes City, and Madtown. The latest estimates put its population at 258,054, making it the second-largest city in the state.
Madison city is bursting with fun facts. For instance, did you know that the first bone transplant was done at the University of Wisconsin Hospital in 1968?
Joining Madison, Wisconsin Car Donations is Incredibly Easy!
You don't have to break a sweat when you donate your vehicle to us because we've set in place a highly convenient and hassle-free donation process. Just follow these three simple steps and you're all set to become a hero to the breast cancer community in your area:
1. Get in touch with us.
You can easily donate your vehicle by calling us at 866-540-5069. We'll ask you a couple of questions including your contact information and a few basic details about your car. You can also make your donation by filling out our online donation form.
2. Tell us when and where you want us to pick up your vehicle.
Expect us to get in touch with you to schedule your vehicle's FREE pickup once we verify the information you shared. You can tell us the most convenient time and date for you to turn over your vehicle to us.  We'll then send a licensed tow truck to the location of your choice to haul your vehicle away.
Although we won't require you to show up on the day of your car's pickup, we'll need you to give us prior instructions as to where we can find your keys and title. Before the tow truck leaves, the driver will hand you a towing receipt. This document releases you from any liability on your vehicle from that point forward. It also allows you to cancel your vehicle's registration and insurance coverage.
3. Receive your IRS tax-deductible receipt by mail.
After we get your gift auctioned off, we'll send you your 100-percent tax-deductible sales receipt via mail. You'll need this receipt to claim your tax deduction when you file your itemized federal income tax return in the next tax season.
Donate and Enjoy the Benefits!
Donating your unwanted vehicle to us will bring immense benefits not just to the breast cancer patients in your area but to yourself as well. It's a decision you will never regret. Here are some of the reasons why:
Enjoy our easy, quick, and cost-free towing service!
When you decide to take part in our Madison, Wisconsin car donations program, you won't have to worry about anything because we'll be the ones to handle all the heavy lifting for you – from handling the paperwork to hauling your car away for free.
Get rewarded with a hefty tax deduction!
Your vehicle donation will entitle you to a handsome tax deduction. This is made possible by our partnerships with IRS-certified 501(c)3 nonprofit organizations.
Donating your vehicle for a good cause will also free you from the responsibility of paying for your vehicle's costly repairs, maintenance, and insurance payment.
Enjoy our easy donation process!
To donate to us, all you need to do is contact us. We'll take care of the rest after that.
Enjoy the feeling of fulfillment!
Nothing will ever come close to the deep feeling of personal satisfaction and fulfillment that you'll feel once you participate in our Madison, Wisconsin car donations program. You'll feel this way knowing that your gift will enhance the life of at least one breast cancer patient.
Feel Free to Donate Any Type of Vehicle
When you take part in our Madison, Wisconsin car donations program, you give yourself the opportunity to dispose of all the clunkers that are taking up valuable space on your property. We're willing to accept outdated vehicles that need a lot of work.
For your reference, here's a list of the types of vehicles that our donors have been handing over to us:
Cars: sedans, SUVs, convertibles, compact cars, luxury cars, sports cars
RVs: toy haulers, folding and tent trailers, hybrid trailers, travel trailers, motorhomes, campers
Trucks: mobile cranes, garbage trucks, refrigerator trucks, tank trucks, dump trucks
Fleet vehicles: limousines, buses, minivans, vans, taxis, ambulances
Specialty vehicles: motorized wheelchairs, ATVs, golf carts, riding lawnmowers, farm equipment, snowmobiles
Aircraft: helicopters, noncommercial planes, gliders,
Water vessels: yachts, cruise ships, jet skis, pontoon boats, sailboats, motorboats
Help Boost Breast Cancer Survival Rates Now!
Did you know that there are over 3.5 million breast cancer survivors in the United States? You can help raise this number even higher by taking part in our Madison, Wisconsin car donations program. Call us at 866-540-5069 or fill out our online donation form. now!
or Call Us Now at 866-540-5069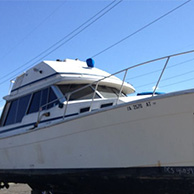 Excellent customer service!