Waldorf, Maryland Car Donations
Donate Your Vehicle and Save Lives!
Be the Hero with a Big Heart for Breast Cancer Sufferers through Waldorf, Maryland Car Donations
Be a true hero by empowering women with breast cancer through your participation in our Waldorf, Maryland car donations program. You need not be exceptionally strong or powerful to lend a hand to those afflicted with breast cancer who are in dire need of help. All it takes is for you to have the heart to serve others to find the essential meaning of what it is to be human and how it is to possess a sympathetic spirit.
With minimal effort and zero cost, you can become a person that many cancer patients would admire and consider as their ultimate hero. When you give away an old car or any other vehicle to Breast Cancer Car Donations, you will not only be extending vital assistance to needy breast cancer sufferers but also contributing to efforts to increase people's awareness about the deadly disease, leading to early detection and bigger chances of surviving it.
By donating your old and unwanted car, you'll be able to save thousands of lives through enhanced public knowledge about the disease and greater public accessibility to breast cancer screening, diagnosis as well as treatment.
Where Your Car Donations Will Go
We at Breast Cancer Car Donations operate vehicle donation programs on behalf of our certified 501(c)3 nonprofit organization partners. We generate funds for their programs that provide accessible comprehensive breast health services across the nation. These services are geared towards breast cancer prevention, early detection, treatment and/or cure. We are the partners of:
American Breast Cancer Foundation (ABCF)
ABCF seeks to make breast cancer diagnosis and treatment accessible to uninsured and underserved women everywhere in the country. ABCF directs its efforts in giving education, medical access, and financial assistance to all individuals, particularly the destitute. Through its extensive link referral systems, people are connected to local facilities that provide free and accessible resources, services, and information.
Women Involved in Nurturing, Giving, Sharing, Inc. (WINGS)
WINGS is committed to giving financial assistance to indigent breast cancer patients for their treatment including surgery, oncology services, hospital fees, outpatient medication. They are also actively involved in outreach programs and are advocates of raising public awareness about breast cancer prevention.
What You'll Get from Your Car Donation
There are plenty of reasons why taking part in our car donations program in the area is a great idea. Aside from getting the opportunity to be of service to others, you'll also get your own share of rewards for your charitable act. Here are some of those perks:
We will send your donated car to one of the best auction houses in the city where your vehicle can fetch the best price. We will also refurbish your car to enhance its cash value.
No more repairs and upkeep expenses.
Stop wasting precious money on frequent car repairs. You also need not worry anymore about paying for your car's maintenance, registration, and insurance coverage.
Pick up and towing is free.
Breast Cancer Car Donations will shoulder all towing expenses.
No time-wasting paperwork for you.
You don't have to worry about the tedious process of sorting out your car's documents. We'll do that for you.
You won't have to try to sell your car.
Save yourself the trouble of advertising or negotiating with potential buyers and other things that are done in selling a car. We'll do the selling for you.
Feel the joy of helping others.
The most gratifying part of giving away a vehicle to charity is being able to realize that you're able to make a difference in the lives of people who are suffering.
The Types of Vehicles You Can Donate
We at Breast Cancer Car Donations accept various types of vehicles in our Waldorf, Maryland car donations fundraiser. You don't have to think twice before donating your vehicle to us because we accept all vehicles donated to us with only very few exceptions. Even if the vehicle you wish to donate has not run for years, we would still gladly accept it as your donation.
The only vehicles we cannot process are those that have been abandoned and without titles or ownership. The reason for this is that having a title is a requirement in selling vehicles. However, if you misplaced or lost your title, don't worry. We can help you find a replacement title quickly, so you can proceed with your donation.
We also cannot accept vehicles that are so severely damaged that they have little or no cash value anymore.
Here is a partial list of the vehicle types we accept for donation:
Vans or minivans
Trucks
Motorcycles
RVs
Toy haulers
Snowmobiles
Golf carts
Farm equipment
Boats
Yachts
Jet skis
Non-commercial airplanes
For the complete list of vehicles acceptable to Breast Cancer Car Donations, please visit our Accepted Vehicles page.
Our Quick and Hassle-Free Car Donation Process
We assure you that our Waldorf, Maryland car donations process is the quickest, easiest, and most convenient of its kind. In less than 10 minutes, you can bid goodbye to your old and unwanted vehicle and say hello to the breast cancer patients who'll get to benefit from your generosity. Here's how you can do that:
Let us know you wish to donate.
You have a choice to either fill out our online donation form or simply call us at 866-540-5069 and give us your personal contact information as well details about the car you're donating such as its year, make, model, mileage, VIN, general condition, and availability of a title.
Schedule your vehicle pickup.
Tell us your preferred time, date, and place for your vehicle's pickup. We'll assign a professional towing company in your area to do the job. The towing fee is on us, so you don't have to pay for anything. Before the tow truck leaves with your car, you will receive a tow receipt that allows you to lawfully cancel your car's insurance and registration.
Receive your tax-deductible receipt.
Your car will be taken to an auction house in your city affiliated with us. Within 30 days after your car is sold, we will send you by mail your 100-percent tax-deductible sales receipt that shows your car's selling price, which is the tax deduction you may claim when you file your itemized federal income tax return for the next tax-filing season.
Make a Life-Changing Decision Now!
You can make a life-changing decision right this very moment by turning your unwanted car into a life-saving instrument for breast cancer sufferers. Contact us at 866-540-5069 to get started with your Waldorf, Maryland car donations!
or Call Us Now at 866-540-5069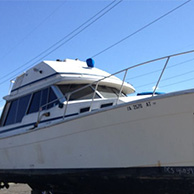 Excellent customer service!