Upper Marlboro, Maryland Car Donations
Donate Your Vehicle and Save Lives!
Play a Huge Role in Saving Lives of Breast Cancer Victims Through Upper Marlboro, Maryland Car Donations
Your participation in our Upper Marlboro, Maryland car donations program can mean the world for breast cancer patients who are currently fighting for their lives. Donating your car to us at Breast Cancer Car Donations will not just free your garage from an unwanted clunker. Much more important than that, such a donation will certainly play a huge role in saving the lives of these patients.
We at Breast Cancer Car Donations work in partnership with two IRS-certified 501(c)3 nonprofit organizations—the Women Involved in Nurturing, Giving, Sharing, Inc. (WINGS) and American Breast Cancer Foundation (ABCF). We auction off the vehicles donated to us and transfer the proceeds to these two reputed nonprofits to help fund their multi-pronged campaign against breast cancer. They are currently implementing programs that are aimed at achieving these objectives:
Help uninsured individuals gain access to breast cancer screening, diagnosis, and treatment;
Provide financial assistance to breast cancer patients, survivors, and their families;
Fund research on more effective breast cancer treatment;
Boost information campaign to educate the public on the causes, prevention, and early detection of breast cancer.
Experience the Most Convenient Way of Donating a Car to Charity
We designed our Upper Marlboro, Maryland car donations program to provide utmost convenience to our donors. Speed and simplicity are the hallmarks of our three-step car donation process. Here is how you can donate your old and unwanted vehicles to Breast Cancer Car Donations:
First step: Contact us.
A simple call can transform the lives of many. Once you're ready to make a donation, pick give us a call at 866-540-5069. You may also fill out our online donation form to begin the process. Tell us a few basic details about the vehicle you're donating such as its make and model, year, VIN, and general condition. We may require donors to present the title of the vehicle. State policies may vary. Feel free to call us at 866-540-5069 so we can clarify this point.
Second step: Schedule the pick-up.
We'll call you back after we've verified the information you shared. We will then ask you to pick the most convenient date, time, and place for you concerning your vehicle pickup. Please note that this towing service is absolutely free of charge. We will issue you a tow receipt during the pick-up. This will relieve you from any liabilities and gives you the right to cancel your car registration and insurance coverage. The receipt may also a requirement for the processing of your top tax deductions.
Third step: Receive your tax deduction.
Within 30 days after we auction off your vehicle, we'll send you your 100 percent tax-deductible sales receipt, indicating your donated vehicle's selling price. This will serve as the basis of your tax deduction claim when you file your itemized federal income tax return for the next tax-filing season.
Enjoy Plenty of Benefits for Your Car Donation
We made donating to a noble charitable cause even more appealing by providing material benefits to the donors. Aside from the inner joy you'll feel for making a difference in the lives of your less fortunate fellow citizens, you also get to have some major rewards for yourself for taking part in our car donations program in the area. Here are some of them:
Because we want to get the highest possible selling price for your donated car, we'll send your unwanted vehicle to the best auction house in your city where it would be sold for the top dollar. The result would be maximized tax deductions on your federal tax return.
The donation process takes only a few minutes of your time.
You'll spend just a few minutes of your time to begin your car donation process—and you don't have to do anything more since we'll take care of everything else.
We—not you—will pay for your vehicle pickup and towing.
You won't spend even dime to get your unwanted car out of your property.
Save money on repairs, other payments.
No more wasting money in paying for car repairs, maintenance, registration, and insurance.
When you donate your car to us, we'll take care of all paperwork—from handling the title transfer to the documentation required in receiving your charitable tax deduction.
Clear your garage or backyard.
Donating your old and unwanted vehicle would make room for a new one in your garage or backyard.
Avoid the hassle of selling.
Selling an old car is difficult, irritating, time-consuming, a waste of time and effort, and expensive as well. If you simply donate your car to us, you won't have to run ads, deal with phone calls or emails, show vehicle to potential buyers, and haggle over the sales price.
Support a worthy cause that brings out the best in you.
Donating your car for the noble cause of saving lives will give you a deep sense of personal satisfaction.
The Types of Vehicles You Can Donate
We at Breast Cancer Car Donations accept nearly all vehicle types, despite their working condition or age. Since we're the ones to do the towing, you don't have to hesitate about giving us an automobile that no longer runs. Just talk to us if you have any concerns regarding your car's current state.
For our Upper Marlboro, Maryland car donations program, we accept almost all types of vehicles such as:
General vehicles: cars, vans, trucks, SUVs, trucks, pickups, and motorcycles;
RVs and campers: RVs, campers, 5th wheelers, recreational vehicles, motorhomes, pop-up trailers;
Specialty vehicles: ATVs, riding lawnmowers, snowmobiles, motorized wheelchairs, golf carts, tractors, and farm equipment;
Fleet vehicles: buses, passenger vans, cargo vans;
Watercraft: yachts, motorboats, fishing boats, pontoon boats, jet skis;
Aircraft: private jets, planes, and helicopters.
If you're thinking of donating more than one vehicle, go ahead! We'd be more than pleased to accept multiple donations from you!
Let's Work Together to End Breast Cancer
Have you always wanted to join the battle against breast cancer? Today sounds like the perfect time! Give us a quick call at 866-540-5069 and get started with your Upper Marlboro, Maryland car donations!
or Call Us Now at 866-540-5069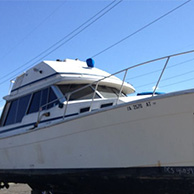 Excellent customer service!