Tulsa, Oklahoma Car Donations
Donate Your Vehicle and Save Lives!
Start Saving Lives with Your Tulsa, Oklahoma Car Donations!
Breast cancer patients, together with their families, face a bleak future as they struggle to survive the deadly disease. The biggest problem for many is the lack of funds to pay for the treatment, which remains sky-high.
Patients who are uninsured are the worst hit. Those who could not afford the high cost of treatment can only hope that kind-hearted people will come to their rescue and save them from imminent death. Could you be one of them?
We at Breast Cancer Car Donations certainly hope so. We have set up our Tulsa, Oklahoma car donations program to serve as a convenient platform for the delivery of much-needed assistance to needy women afflicted with this deadly disease in your city.
That old car just gathering dust in your garage or backyard may be useless to you, but definitely not to us and not to the breast cancer patients who have run out money to pay for their treatment. If you donate it to us, you will be helping save their lives.
What We Are and What We Do
Breast Cancer Car Donations is a nationwide non-profit organization that generates funds all over the United States for the benefit of all individuals needing breast health services but who could not afford them.
The proceeds of your Tulsa, Oklahoma car donations will go straight to our two charity partners — the American Breast Cancer Foundation (ABCF) and Women Involved In Nurturing, Giving, Sharing, Inc. (WINGS). These are two of the nation's most trusted non-profits. They use the funding we give to them to sustain and improve these existing services, such as:
Providing financial assistance to uninsured and underserved breast cancer patients, covering their surgery, oncology services, consultation, hospital fees and outpatient medication;
Connecting these patients to local facilities that offer free and accessible resources, information and other comprehensive breast health services;
Raising public awareness on breast cancer prevention, diagnosis, and treatment;
Pursuing research on prevention, screening, diagnosis, and treatment of breast cancer; and
Sponsoring charity and outreach events for the benefit of breast cancer patients.
The Many Perks That Await You as Our Car Donor
We designed our Tulsa, Oklahoma car donations program in such a way that benefits would reach both beneficiaries and donors. As our car donor, expect to receive these perks:
Our donation process is quick and simple.
Just fill out our online donation form or give us a call, and we'll do the rest. After you give us your contact information and a few basic details about the vehicle you're donating -– which would probably last for not more than 5 minutes — you don't have to do anything more!
Free vehicle pick-up and towing.
Expect prompt and free towing service at the date, time, and place of your choice.  We won't even require you to be there when we pick up your vehicle.
No more registration and insurance premium payment.
Before we tow away your vehicle, we will give you a donation receipt that releases you from all liabilities on the car you're donating, allowing you to de-register your vehicle, dispose of your license plates properly, and cancel your insurance coverage. You may need this receipt since for tax purposes, so keep it.
We will do our best to get the highest possible selling price for your donated car by sending it to the best auction house linked to us. The result would be maximized tax deductions on your federal tax return.
Avoid the hassle of selling.
No need to run ads, deal with phone calls or emails, show vehicle to potential buyers, and haggle over the sales price – things that you would have to do if you were trying to sell your car.
We handle all the paperwork from start to finish, including the title transfer and the documentation requirements for your charitable tax deduction.
Save money on repairs and maintenance.
At last, you're free from costly repairs and maintenance of your car.
Unclog your garage or backyard.
Donating your old car would make room for a brand-new one in your garage or backyard. Finally, the clutter would be gone!
Support a worthy cause that brings out the best in you.
Donating your car to a truly worthy cause, one that saves lives, will surely give you a deep sense of personal satisfaction.
Tulsa: 'Oil Capital of the World'
Tulsa is the second-largest city in the state of Oklahoma and 47th-most populous city in the United States. As of July 2016, the population was 642,940, with women numbering about 329,828 or 51.3 percent.
The city was once known as the "Oil Capital of the World." Today, Tulsa remains an important center for the nation's oil industry even though it has diversified its economy, which now includes other industries such as aerospace, chemicals, computer parts and industrial machinery.
Tulsa is considered a great place to live with an income level 11 percent above the national average and a cost of living 4 percent below the national average.
In a place like Tulsa, you can easily afford to buy a new car. Unfortunately, getting full breast cancer treatment is not that easy, especially for patients who are not financially well off. With your Tulsa, Oklahoma car donations, however, these patients would be able to sustain their treatment, hopefully leading to their recovery.
Time to Act Now!
You can donate to us not just cars but also other vehicle types such as vans, SUVs, trucks, motorcycles, pickups, recreational vehicles, motorhomes, campers, ATVs, snowmobiles, motorized wheelchairs, riding lawn mowers, tractors, farm equipment, boats, and even non-commercial airplanes. Call us now at 866-540-5069 and start saving lives with your Tulsa, Oklahoma car donations!
or Call Us Now at 866-540-5069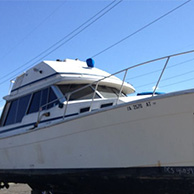 Excellent customer service!