Oklahoma Car Donations
Donate Your Vehicle & Transform Lives!
Donate a Car in Oklahoma and Help Spread Awareness
Donating a car through Oklahoma Car Donations is a most effective way to support the fight against breast cancer while obtaining a significant tax deduction at the same time. If you have an old car that you wish to do away with, consider donating it to non-profit organizations that are helping save the lives of women suffering from the dreaded disease.
Breast Cancer Car Donations works hard in increasing awareness about the devastating effects of this illness on the lives of afflicted women and their families.
Oklahoma: The 'Sooner' State
Oklahoma is known as the Sooner State. The nickname originated from an event that happened in 1889 when the settlers were given the chance to gain legal rights to the land they were occupying. However, people from outside the state entered illegally to lay claims on lands before the designated entry time. They were called "Sooners."
Oklahoma is also popularly known as the "Boomers Paradise." The term was first used in 1879 by Dr. Morrison Munford of the Kansas City Times in reference to people's attempt to establish settlements in unassigned lands in Oklahoma. Early advocates of resettlement were called the Boomer Movement.
There are over 50 languages spoken in Oklahoma. The state is home to oil discoveries, Indians, dust storms, cowboys, and battles.
The Indian heritage in Oklahoma is honored in its flag and seal. At the center is a star and in each arm of the star is every single one of the civilized tribes. These civilized tribes include the Creeks, the Cherokee, the Seminoles, the Choctaw, and the Chickasaw.
Breast Cancer Statistics in Oklahoma
The latest official census showed that there are about 3.7 million people living in Oklahoma. Of this number, roughly 1.9 million are women.
Breast cancer is the most diagnosed type of cancer among women in Oklahoma. It is the leading cause of death as well. Men can also get breast cancer, but it is uncommon. In 2013, the state recorded 3,096 new cases of breast cancer.
A number of factors contribute to the development of breast cancer including female gender, increasing age, early menstrual period, change in breast cancer genes, sedentary lifestyle, and personal or family history of breast cancer.
Reasons to Join Oklahoma Car Donations
Whether it is a new riding lawnmower or an old pickup truck that you want to get rid of, when you take part in our car donation program in Oklahoma, you will play a crucial role in spreading breast cancer awareness.
The process is simple and easy, and it creates a meaningful difference in the lives of cancer sufferers. At the same time, you get to obtain some perks by contributing to Oklahoma Car Donations. These benefits are:
All logistics are managed by the organization.
We pick up your car without any cost on your part.
You can get substantial tax deduction using the tax receipt that we will send you by mail.
You will be free from any accountability pertaining to maintenance, storage, and insurance.
You will uplift the lives of women suffering from breast cancer
Cars You Can Donate to Oklahoma
If you are not certain whether your vehicle is acceptable for donation, we have great news for you! We accept almost all models and makes of vehicles. And since we will be the ones to pick up your car once you decide to donate to Oklahoma Car Donations, you don't need to be concerned whether it is in good running condition. Every single donation is a big help.
The types of vehicles we accept for donations include cars, trucks, SUVs, vans, sports cars, motorcycles, riding lawn mowers, jet skis, and other types of watercraft.
How Oklahoma Car Donations Work
Breast Cancer Car Donations works alongside other nonprofit organizations to inspire people in spreading breast cancer awareness. If you are considering donating your vehicle or boat, the organization has made everything simple.
Contact us by calling or filling out our online donation form and provide us all the basic information pertaining to your vehicle.
Let us pick up your vehicle. We will be arranging a time to come and haul off your vehicle, and this will not cost you anything.
We will then send you the tax receipt after the vehicle is sold at auction.
You can be sure that all the funds coming from your Oklahoma Car Donations will be given to nonprofit organizations dedicated to fighting breast cancer. Once you get your tax receipt, you are free to cancel your car's registration details as well as insurance, saving you a lot of money!
Donate Your Car Now
Donating a car is a powerful way to fight breast cancer. Are you interested in donating your old vehicle to help the organization's programs?
If yes, call Oklahoma Car Donations at 866-540-5069 and enjoy a well-structured donation experience from beginning to end.
Donate a Car to Oklahoma Breast Cancer Nonprofits Today!
Looking for more information about donating in a particular area of Oklahoma? Click on one of the cities closest to you from the list below.
or Call Us Now at 866-540-5069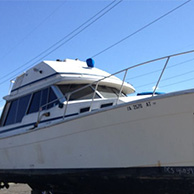 Excellent customer service!