Oklahoma City, Oklahoma Car Donations
Donate Your Vehicle and Save Lives!
Oklahoma City, Oklahoma Car Donations: It's Easy to Join the Fight Against Breast Cancer
More people regardless of age and gender are falling victim to breast cancer. This year, 2017, experts have calculated that 252,710 women in the United States will be diagnosed with invasive breast cancer, 63,410 other women with non-invasive breast cancer, and 2,470 men with breast cancer as well.
Of these expected breast cancer cases, the experts' estimate is that 41,070 people — 40,610 women and 460 men — will die.
The question is: Do you want to do your share in the nationwide campaign to cut cancer deaths? Are you at least willing to donate your old rundown car to charities that are dedicated to helping breast cancer victims and finding solutions to beat this deadly disease?
If you are, then get in touch with us at Breast Cancer Car Donations. With our Oklahoma City, Oklahoma car donations program, we accept donated vehicles, auction them, and then send the proceeds to our leading breast cancer non-profit organization partners. These charities, in turn, do the actual field work in providing assistance to underserved and uninsured individuals afflicted with breast cancer.
Through the generous vehicle donations we receive, we are able to complement the U.S. government efforts to provide effective diagnosis and treatment of breast cancer patients in the city.
Our non-profit organization partners are the American Breast Cancer Foundation (ABCF) and the Women Involved in Nurturing, Giving, Sharing, Incorporated (WINGS, Inc). These two charities work to achieve the following objectives:
Provide funds for research for breast cancer cure
Educate the public about the causes and prevention as well as detection of breast cancer
Help patients to have access to medical treatment and diagnosis
Provide financial support to needy breast cancer patients, survivors, and their families
Make a Difference in the Lives of Breast Cancer Sufferers
Being a donor to Oklahoma City, Oklahoma car donations can certainly make a difference in the lives of breast cancer sufferers, increasing their chances of surviving the horrific disease.
Moreover, when you participate in Oklahoma City, Oklahoma car donations, you get benefits as well! You will get a part of your vehicle's cash value in the form of tax deductions for your donation.
You will also save money because you will not need to do any more repairs on your car or pay its insurance premium before donating it.
How to Donate Your Car to Oklahoma City, Oklahoma Car Donations
To start donating and saving lives without leaving your home, just follow these three easy steps:
Step 1:
Call our hotline number 866-540- 5069 and provide one of our donors' desk representatives a few details about your vehicle, including its make and model, your preferred pick-up date and time, and where your vehicle is located. You can also visit our Breast Cancer Car Donations website and fill out the online donation form.
Step 2:
We will verify the information you provided and make arrangements with a local tow company for your vehicle's free pick-up and tow.
Step 3:
Your car will be picked up within 24 to 48 hours after we confirm your Oklahoma City, Oklahoma car donations. The local company will hand you a receipt that releases you from any liability on your vehicle. You may use the receipt for tax purposes.
Breast Cancer Milestones Through the Ages
The first recorded cases of breast cancer were found in ancient Egypt in 1500 BC, where eight cases of women having breast tumor were recorded and described in details. In 1700, French surgeon Jean Louis Petit performed the first radical mastectomy, removing breast tissue, lymph nodes, and underlying chest muscles. In 1926, the first breast cancer clinical study was spearheaded by an English doctor named Janet Lane-Claypon.
About Oklahoma City
Oklahoma City is one of the largest cities in the United States. The city was given the nickname 405 based on the city's zip code. The city of Oklahoma extends its limits to Canadian, Cleveland, and Pottawatomie counties.
Oklahoma City began to rise on April 22, 1889, when the areas then known as the Unassigned Lands were opened for settlement in an event called The Land Run. Oklahoma City was a major stop on Route 66 during the early part of the 20th century. Before World War II, Oklahoma City became the site of a huge meatpacking industry, which gave jobs and provided income to numerous residents of the area as well as those from the neighboring Chicago and Nebraska.
History buffs would enjoy a visit to the National Cowboy and Western Heritage Museum found on Sixty-Third Street. The museum exhibits more than 28,000 Western and American Indian artifacts and artworks. Museum collections focus on preserving and interpreting the heritage of the American West.
If you are a big fan of bones and animals, you will surely love Oklahoma's Museum of Osteology. It is a private museum that exhibits over350 skeletons of different animal species from different countries.
Join the Fight Against Breast Cancer Now!
Are you ready to join the fight against breast cancer? If yes, call us now at 866-540- 5069 and take part in Oklahoma City, Oklahoma car donations. Be a hero to your fellow Americans waging a valiant struggle against breast cancer.
or Call Us Now at 866-540-5069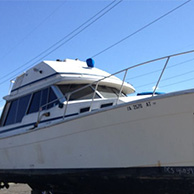 Excellent customer service!