Troy, New York Car Donations
Donate Your Vehicle and Save Lives!
Save Breast Cancer Victims' Lives as You Get Rid of Your Old, Unwanted Car through Troy, New York Car Donations
You know that it's time for you to take part in our Troy, New York car donations program if your clunker has become a major eyesore in your driveway and you want nothing more in the world than to get rid of it – fast.  When you give it away to charity, you'll not only go for the most convenient and practical way to get your hands off your unwanted vehicle, you'll also help thousands of individuals who are going through their breast cancer journey. If you really think about it, donating your unwanted car to Breast Cancer Car Donations means making a positive impact in the lives of others and yours as well.
Breast Cancer: The Silent Killer
When an abnormal growth of cancerous cells causes a malignant tumor to take form in a person's breast tissues, we know it is breast cancer. A person who's close to us or someone that we work with may have been diagnosed with this disease. The point is, one way or another, we all have heard about breast cancer.
Do you know that the 2018 U.S. Breast Cancer Statistics show that 266,120 women are expected to be diagnosed with invasive breast cancer this year? In invasive breast cancer, the cancerous cells have already begun spreading from the breast tissues to surrounding areas. Furthermore, the report estimates 40,920 breast cancer deaths among American women this year.
A person's risk of developing breast cancer doubles when a first-degree relative has been diagnosed with it. However, 85 percent of breast cancers develop among women who don't have breast cancer in their family history. It's important to understand that the most significant risk factors for this disease are gender (being a woman) and advanced age.
How We Deal with Breast Cancer
The earlier the tumor is detected, the better is the patient's response to treatment and chances of recovery. That's why concerned IRS-certified 501(c)3 nonprofit organizations tirelessly conduct public awareness campaigns to underscore this point using breast health resource tools. We at Breast Cancer Car Donations support these charities by setting up fundraisers like car donations in the area to generate funds for their life-saving programs such as:
Financial assistance for mammograms, ultrasound, and lab works;
Cost-free breast cancer treatments such as chemotherapy, radiation, and surgery;
Free services rendered by Nurse Navigators to guide breast cancer patients to the best facilities and health care providers;
Free Newly Diagnosed Patient Kits;
Follow-up care for five years for patients following remission.
Troy City, New York had an estimated population of 50,129 as of 2010, according to the United State Census Bureau. Females constituted 49.5 percent of Troy's total number of residents. If you participate in our Troy, New York car donations fundraiser, you'll be doing your bit to beat breast cancer in your city – and your community will certainly thank you for it.
You can donate not only cars but a whole range of other vehicles. Visit our Accepted Vehicles page for the complete lists of vehicle types you can donate. If you have questions, call us right away at 866-540-5069!
The Process of Joining Troy, New York Car Donations
Our donation process is incredibly hassle-free and easy to do! Here's a bird's-eye view of the whole nine yards:
You can choose to fill out our online donation form or call us at 866-540-5069 to give us your vehicle's basic information (year, make, model, mileage, running condition, and availability of title) as well as your contact details.
Towing is on us, so you don't have to worry about paying for its cost. We'll only need you to give us your preferred date, time, and your vehicle's pickup location, and we'll have a professional towing company haul it away – FOR FREE!
Receive your tax deduction receipt!
Your 100-percent tax-deductible sales receipt will be sent to your address via mail within 30 days after the sale of your vehicle at auction. You'll need to keep this document so that you can use it as you itemize your deductions on your federal income tax return for the next tax-filing season.
The Advantages of Joining Troy, New York Car Donations
If you're interested in signing up for a win-win situation, then donating your car away to Breast Cancer Car Donations should be on top of your list! Joining our Troy, New York car donations program will provide you with these benefits:
The donation process is easy peasy!
With our three-step donation process, a smooth and pleasant giving experience is guaranteed!
No need to fuss over paperwork!
Our team will handle all the paperwork involved in your donation. We'll cover everything from the title to tax receipt concerns.
Cost-free towing services!
The best things are free, and towing services for an unwanted car is one of them!
No need to pay for your clunker's registration and insurance!
Be sure to keep the towing receipt so that you can legally cancel your car's registration and insurance coverage.
Since we work hand in hand with IRS-qualified nonprofit organizations, your donation will entitle you to a meaningful tax break. As long as you follow the IRS rules when it comes to itemizing your deductions on your income tax return, you'll get to enjoy a financial windfall!
Make a Difference Today!
Getting rid of an unwanted clunker has never been so easy and convenient! Join Troy, New York car donations and make a difference in your community today. Contact us at 866-540-5069 and get started with your car donation to Breast Cancer Car Donations.
or Call Us Now at 866-540-5069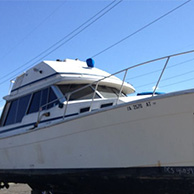 Excellent customer service!