Silver Spring, Maryland Car Donations
Donate Your Vehicle and Save Lives!
Help Save Lives of Breast Cancer Victims With Your Silver Spring, Maryland Car Donations
Taking part in our Silver Spring, Maryland car donations program can bring so many positive changes in the lives of our fellow Americans who are grappling with breast cancer. Any old and unwanted vehicle that you may have can be used as a weapon in the battle against the deadly disease once you donate it to us at Breast Cancer Car Donations.
Breast cancer remains as the second most common cause of cancer deaths for women in the country. By this year alone, Breastcancer.org estimates that 40,920 women will die from the terrible disease. The only way to prevent this from happening is for these women to receive treatment as soon as possible.
By teaming up with Breast Cancer Car Donations, you can play a crucial role in extending and improving the lives of these unfortunate women. Our nonprofit organization partners, the American Breast Cancer Foundation (ABCF) and Women Involved in Nurturing, Giving, Sharing, Inc. (WINGS), are doing everything they can to support cancer patients. These nonprofits share our mission of helping and caring for breast cancer-afflicted women and their families.
From our Silver Spring, Maryland car donations fundraiser, we are able to generate funds that enable our charity partners to achieve their goals of helping breast cancer patients survive the disease. You make it possible for them to provide breast health services to uninsured and underserved women. Your unwanted car will also help us in providing funds for the continuing research on more advanced breast cancer screening, diagnosis, and treatment with the ultimate goal of finding a cure for the deadly disease that has been afflicting mankind since the dawn of history.
A Stress-Free Donation Process for Our Donors
If you're still looking for a reliable car donation program in Silver Spring, MD that offers excellent service, consider your search over and done with! Breast Cancer Car Donations works to give donors the chance to experience a donation process that's free of complications.
With us, you don't need to keep yourself busy with loads of paperwork nor waste your time going through affordable towing companies in your area. We have everything covered, and it's all for free! This is the least we can do to repay you for your generous heart.
Once you made up your mind on contributing to our Silver Spring, Maryland car donations program, just let us know. You may either give us a quick call at 866-540-5069 or fill out our online donation form. Be ready to provide us specific details about the vehicle you plan to donate such as its make and model, year, VIN, mileage, general condition, and title availability.
We'll process your donation offer right away, and will get back to you to ask for your preferred date, time, and place for picking up your vehicle.
We'll arrange with a professional towing company to get the job done. You don't need to be present when your vehicle is towed. Before that, you'll receive a towing receipt that will release you from all liabilities on your car, allowing you to legally de-register your vehicle, dispose of its license plates, and cancel its insurance coverage.
Once we have your automobile, we'll sell it through auction. The proceeds from the sale are then used to support the various programs and services being rendered by our charity partners to fight breast cancer. Thus, your unwanted vehicle becomes a resource for saving the lives of breast cancer victims.
Within 30 days after the sale of your vehicle, you will receive your 100-percent tax-deductible sales receipt that shows the selling price of your donated vehicle. The indicated amount serves as the basis of your tax deduction claims when you file your itemized federal income tax return for the next tax-filing season.
For more information about our car donation process and other related matters, you may visit our FAQs page.
Exciting Benefits to Look Forward To
Breast cancer patients in your city will not be the only beneficiaries of your car donation. You yourself will benefit from your own generosity! Expect to receive these perks when you take part in our Silver Spring, Maryland car donations program:
Receive a maximized tax deduction
Get rid of an old or rundown vehicle without spending a dime
Free pickup and towing
No need to sell or advertise your car to potential clients
No need to discuss or make deals with potential used car buyers
No need to pay your car's repair and maintenance bills as well as your car's insurance and registration fees
Regain space in your yard or garage
Feel the joy of knowing that your donation will help save the lives of breast cancer victims
Are you eager to experience all these amazing perks? Donate to us now! We're just a call or a click away!
The Types of Vehicles We Accept for Donation
"I badly want to donate my car but the problem is, it's not working well as it used to be."
If this is what's in your mind, we have great news for you: We at Breast Cancer Car Donations accept nearly all types of vehicles and, yes, even the ones that no longer run.
If you have a dusty van that's taking a whole lot of space in your garage or a camper that you no longer need, please hand it over to us! We accept:
General vehicles such as cars, vans, SUVs, trucks, motorcycles;
Watercraft such as sailboats, motorboats, fishing boats, yachts, pontoon boats, houseboats, personal watercraft (like jet skis);
Recreational vehicles such as RVs, motorhomes, campers, travel trailers, pop-up trailers, 5-wheelers;
Specialty vehicles such as ATVs, snowmobiles, motorized wheelchairs, riding lawn mowers, tractors, farm equipment;
Fleet vehicles such as cars, passenger vans, cargo vans, SUVs, pickups, trucks, buses;
Non-commercial aircraft such as planes and helicopters
Make a Difference with Breast Cancer Car Donations Today
Want to know what it feels like to be a hero? Contact us at Breast Cancer Car Donations at 866-540-5069 and help save lives with your Silver Spring, Maryland car donations!
or Call Us Now at 866-540-5069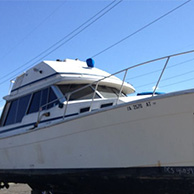 Excellent customer service!