Schenectady, New York Car Donations
Donate Your Vehicle and Save Lives!
Turn Your Unwanted Vehicles into Breast Cancer Lifesavers Through Schenectady, New York Car Donations
If you want to make a significant contribution in saving the lives of your fellow citizens who have been stricken with breast cancer, one of the simplest ways you can do this is by taking part in our Schenectady, New York car donations program. A car or van that's being cocooned in cobwebs in your garage can finally see the light of day and be used to serve a worthy cause.
Breast cancer continues to claim tens of thousands of lives every year in the United States alone. It is regarded as the most commonly diagnosed cancer in women and the second leading cause of cancer death among women here in our country.
Although there has been a drop in the number of deaths due to breast cancer over the past few years, the disease continues to strike fear, particularly among women. Experts estimate that one in eight women in the U.S. will develop breast cancer in the course of her life. On average, every two minutes a woman is diagnosed with breast cancer and one woman dies of breast cancer every 13 minutes, according to the National Cancer Institute.
Compounding the problem is the skyrocketing cost of breast cancer treatment, which many of the victims could not afford. This is where Breast Cancer Car Donations comes in.
How We'll Use Your Car Donation to Save Lives
Through our vehicle donation programs all over the country, we transform old vehicles into funds that enable our nonprofit organization partners to support patients and their families. These nonprofits are the Women Involved in Nurturing, Giving, Sharing, Inc. (WINGS) and American Breast Cancer Foundation (ABCF), both of which provide lifesaving services to all individuals, particularly uninsured and underserved breast cancer patients.
Your contribution to our Schenectady, New York car donations fundraiser will provide much-needed funds for these nonprofits, enabling them to save more lives.
Part of the funds generated is also used to support the continuing research on more effective methods of breast cancer screening, diagnosis, and treatment that could hopefully lead to the discovery of the long-sought cure for the terrible disease.
A Donation Process for Your Convenience
Consider yourself lucky when you decide to team up with us at Breast Cancer Car Donations. Since you'll be doing your part in saving the lives of breast cancer patients, we would like to repay you for your charitable act by providing you with the fastest, easiest, most convenient, and most rewarding giving experience.
If you dislike the idea of dealing with anything that involves paperwork, you'll definitely love to work with us. We pretty much handle everything, from the processing of your tax documents to the mailing of your tax-deductible sales receipt. We also take care of sending a tow truck over to your place to pick up and tow your car for free.
All you'll need to do is to inform us of your decision to participate in our Schenectady, New York car donations program. Once you do, allow us to take over and finish the rest of the process.
Here's a short guide to our donation process:
You can either call us or fill out our online donation form. Give us specific details about the car you plan to donate such as its make and model, year, current mileage, VIN, general condition, and title availability. We'll then agree on a date, time, and location for its pickup based on your convenience.
The professional tow truck that we'll assign to do the job typically arrives a day or two after your initial phone call to us. Before your car is towed away, you'll receive a towing receipt that will enable you to legally cancel your car registration and insurance coverage.
Wait for your tax-deductible sales receipt.
Within 30 days after your car is sold at auction, we'll mail to you your 100-percent tax-deductible sales receipt. This document shows you the amount you can base your tax deduction claim when you file your itemized federal income tax return for the next tax-filing season.
If you have questions about our car donation process and related matters, do visit our FAQs page. Everything you need to know about us can be found there.
Perks to Enjoy with Breast Cancer Car Donations
While you already know how your participation in our car donations in the city would breast cancer patients and their loved ones, you might still be unaware of the joys your car donation can bring you.
By deciding to contribute to our cause, expect to receive these perks:
Receive a maximized tax deduction;
Free pickup and towing of your vehicle at a schedule of your own preference;
Save yourself from the hassles of trying to sell your car;
Remove an old and unwanted car from your garage without spending a single dollar;
Unburden yourself from paying for your car's repairs, maintenance, registration, and insurance;
Provide more space for your driveway, yard, or garage;
No need to stress over stacks of paperwork;
That joyful feeling knowing that you'd be helping save the lives of breast cancer sufferers.
Are you excited to get all these rewards? If yes, reach out to us now at 866-540-5069.
The Types of Vehicles You Can Donate
Are you looking for a charitable organization in Schenectady, New York that accepts even vehicles that are not in good running condition for donation? Looks like you've just found a good one! Here at Breast Cancer Car Donations, we take nearly all types of vehicles regardless of their working condition and age.
With us, you don't have to feel bad about donating a car that's hardly functioning. Just talk to us if you have any other concerns about the vehicle you're planning to donate.
Check out the list below of the types of vehicles we normally take in our Schenectady, New York car donations program:
Common vehicles: cars, vans, trucks, buses, SUVs
RVs: motorhomes, popup trailers, 5th wheelers, hybrid trailers
Motorcycles: dirt bikes, mopeds, cruisers, sports bikes
Specialty vehicles: ATVs, motorized wheelchairs, farm equipment, riding lawnmowers, golf carts
Water vessels: jet skis, motorboats, cruise ships, houseboats, yachts
Aircraft: private planes, helicopters, jet planes
We're also open to multiple vehicle donations. If you wish to donate two or more vehicles, be our guest!
Be a Hero to Breast Cancer Patients Now!
Help us provide treatment for our fellow Americans grappling with breast cancer. Any vehicle that you no longer find useful can bring them so much relief and joy. Call us at 866-540-5069 get started with your Schenectady, New York car donations!
or Call Us Now at 866-540-5069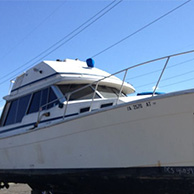 Excellent customer service!